Last year, I wrote
this piece
a fortnight before Christmas Eve.
I did that because we were just then emerging from the black haze of the NBA's nuclear autumn, just then gearing up for a 66-game grindhouse after the league's owners spent six months practicing the negotiating equivalent of Chinese water torture until, eventually, a suitably large hole atrophied in their employees' bank accounts to compel them to get back to work.
It was an uncertain time. We didn't know how the players would react to the jam-packed schedule, particularly those on an older team like last year's
Dallas Mavericks
. Nor did we even know much about those Mavs themselves, with a duct-taped roster that patched the holes left by departed heroes like Chandler, Barea, and Stevenson with new faces like Odom, Carter, and West. How good would they be? Could they gel with familiar names like Nowitzki, Terry, and Kidd, who helped earn the mantle of "defending champions" that last year's Mavericks bore? Would the Triangle of Trust's gambit, of building a competitive team but also one that lent itself to cap flexibility the following summer, work?
Some 10 months later, we all know what happened. And what didn't.
Now this season beckons. It does so on time, not just before Christmas but instead
right at Halloween
. It comes with its own set of questions and while some semblance of normalcy has been restored with the return of a traditional NBA schedule, it certainly doesn't feel that way in Dallas. Not with the Jasons, Kidd and Terry, relocating to the Atlantic Division, a pair of moves that precipitated one of the most radical reshapings of these Mavericks in the Dirk Era. And there's no better place to start our look ahead with just how radically things have changed.
DONUT 1: Roddy Beaubois is the third-longest tenured player on the Mavs roster.
Go ahead and let that marinate for a bit. Roddy B – enigmatic, tantalizing, fragile, 24-year-old Roddy B -- has been here longer than anyone except Dirk, and as long as Shawn Marion. Or, put in the form of a question, Roddy Beaubois would be the third and final person you would ask, "What's it like to have played a season on this team before they won the title?"
Incredible as it seems, those three plus Dominique Jones are all that remain from the team that won the championship two years ago.
More fun with numbers. Last year, Dirk completed his 14th season in Dallas; that's three more than the rest of the roster combined. Remove Dirk from the equation and the early favorites for consistent rotation minutes – Marion, Darren Collison, O.J. Mayo, Chris Kaman, Elton Brand, Delonte West, Vince Carter, and Brandan Wright – have played six seasons collectively in Dallas, with Marion alone comprising half of those.
Indeed, these are strange, strange times in Mavs-land.
DONUT 2: Of course, the same can be said most any time a team recycles its core elements but it rings especially true on a team where most every element of its style was rote.
For over half a decade – an eternity in NBA terms – the 4th quarter offense was the two-man game between Dirk and Terry, a routine that wasn't quite Stockton and Malone's pick-and-roll but not all that far off the mark in both effectiveness and predictability.
Meanwhile, the pieces alongside them became increasingly specialized on the offensive end, making the Mavs as accessible as it comes for those looking to truly understand an NBA team's tendencies. As isolation-heavy as Dallas was with Josh Howard, Jerry Stackhouse, and Devin Harris on board, you could never claim to know exactly what would happen once they had the ball. Fast forward a few seasons and we expected Kidd to go as far as humanly possible to shun the layup; Marion's turnaround push shot that never looks effective yet seemingly always goes in; Stevenson perching himself in the corner, biding his time until someone gave him a chance to put on his three glasses; and Caron Butler stopping and popping his midrange jumper. Those are just four of the more prominent examples; pick a roster player from the past several years and you can reduce their offensive game to one or two tightly constructed sentences.
DONUT 3: That's what made last year especially excruciating.
It wasn't just that this team hovered dangerously close towards mediocrity for whole stretches of the season. It was that, by and large, we knew exactly how things were going to unfold when they took the court because we knew them all so well.
Take a moment to parse through each member of that roster; other than Odom being an unmitigated disaster, did any one of their seasons really surprise you? The only definitive 'yes' is Wright; that the most prominent example came from the 10th guy on the roster says all you really need to know.
DONUT 4: This year?
We know just about nothing, which makes this the most exciting – and terrifying – Mavericks season in recent memory.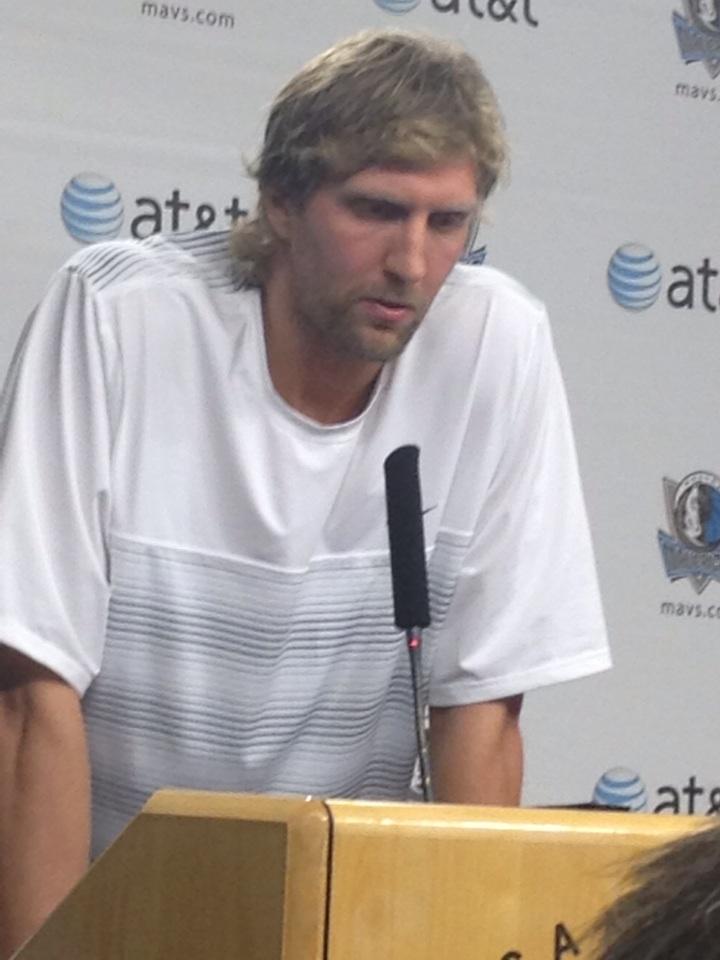 I'd love to rattle off a hundred reasons why the recent hysteria of this team possibly missing the playoffs is a total farce, to tell you with all the certainty of the sun rising in the east tomorrow that Dallas will be in the postseason like it has been for the last dozen years. But, for the first time in a long time, I can't. There are too many strong teams in the West and too little information available to us on how these Mavs will play – and, for that matter, how Dirk's knee will hold up – to say that with the conviction we've become accustomed to.
Yes, yes, he is handling this surgery with, as Fish says, "hope and humor and defiance.''
But still ... For the first time in a while, there's a chance this team drafts in the lottery.
On the other hand, there's a type of excitement that only comes with facing the unknown. For a very long time we were intimately, almost painfully aware of what made this group tick. At times, it became mundane in the way that some marriages grow stale; the love doesn't dissipate, but some of the spark dims after so many nights together.
Suddenly, there's intrigue. Mystery. Possibility, too.
Of course, those words are open ended. By its very nature possibility is a guarantor of nothing, and the only way something can grow mundane is if you let your guard down long enough for it to first become comfortable and safe. I may have hated Kidd's staunch refusal to go to the rim and his waning lateral quickness, to cherry-pick a low-hanging fruit, but I'll sure as hell miss the venerable assurance he brought to the team's offense. Collison is younger, faster and more explosive – but will he necessarily be better? I'm not sure.
But I'm excited to find out. It's a little scary not having the answers, but it's pretty cool to be able to ask some questions again, too.
DONUT 5: I don't want to disparage anyone who judges this season's success or failure based on how far it gets into the playoffs, or whether it wins a championship.
At the end of the day, everyone's entitled to an opinion and we're all on the same side, so seek your Shangri-La.
I do want to ask you a question, though: Have you heard Cuban, or Donnie, or Carlisle, or Dirk actually say the specific goal this season is to win the title?
It's not like any of them would turn down that scenario, mind you. Implausibly winning a title with what amounts to a second consecutive rent-a-team certainly would not suck. And even this fall, Carlisle does not shy from saying that is the purpose of basketball existence.
"This is Dallas,'' Rick said. "We play for championships here. It's as simple as that.''
But the goal lies in the process of plucking a second star to line up alongside and eventually replace Dirk, and of constructing a new core.
Gone are the days of winning at all costs, because winning at all costs in the new CBA entails constricting your roster flexibility within, which, ironically enough, short circuits your chances of winning to begin with. Cuban understands that better than anyone and implicit in his comments from the summer about the Nets extending themselves into luxury tax territory were instructions to draw a line in the sand between reckless spenders like Brooklyn and judicious spenders like Dallas. This is who they are. That is what we're not.
But ...
DONUT 6: Just like the parts of the roster itself, there's a chance this doesn't work out.
Cap space is illusory; all it does is create the possibility of signing someone, and as Deron Williams reminded us, you don't even get a free flower bouquet for coming up bridesmaid.
As I wrote last year, though, locking up the core of the 2011 squad to new deals buys you a one-way ticket to "an interminable stay in a hotter, nastier luxury tax hell." You do that when you've got Oklahoma City's corps of under-25-year-olds. You don't when the players in question were Dallas' battalion of thirtysomethings.
That hasn't sat well with the contingent of fans that wanted the organization to do right by Dirk by re-signing all of them, cries that rang louder than ever in the aftermath of Tyson Chandler winning the Defensive Player of the Year award in New York. Which, of course, ignores that Dirk's seal of approval is on this whole initiative but more importantly that would have mortgaged five seasons in exchange for a chance at being a power player for two or three, with 'a' – not 'the' – being the operative distinction to make.
Few rational organizations would go down that road in this CBA. (Though what the Lakers are doing creates understandable envy.) Accordingly, by taking that chance – on creating that illusory cap space, on replacing battle-tested veterans with callow youngsters, on jettisoning the anchors of a championship team before they drag the ship down – management is going treading its only feasible path to long term viability.
DONUT 7: If that plan's going work, the goals need to mirror that long-term vision – and as we've already established, that long-term vision is a lot bigger than this year's win total.
But if wins aren't the primary objective, what should be, then?
My thesis is the following:
DONUT 8: This season will be successful if ...
One of Collison or
O.J. Mayo
becomes a core piece and re-signs in Dallas.
Not the most grandiose of ambitions for a team two seasons removed from a title, I'm aware. Nor am I expecting either to emerge as the second star the organization lusts after, either.
But this team needs more than just a star. It needs impact players who make reasonable money and whose best years are ahead of them. Collison, 25, and Mayo, 24, fit that prospective bill.
When he's running good, like his rookie year as a Hornet or last year's playoffs in Indiana, Collison has proven to be an adept pick-and-roll distributor and defender who can also hits the mid-range shot. And unlike Kidd, he's willing and able to get to the rim.
In the bad times, his decision-making wanes and he gets lost in his own game; the jumper disappears for games at a time; and he gets benched for George Hill.
Unlike his first two stops, Collison is The Man running the point in Dallas. Come season's end, after he's gotten 35 minutes a night in his age 25-season, we're going to know whether he's more of the first guy or the second.
DONUT 9: As for Mayo ...
I
covered a lot of it the night he signed (see "The Trouble With OJ''
and while most of that hasn't changed, one thing has.
Mayo, by all accounts, grinded all offseason getting his body into shape and making his game sharp. He says all the right things, most impressively ascribing that improved work ethic to playing with Dirk because, in his estimation, that's what The Uberman deserves.
Only time will tell if this is all window dressing for a concerted contract drive instead of an actual paradigm shift. But spend too much time speculating about his intentions and you're liable to miss out on the wide-angled possibilities – that Dallas has a 24-year-old shooting guard who can really score, and who spent his offseason working out with the second-rounders trying to make the roster plus after moving to the city a month early to better focus on the season.
That's a different O.J. Mayo than the one Memphis let walk and, frankly, one that will likely earn an extended stay in Dallas if he performs to this new standard.
But, really, it doesn't matter much which of Mayo or Collison plays his way into a long-term role with this franchise so long as one of them does. Neither will ever become the best or even second-best guy on a title team but if Mayo becomes a dependable third scorer or Collison a consistent force on the pick-and-roll instead of a flighty one, they become important building blocks – or trading chips.
DONUT 10: So what of secondary goals?
We here at DB.com often speak of the front office's propensity for turning D's and F's into C's, something they have a long track record of succeeding at. Brandon Bass, Barea, Gana Diop, Antoine Wright, and most recently B-Wright are examples of discarded draft day busts they've hauled off other people's scrap heaps and turned into useful cogs.
This year's Mavs won't have anyone that strictly fits that mold, but what that's really about is securing useful rotation talent at a fraction of its actual value.
Cast in that light, Dallas has two rafts of players who it believes exploit those inefficiencies.
In one camp, you've got the low-cost veterans like West, Carter, and new arrival Brand. Total cost this year? A shade over $6.04 million. In a sense, all of them are part of the long-term vision, with each one having an expiring deal that falls in line with "Plan Powder.'' In another sense, none are, with Brand and Carter in their mid-30's and West a 29-year-old with baggage. But any way you slice it its cheap labor that can provide quality minutes with no long-term loss. If any of them play their way into another year in Maverick blue like Carter and West did last year, that's the icing on the cake.
DONUT 11: Then there's the rookies, and that's where things get fun.
There was a DB.com-driven narrative that went around on draft day that the Mavs traded out of 17 largely to pick up some extra savings to buttress Deron to Dallas, and to some extent, I'm sure that played a factor in the decision to move down once the Mavs' main targets were off the board. But the stark truth about the NBA Draft is if you're selecting outside the lottery, the chances of you hitting on a pick are slim. That's not just in Dallas, where the draft has been the domain that's vexed one of the league's best-run front offices; it's everywhere.
And just like playing in the local scratch-game lottery, there's one time-tested way to better your odds – buying more tickets, which the Mavs did when they picked up a valuable pair of early second-round selections.
I'd submit that the goal here ought to be the same as with Collison and Mayo: hope one of them hits, and entrenches himself as a long-term core piece.
Maybe that's Jae Crowder, the preseason star that has quickly earned some of Rick Carlisle's trust.
"He is going to play the same way no matter what,'' Carlisle said in praising Crowder. "He will play the same way whether he is starting or playing 30 seconds or one possession. That's one of the things we love about him. He's a winning kind of player."
Perhaps it's Jared Cunningham and his athleticism that's drawn comparisons to Russell Westbrook, which I'd probably be excited more excited about if we hadn't already spent the past three years hearing the same scuttlebutt about Roddy B with decidedly mixed results. Or it could be Bernard James, who so many seem willing to write off as a PR stunt even though he was
the driving force behind one of college basketball's best defenses in Florida State.
Again, it bears repeating that any time you're dealing with picks this far down the draft board, the odds are stacked against you. But with Cunningham on the pittance that is a late first-rounder's salary and Crowder and James signed to non-guaranteed second-round deals, there's almost no downside to Dallas being wrong. Three chances at the money are always better than one, and if even one of these guys hits, Dallas wins big relative to its investment.
If not? Move on to the next craps table.
DONUT 12: Speaking of gambling ...
I'd wager this is the first time since the turn of the century that someone has gone 2,700 words into a Mavericks season preview before discussing the greatest Maverick ever.
But if you've read this far, you know by now that this from an organizational standpoint, this season really isn't about Dirk Nowitzki. It is, in the sense this is Dirk's house until the day he retires and that the front office's urgency to locate that second star hinges on Dirk having two to three more prime years in the tank, which there's no reason to assume can't happen at this point. It is, too, in that like all truly great players, Dirk makes those around him better with the tone he sets in the room and the work ethic he brings to the court; if, for instance, Mayo is truly is a success here, Dirk will be one of the first to get plaudits for that.
Yet for anyone who cares about this team, it will always be about Dirk so long as a No. 41 jersey is draped over his shoulders and until it hangs from the rafters.
And here's the great part about that: as fans, we're playing with house money at this point.
The fact is, everything we could possibly want out of The Athlete Experience, Dirk has delivered. He has amazed us, time and again, from his late game heroics to the sheer physics of how that One-Legged Euro Fadeaway actually works. He's piled on points by the bushel, with enough All-Star games and All NBA teams and an MVP award to gives him one of the best resumes in NBA history. He's provided us with memories, most so overwhelmingly good that you've shared with your friends and will tell of to your kids, or saw with your kids and will pass on to their kids.
He matured in front of us, from a 19-year-old scared German kid who couldn't string together two sentences in English to the 34-year-old married Dallasite that probably sees more Ranger baseball than you do, and definitely watches more FC Dallas games.
He's cared more than most stars have and he's suffered more than most should. But when faced with an opportunity to leave, he didn't.
And after he stayed, he won. When a lot of us probably thought it wasn't going to happen, he finally brought this team a title – and because he cared and he suffered and he stayed through it all, he sobbed afterward. He's never been afraid of letting us know that it all of this matters to him; that this organization, the city and its people matter to him. That he's proud to be here, to live here and to have played here. In a world cordoned off by locker-room walls, it's easy to just play for yourself and your teammates, and to pretend as if that everyone outside that nexus doesn't exist.
But never for a second has
Dirk Nowitzki
acted as though playing in front of those people isn't one of the great honors in his life.
What more could anyone possibly ask for than all of that?
I realize that all of that sounds like eulogizing even more than rhapsodizing, but if there's one thing to take into a season where the organization's sight line extends far beyond this team's final record, it's a mindset to simply enjoy watching Dirk play a game while he's still capable of doing it better than all but a select handful ever have.
This is a big-picture season for Dallas, with big-picture goals and objectives. If there's ever a year to step back and appreciate watching the best player any of us are likely to see as a Maverick, this is it.
In a matter of days, though, that year starts without him, against a Lakers team that boasts four Dirk-caliber talents at its disposal. On paper, it could be a blowout. In practice, it might not be. Making this all work,
on Tuesday (as we watch from Red Rock at our DB.com Get-Together)
or soon thereafter, this is a Rick Carlisle specialty.
Regardless of how it winds up, it's the first game of 82 as well as our first set of clues as to what these Mavericks might become, and it begs one final question:
Are you ready?