Eddy Curry
is the crowned tragic King of Second Chances. His latest opportunity comes courtesy of the
Dallas Mavericks
, who are signing the much-traveled center and are doing so in conjunction with what we expect to be a divorce from suspended guard Delonte West.
Yes, desperate times for a franchise that prides itself on classy conduct call for desperate measures.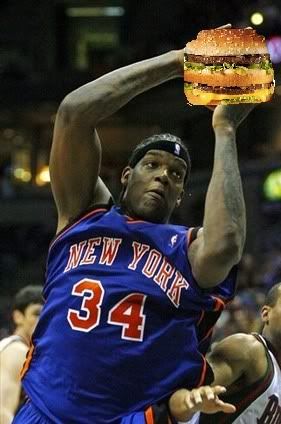 Let's begin with the upside of Curry, once a straight-outta-high-school premier pick of the Bulls who was very temporarily a young Twin Towers when teamed in Chicago with Tyson Chandler.
He came very close to making the Spurs roster and was just released this week. Curry appeared in five preseason games for San Antonio, averaging 8.4 points and 3.6 rebounds per game in 15.4 minutes. Pop says Curry lost 20 pounds in preparation for camp, taking him under 300 pounds for the rare time in his career.
"Eddy had a really good camp," Tim Duncan said. "I thought he did a really good job. He played well.''
Last year, he was a member of the Heat team that won the title -- though he wasn't active in the postseason. It was argued there that he found a comfort zone that never quite existed in a previous high-profile stop with the Knicks, where his elite offensive skills were supposed to transform him into a superstar.
Call it an attitude problem that fed a weight problem, or phrase it the other way around. Trouble chased Eddy Curry and he was generally too fat to run away from it. The problems have come to outweigh the performance, to the point that since the start of the 2008-09 season, Curry has played in a total of just 24 games, 14 coming last year for the Miami Heat.
In preparation for him joining the Heat, he lost 70 points and put the work in:
And if we wish, we can suggest that the NBA champion Heat gave him an endorsement of sorts. And we can argue that the expert judges in San Antonio did the same. Curry isn't yet 30 and truly did look like a viable offensive center for the Spurs, shooting 68 percent.
"We are excited to bring Eddy Curry to Dallas,'' said GM Donnie Nelson, who is overseeing some other turning cogs here (as Sefko notes, the Mavs might look at center Melvin Ely and swingman Chris Douglas-Roberts this week.) "He has worked extremely hard this offseason, and can provide our front line with much needed depth."
The Delonte issue is part of this. Chris Kaman's nagging injury issue is, too. And of course, the Mavs are without Dirk Nowitzki for a month. It's not ridiculous to consider Curry as a second-unit scorer, especially if Elton Brand is called upon to be a starter. (Heck, at this moment -- with Dirk, Kaman and B-Wright all hurting, Curry might have to be a FIRST-team scorer.
Should Dallas be concerned about Curry's troubled past? Well, of course it should. Consider:
*
Curry has squandered a fortune, a man who's made over $60 mil in his career
handling his money so poorly that in 2008 he took out a personal loan and borrowed $580,000 at 85 percent interest,
*
In 2009 he was accused of sexual harassment by his male chauffeur.
the driver also alleged racial discrimination and intimidation using a loaded gun.
*And most tragically is the case
of Curry's former girlfriend, Nova Henry, and their nine-month-old daughter, both of whom were murdered in late January 2009 in Chicago. Curry and Henry's three-year-old son, Noah, was found unharmed at the scene.
The weight can be lost. The money can be found. The accusations can be false. But yes, the tragedy can be enough to derail a career that was already wobbling down the tracks.
In his final days in San Antonio, Curry was upbeat about his chances.
I feel I'm in a good situation," Curry told the San Antonio Express-News. "I worked hard this summer. Every game it's just about showing everybody what I can do. I'm trying to focus on defense and rebounding, trying to play in the system and soak up as much as I can. I think I'm going to make it. Until they tell me I'm not, I feel like I'm part of this team."
Now, he's a part of the Mavs ... and the reigning Tragic King of Second Chances.