DONUT 1: DB.com's Mavs-Lakers Watching Party is tonight! ...
DB.com is live in Los Angeles today and we're also going to hang out at
Red Rock Bar & Grill at Frankford and Midway (just off the Tollway and also just off George Bush) tonight for the Mavs-at-Lakers opener.
We'll have drink specials and we're giving away prizes that include lower-bowl seats to a future Mavs game. C'mon by and meet us and talk a little Mavs basketball with DB.com and The 75-Member Staff!
DONUT 2: Mavs at Lakers overview ...
For the
Dallas Mavericks
, tonight is the night. Under the bright lights of the Staples Center (and the shadowy backdrop), your Mavericks will tip off the season with no Dirk and… Eddy Curry, who was literally sitting on a couch a few days ago (but apparently not just eating while he was sitting), starting at center.
Read our Curry Q-and-A here.)
Not exactly an ideal scenario to kick off yet another year of change ... though we manage to keep a stiff upper lip in our
Second Annual Mavs Season Preview For Smart People.
And, hey, not every Mavs-Lakers moment is a Dallas downer ...
Though there is much local gloom at the prospect of an extended run without Nowitzki (who by the way didn't make the trip to LA/Utah), the schedule is fairly manageable and we say Dallas should be able to survive the stretch without too much damage.
In the first 16 games, Dallas plays the Lakers and Knicks twice, the Derrick Rose-less Bulls once, but only two other squads who made the playoffs last season. If Dallas could manage to beat the majority of the rest of their early schedule, an 8-8 or 7-9 record would actually represent an improvement over prior years' luck without the big German.
And maybe that's why
we're able to laugh off, for now, the notion of Dallas tanking as well as the notion of Dirk hurrying back too soon.
DONUT 3: How to Stop LA? ...
Of course, in the immediate future, Dallas' fortunes look less sunny. To highlight one key matchup: the Lakers' Nash/Howard pick and roll.
Rather, Dallas' ability to defend it.
Conceptually, a Nash/Howard seems almost unstoppable. Partially with the Mavericks expected to give Curry a start, stopping it will almost certainly be a team effort. Look for Elton Brand to get an opportunity to show just how "anchor"-ed a Mavs' defense really is.
"They've got three Hall-of-Famers, maybe four (with Gasol),'' said Mavs coach Rick Carlisle. "They have a loaded roster.''
DONUT 4: Kobe Out/ Dirk Out ...
Perhaps Dallas' job gets easier on the defensive end with the expected absence of Kobe Bryant, who still has not recovered from his foot injury.
Or is it so "expected''?
Carlisle, for one, game-time-decision Kobe to make a miraculous recovery from a foot injury to be able to play. While Bryant has been largely inactive since Oct. 21, at least one of his teammates shares Dallas' skeptical view.
"I've seen this before," World Peace said. "Whether its preseason or regular season he plays. This is the first game of the regular season. There is no way I can see him missing it."
Depending on that, at least to recent memory, this matchup will look far different than the Mavs and Lakers we've grown accustomed to. Aside from the flurry of moves made by Dallas this summer, as you might have heard, the Lakers made some improvements of their own this summer.
DONUT 5: It's Halloween! Time to check out Frisco Party Station! ...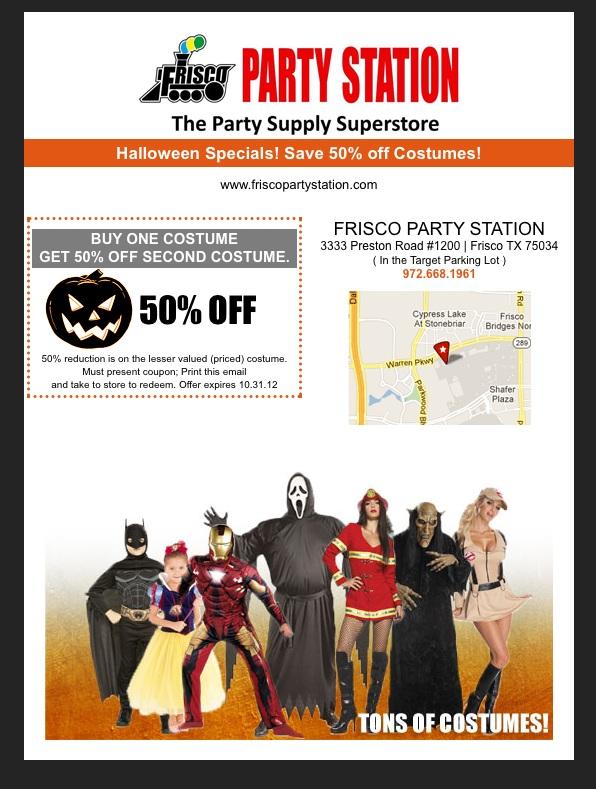 Robert and his family-owned
Frisco Party Station
has long been the go-to place for Halloween, for celebrations and now, even for Mavs-themed parties! They are the best in the business, are long-time DB.com readers, Mavs season-ticket holders and excited to help you with your Halloween! ... Tell 'em we sent you and get 50 percent off your second costume!
DONUT 6: James Harden Trade: Winners and Losers...
It seems nearly all of our NBA-covering media brethren rushing to pass judgment on the Thunder's decision to trade James Harden et al to the Houston Rockets in exchange for Kevin Martin, Jeremy Lamb and draft picks. Time will eventually tell, like in all trades, but allow us a minor addition to the rest of the commentariat.
Can we separate the notions of "good for team [X]," and "makes team [X] better?" On the surface, it seems that indeed this swap is 'good' for both sides as it accomplishes goals for both teams. The Thunder get a "sustainable" team for the new CBA-era. Meanwhile, Houston gets (1) something to do with the pile of assets they systematically acquired for a run at a star, (2) better on the court and (3) infinitely more watchable between the additions of Lin and the Beard.
However does this deal take Oklahoma City, the lip-of-the-cup title contender, closer to the championship they got to glimpse up-close last year?
Good for OKC, but not necessarily better.
Wanr to dig even deeper into the trade and how it impacts Dallas? Nobody does it better than our
David Lord, who evaluates not only the talent involved but also the dollars and cents.
DONUT 7: Echoes of Plan Powder?...
One more take on this:
From OKC's perspective, the motivation for doing this deal looks strangely similar to the rationale used locally for letting Tyson Chandler leave:
Don't pay your third-best player more than you are comfortable paying, thereby wrecking your franchise's flexibility to improve.
OKC does the "Plan Powder" bit too, on a smaller scale. Is it a validation of the Mavs' rationale? Maybe. Dallas and Oklahoma City are playing the long game, here, but it's at least a little bit comforting, isn't it, when the presumed "Smart Guys" agree?
DONUT 8: Wacky and Fuzzy at backup PG ...
As reported by DB.com on Monday,
Dallas has chosen DoJo as the odd man out on the roster, isn't exactly enamored with Roddy B right now, and has problems with Jared Cunningham's thumb. And as Delonte gets his walking papers, no NBA team seems very interested in helping Dallas out here by taking someone off its hands.
It is unfortunate to see such a recent draft pick not pan out, and in DoJo's case it's not for a lack of trying. DoJo clearly has not progressed to the point of taking minutes away from Roddy B, Vince Carter, Darren Collison, Jared Cunningham, Dahntay Jones, or O.J. Mayo.
More troublesome is that Roddy B seems in a similar boat, lacking DoJo's want-to. (Jones wants to but can't. Roddy can, but ...) And so Dallas is scrambling. Wacky and fuzzy.
DONUT 9: Power Rankings. ...
Your Mavericks come 16th in Steiny-Mo's rankings due to loss of Dirk for an extended period of time. Previously, they were among the ten best teams in the league according to Stein.
Does the loss of Nowitzki take the Mavs from "Solid Playoff Team"-status to "Slightly Below Average?"
Feel free to discuss on the DB.com Boards
, but you'll find no argument with that ranking here. This has the look and feel of a team that will need to push uphill to be .500 -- with Rick Carlisle having to do lots of pushing.
DONUT 10: Get caught up on all your Mavs news ...
Did you miss something? 'God is Great, Beer is Good, Fans Are Crazy' ... Mavs Q-&-A With Eddy Curry ... Friday Morning's LOADED Mavs Donuts ... Our Premium story on Curry, "The Tragic King Of Second Chances'' ... Mavs Suspend Delonte Again: 'I'm Sittin Across From The Arena Wit Tears In My Eyes' ... The Mavs Season Preview For Smart People ... Dirk Speaks: Hopeful, Humorous, Defiant. ...
We've got you covered ...
Click into DB.com Mavs Archives and get caught up!
DONUT 12: The Final Word ...
It is "The Grand Experiment.''
It has been suggested that this season's Mavericks are an experiment to see if a team full of new players on extremely short and flexible deals can gel and compete together with any success. That's certainly true, as it's definitely an experiment to see if such conditions can create championship-contending results.
But it's essentially the same experiment that was run around year last season. so we approach the season, and tonight, with excitement ... and some trepidation, too.
We asked Rick about this very thing - about the attitude that must be projected.
We've got to not only project a positive attitude, we've got to be positive about what we're doing on the one hand," Carlisle said. "On the other hand we've got to be honest and we've got to be critical of the things we need to work on, and we're doing that. We're going to keep getting better. We're not where we want to be, but I really believe we're on the right path."
The walk down that path begins tonight.