DONUT 1: Should the Mavs have 'locked up' OJ? ...
As OJ Mayo emerges as a "big-enough fish'' for now,
Dallas Mavericks
have reason to wonder: Why didn't we offer him a deal that would lock him into Dallas long-term?
What Mayo signed: a deal that pays him $4 mil this year with a player option (his choice) of $4.2 mil next year.
Why not give him more? Longer?
DONUT 2: Plan Powder and OJ's own plan ...
Mayo is going to end up being this season's No. 2 star when Dirk comes back around the end of the month. Or heck, maybe he'll be higher on the totem pole than that. (Though I think we saw in Boston what happens when you ask him to be EVERYTHING to this offense: You get nine turnovers as the Celtics blitz his every move.)
As a guy entering the week leading the Mavs with 20.8 points per game, and leading the NBA in three-point shooting at 53 percent, Juice should get some All-Star mention. (In the first round of balloting, Mayo is 10th among guards in the West, and Dirk is 11th among frontcourt players in the conference.
Here are the so-far results.)
But OJ took the deal he took because:
* He wasn't getting any All-Star votes this summer
* He wasn't being barraged with offers at all but very much wanted to play for the Mavs
He got the opt-out for the second season, giving him some level of security and control for his future.
DONUT 3: The Mavs were lucky and good enough ...
So the idea that the Mavs had any opportunity to sign him to a different - and longer - deal is simply asking for something that was not ever an option.
The Mavs were lucky (and good) to get him at all, given what they had available. Dallas gave him all the money it could spend under the CBA, and for as long as he was willing to commit. They didn't have at their disposal some fanciful "five-year/$35-million'' choice, and there is no indication Mayo wanted to be locked up for more than one season for what the Mavs had available.
DONUT 4: Why didn't the Mavs 'insist' on something different? A lot more in the second year, say? ...
Because Mayo would have said no, and signed with someone else under the terms of a short-term deal that allowed him some freedom. The $4 mil for this year is the tradeoff for allowing him to be a free agent again next summer if he wanted.
Why not give Mayo an $8 million option for Year 2 so he'd be more likely to stay? Not allowed under the CBA limits.
With $4 mil being all they had to offer him in Year 1, the most they could have offered in the same contract (in any way) for Year 2 was about $4.2 million.
DONUT 5: So why offer only $4 mil again? ...
Because that's all that Dallas had available under the cap. Really, Dallas' front office was clever and fortunate to get Mayo in this way. And the coaching staff has been clever and fortunate in guiding Mayo to the point that he is a viable go-to guy for, really, the first time in his professional life.
DONUT 6: Dirk, OJ and Andrea Bottocelli ...
Dirk Nowitzki
tells the story of having attended a Nov. 30 Andrea Bocelli concert at the AAC and after the show, Nowitzki goes by the locker room and sees Mayo coming out of the shower, having put in a one-man voluntary two-a-day evening.
And that word has gotten around.
"O.J. Mayo, coming there from Memphis, has definitely turned into an entirely different player,'' said Mav-turned-Celtic Jason Terry. "If you hear coming out of their locker room what he's done different, he's brought better work habits. He's been there at night and he's coming early before the game, so I think that's carrying over for him. He's always been a great talent, but there's been some question about his work ethic and obviously this year he's putting the work in and it's starting to show.''
DONUT 7: The next transaction - but first, Christmas! ...
When the Mavs are going poorly, we all start to wonder if Saturday (the first day that players acquired before the start of this season can be combined into trades) will be a hot one. When the Mavs are going well -- and when Dirk comes back to hopefully make that so? The NBA trade deadline of Feb. 21 seems slightly less meaningful. (Though if you are a long-time DB.com reader, you know that nobody covers the trade-deadline Mavs like we do. Nobody.)
In the meantime, trade deadlines and such also mean it's the holiday season. So ...
DONUT 8: Follow Fish and the Mavs on Twitter ...
Follow @fishsports
DONUT 9: Who needs tickets? ...
Our guy
Ryan at MavCowTickets
knows the ins and outs of the Mavs, the Rangers, the Cowboys, the arenas, the opponents ... the works! For the most personal service in the business -- with no stupid add-on costs -- check him out and tell him The Fish sent you!
DONUT 10: Trix in Toronto ...
I don't know if Shawn Marion loved playing for the Raptors, but I do know he loved his time in the city of Toronto ... and still does. I'm sure he got the needed rest once the team arrived there following the Boston game ... because that rest is needed.
Trix, bouncing back in Boston from a strained groin, played 45 minutes in that double-OT loss against the Celtics -- and did so largely serving as Dallas' "center'' while banging with Kevin Garnett.
"He showed a lot of guts," Carlisle said of Trix, who totaled 16 points, 11 rebounds, seven assists and two blocks. "I asked him a couple of times in overtime if he was all right. I probably should have pulled him out, but he wanted to stay in, so I left him in. The guy gave us everything he had. Can't ask for more."
DONUT 11: Want more Mavs? ...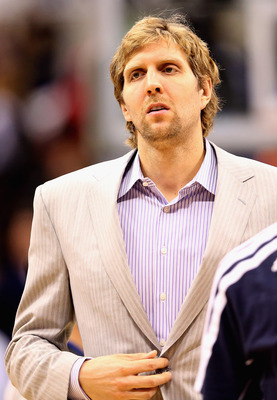 We've got
the best and deepest coverage of the Mavs available anywhere
... take our free seven-day trial and then get your Mavs gold for pennies! Go Mavs and Go Premium!
By the way, we take that same focus that we provide on the Mavs here on DB.com and apply it to
the Mavs and the Cowboys on 105.3 The Fan. Listen live here for some Fish on Football and for breaking Mavs stuff, too
... throughout today and every day ... and we'll take you inside the teams in every possible way!
DONUT 12: The Final Word ...
I've got the Mavs-at-Toronto "MAVS LIVE'' show on Fox Sports Southwest with Coach Ortegel, Dana, Harp and Mark Followill at 5:30. We'll hear from Rick Carlisle, too, and we'll keep an eye out for the Mavs to try to survive without the high-usage/low-turnover UberMan.
"We can do it,'' said Rick Carlisle, even after the 28-turnover night in Boston. "I believe in these guys. I really do. We showed a lot of guts hanging in this thing and we've just got to be able to make simple plays."
Simple plays, even with Dirk in civvies, might do it tonight. The Raptors are 4-19 and have lost six straight and 12 of their last 13.