DONUT 1: New Face Off Against Old ...
In Dallas on Wednesday night, it would've been a fair argument for some
Dallas Mavericks
fans to say they recognized more faces on the opposing team than they did on the Mavs.
After a second consecutive offseason overhaul,
Dirk Nowitzki
currently sidelined after knee surgery, and Shawn Marion remaining as the only key and uniformed player from the 2011 championship team, no one would blame Dallasites for feeling more familiarity with a New York Knicks roster that now includes Tyson Chandler and Jason Kidd.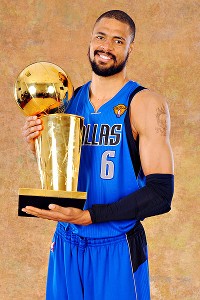 DONUT 2: Hi, TY ...
The well-documented story of Chandler's departure is still a heavily-debated open wound in North Texas. From the Mavs' end, the basics surrounding Chandler not returning to Dallas after the Championship revolve around the front office not wanting to commit four years and $58 million to a non-scoring center. The merit of the simplicity of that argument is up for debate, but it's simply the deciding factor from their end.
And then he performs at the very highest level, as was the case in
his team's 114-111 loss to your Mavs
, and yes ... you first-guessers get to say "I told you so,'' and you second-guessers get to do the same, and let's be honest: Don't think that The Triangle of Trust -- Cuban's self-confident protestations notwithstanding -- doesn't occasionally lose some sleep to wondering itself about the path taken.
DONUT 3: Murkiness with Kidd ...
Things are a bit murkier with Kidd's Mavericks exit. This past offseason, amidst the craziness and disappointment surrounding the Deron Williams free agency decision, Dallas and Kidd supposedly had a three-year deal in place. Long story short, Kidd eventually bolted for New York and, at the time, left the Mavs in the dust with massive amounts of uncertainty clouding the franchise.
And Mavs owner Mark Cuban was not happy about it. As a matter of fact, he felt so misled that he eventually ranted his thoughts about retiring Kidd's number in the American Airlines Center.
"I was more than upset," Cuban told the Ben and Skin show in August on 103.3, ESPN Radio Dallas. "I thought he was coming (back). I was pissed. J-Kidd's a big boy, he can do whatever he wants, but you don't change your mind like that. I'm sure I'll get over it at some point, but as of right now, I wouldn't put J-Kidd's number in the rafters."
Yes, yes, and remember that ex-girlfriend we pledged to never ever speak to again? It's years later. She's married, with kids, and we saw her at the Kroger's the other day and we actually spoke.
Do you think Kidd's name someday will be up in the AAC rafters?
"Yes,'' Carlisle said. "I do.''
DONUT 4: Nudged into the future ...
We offered this opinion on FoxSports Southwest the other night and reiterate it here: Kidd's decision -- awkward and uncomfortable and even an act of betrayal as it might have been -- serves to nudge Cuban and the Mavs into their future ... a maybe brighter future.
What eventually played out during the offseason may have been best for both sides. Dallas went on to trade center Ian Mahinmi to the Indiana Pacers for young point guard Darren Collison, giving the Mavericks a speedy option at the position that they haven't had since Devin Harris in 2008. (Ironically enough, Harris left town in the trade that acquired Kidd from the New Jersey Nets.)
This doesn't make DC the equal of Kidd. Indeed, after every game in which Collison has struggled -- and they have been multiple -- Rick's been heard to utter, "He's our point guard.'' It's a vote of confidence that wouldn't be necessary if Kidd was at the wheel here.
DONUT 5: Go say hello at Studio Movie Grill! ...
The gang at
Studio Movie Grill is ready to show Mavs fans a good time!
Go check 'em out and stay tuned for some fun projects DB.com is working on in coordination with Studio Movie Grill!
DONUT 6: Kidd and the Knicks ...
Conversely, Kidd couldn't have found himself in a better position. The Knicks, loaded with talent and led by Carmelo Anthony, were in need of the veteran leadership that Kidd oozes. Loaded with guards, coach Mike Woodson can pick his spots with Kidd, who is averaging his least minutes per game in, um, ever.
Had Kidd stayed in Dallas, he would be playing too many minutes each night and that would limit his effectiveness. Just like the circumstances surrounding Jason Terry's departure from Dallas, Kidd still had use, but maybe it was just time for a change from being a second-tier old contender to being a second-tier young contender with dry powder.
It would be comforting to have Kidd here. But how much better would Dallas be than it's present 7-6?
DONUT 7: The CBA Question ...
On Wednesday, Kidd had 17 points and five assists in 36 minutes and Chandler was his usual stellar self with 21 points and 13 rebounds. Their presence in the gym causes all to wonder, naturally ... "Would Dallas have been the favorites if Kidd and Chandler were in Mavericks uniforms this year?''
That seems unlikely to us. (We know Charles Barkley keeps insisting such a thing is so. But in fact, the redundantly comical Barkley insisting on something generally makes it less so.) Still, we are jealous. The Knicks' window is now. They won eight of their first 10 and don't even have Amare yet.
The Mavs, especially the host of new guys, are being learned about by you and are learning about their community on the fly. We don't know that the window is open but we know that with an open day from practice, Thanksgivings were made better by some of them.
That part of this team, thankfully, looks like the "same old Mavs,'' doesn't it?
DONUT 8: Follow Fish and the Mavs on Twitter ...
Follow @fishsports
Follow @kevinbrolan
DONUT 9: Who needs tickets? ...
Our guy
Ryan at MavCowTickets
knows the ins and outs of the Mavs, the Rangers, the Cowboys, the arenas, the opponents ... the works! For the most personal service in the business -- with no stupid add-on costs -- check him out and tell him The Fish sent you!
DONUT 10: "Keeping the window propped open'' ...
The Mavericks are willing to sacrifice overall success now to hopefully prop their window open as long as they can. The ultimate payoff to the decisions made in support of that strategy will only be known with time.
This is so ... even if we watch and wonder whether "keeping the window propped open'' is a sort of false hope because the moment's window doesn't seem all that ajar.
DONUT 11: Want more Mavs? ...
We've got
the best and deepest coverage of the Mavs available anywhere
... take our free seven-day trial and then get your Mavs gold for pennies! Go Mavs and Go Premium!
By the way, we take that same focus that we provide on the Mavs here on DB.com and apply it to
the Mavs and the Cowboys on 105.3 The Fan. Listen live here for some Fish on Football and for breaking Mavs stuff, too
... throughout today and every day ... and we'll take you inside the teams in every possible way!
In fact, today, it's "Fish for Lunch'' as Mike Fisher hosts 10-2, live from Duke's in Addison, on The Fan!
DONUT 12: The Final Word ...
Why did Rick go small for the final 24-second defensive possession? He wanted switch flexibility, five guys least likely to be vulnerable to mismatches.
Was anybody besides us scratching their heads at Defensive SmallBall?
"We've got to start recognizing when coach changes a defensive strategy, we've got to do it,'' said Marion in a quote that gives a peek into the answer. "We've got to hear him, understand it and don't second-guess it."
That defensive strategy meant
starting
the final defensive stand with mismatches, though, with 6-6 Vince checking 7-0 Tyson. Marion, however, did his thing on Melo and an assortment of new-face Mavs found a way to be 48-minutes better than an assortment of familiar-faced Knicks.
"Well, I guess you always have choices,'' Carlisle told us. And that goes for Mavs followers, too. The "Go For It'' era may have become the "Wait For It'' era to us.
But for 48 minutes and then for 24 seconds, Carlisle's unorthodox and Dirk-less combinations were in their own go-for-it mode ... and on Saturday now try to do the same against the familiar faces of the Lakers.