DONUT 1: Where would the Mavs be without OJ Mayo? ...
Another night, another game leading the
Dallas Mavericks
in scoring for OJ Mayo. His hot shooting, particularly from the arc, is now coming with such regularity that it is becoming commonplace. Given the blowout that Monday's 119-96 home in over Sacto turned into, Juice's presence wasn't vital.
But this season, as you see
here in a video--loaded Premium piece we're very proud of, OJ has been absolutely essential to keeping Dallas afloat
without
Dirk Nowitzki
.
"Essential'' as in, "Dallas might be 5-16 without OJ'' essential.
DONUT 2: Juice and Windex ...
For the second straight game, Mayo has been the Mavericks' leading rebounder and is averaging 7.5 boards over the past two contests.
However, his rebounding is nothing new. Among qualified guards, he is 12th in the NBA in rebounding for his position. Given his size, athleticism and the Mavericks' difficulties on boards overall, it's not unreasonable to expect Mayo to post big rebounding numbers for his position.
When asked about his rebounding, Mayo said, "We have got to help our bigs out."
Of all the things Mayo has been this year, "helpful," might be the most understated.
DONUT 3: Meet the Jet ...
For Jet and for Mavs owner Mark Cuban, Jason Terry Talk often means "Rafter Talk.''
"Yeah, I know, I know, I know," Cuban said, smiling. "Yeah, we'll deal with that. I'm not opposed to it, let's put it that way."
"Opposed'' is a key word for a more immediate challenge. Jet's time in Dallas will come again; Cuban suggests Terry will have a Mavs job waiting for him post-retirement. but tonight, it's about Jet the Celtic.
"He's always welcome back," said Cuban of Jet, fully aware that when the Mavs tipoff tonight in Beantown, they will be anything but "welcome.''
DONUT 4: Purple Kaman ...
Early on Monday, Chris Kaman's playing status was far from certain, due to his swollen left ankle. One thing that was certain, however, was his shooting accuracy. Hitting nine of his 13 shots, his fifth-most accurate night of the year, Kaman seemed to have plenty of lift on all of his jumpers and ran well throughout the game.
When asked about his hot shooting night after the game, Kaman said, "Maybe I should roll my ankle more often."
In the locker room afterwards, with tape removed, his ankle still looked a purple, angry mess, but he was walking without difficulty and should not miss time going forward barring re-injury.
Here's Chris' full presser, a Video Visit and a Premium sampler:
In addition to Chris, the Mavs are hopeful that Shawn Marion (groin) will play in Boston after having missed two games. Trix traveled with the team to Boston on Tuesday.
DONUT 5: Coming off the bench better for Collison? ...
Before the game, Rick Carlisle mentioned that "it helps Collison to come off the bench." Carlisle was speaking of Derek Fisher's impact on the team and the young guard in particular, but for one night at least, Carlisle was right about Collision as well.
Perhaps it was the inferior competition, but Collison had one of his better games of the season against the Kings, scoring 15 points with two assists and three rebounds but three turnovers.
We've said this before and will reiterate: Dallas will be best-served if DC re-captures that starting job as some point. Maybe doing well off the bench is a needed stepping stone.
DONUT 6: Cunningham to the JV ...
The Mavs have moved
Jared Cunningham down to Frisco as you see in this official PR release.
Notable sidebar to this: A Mayo tweet that reads, "J1Flight still is my Favorite rookie of his class. He's down to earth on ALOT!''
DONUT 7: Dirk's Medical Advice and Busy Night ...
Carlisle mentioned before the game that part of the improvement in Chris Kaman's ankle is a regimen advocated by Dirk Nowitzki. Essentially, it involves waking up every two hours and icing the swollen joint for fifteen minutes using a specialized device.
It was a busy night all around for Nowitzki as he also appeared on the TV broadcast ("They can't guard you, Juice!!'') and accepted the Naismith Legacy award for significant contributions to the game of basketball. He is also the first international winner of the award for his help globalizing the game.
DONUT 8: Fish and Ortegel on TV tonight ...
With the win, Dallas is now 11-10 on the season. They now head out for a three-game road trip that has them in Boston tonight (Fish and Ortegel have the pregame show and the telecast on Fox Sports Southwest starting at 6:30), Toronto on Friday and Minnesota on Saturday. So far, the Mavs are only 4-7 on the road this season, but with two games that look winnable on this three-game swing, there is hope that Dallas could return home close to .500 away from the AAC.
DONUT 9: The award-winning DB.com Mavs Podcast ...
It's up, freshly-baked, and ready to serve. Click in and give Fish and The 75-Member Staff a listen!
DONUT 10: Dahntay Jones spot-start ...
Dahntay earned his fourth start of the season Monday and seized the opportunity with a season-high 11 points. He also dished out four dimes, grabbed three rebounds and was +13 in his 29 minutes, a high among the Dallas starters.
He was viewed as a minor piece in the Collison trade, but his ability to step up when called upon, a fulfillment of Carlisle's "Be Ready," mantra, will be key to helping Dallas weather injuries and illness over along NBA season.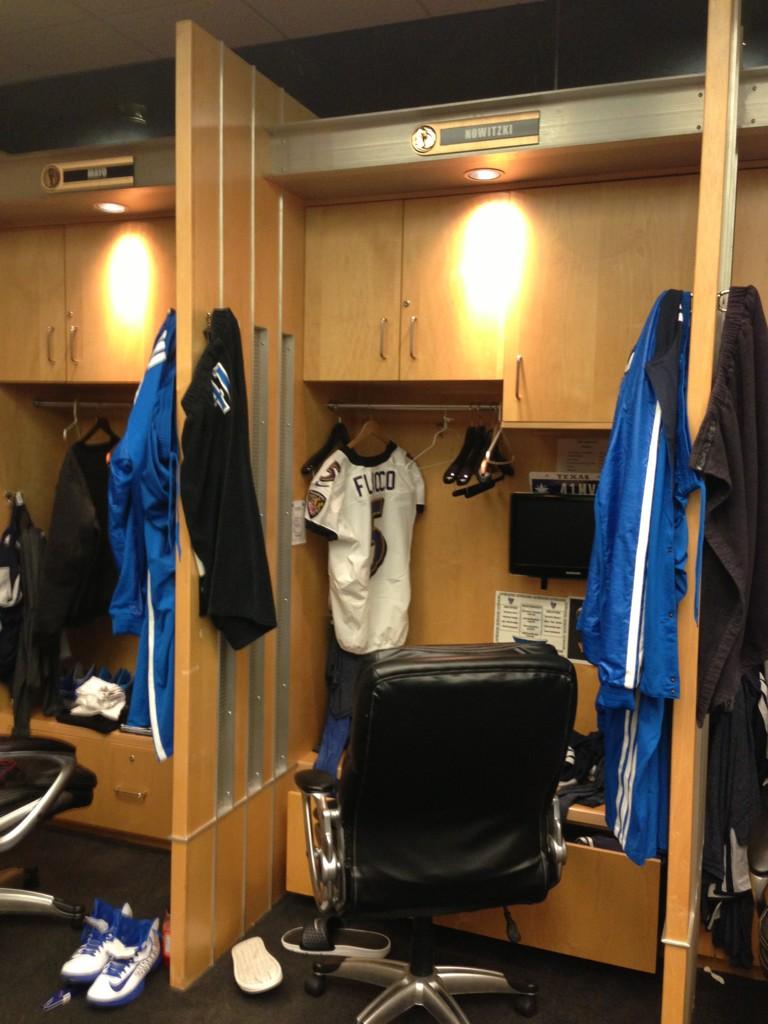 Indeed, when you consider Boston's strengths, "Be Ready'' might be required of D-Jones again tonight.
DONUT 11: Wacky Contests ...
In a McDonald's-sponsored contest on Monday, two individuals ran back and forth on the AAC court Monday night carrying trays of McRib sandwiches. The winner was the contestant who carried the most McRibs the farthest.
The prize? Unless taken in moderation (as we know the Mavs, like DB.com, needs those sponsors) ... First place got free bypass surgery and second place got diabetes.
DONUT 12: The Final Word ...
What's hanging in Dirk's Locker? There's an unexpected jersey hanging in the UberMan's locker: Joe Flacco's.
Turns out, Dirk is a big fan of Flacco's and there is a mutual admiration so the Baltimore QB actually sent his jersey to Nowitzki.
Perhaps Nowitzki could repay the favor and send Flacco some tips for how to win on the road? And, heck, maybe Dirk can do the same for his own team tonight in Boston.