DONUT 1: DC deceiving himself? ...
I cannot tell if Darren Collison is trying to give the "I'm-a-competitor'' speech by rote, or whether he's truly blind as to why his starting job has, however temporarily, slipped from his unsteady hands.
"I think as hard as I worked over the offseason, I'm disappointed by the whole situation, how the whole situation went down," said Collison, reflecting on newcomer Derek Fisher immediately being elevated to the
Dallas Mavericks
starting PG job for the Saturday win over Detroit. "But I'm a team guy. I just want us to win. Whatever it takes for us to win, we'll do that."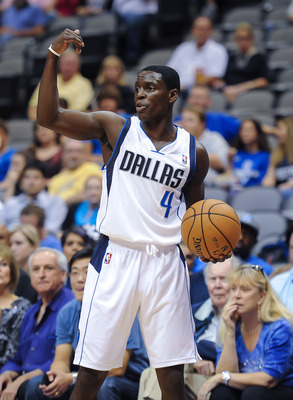 To DC's credit, he did just that in the game, contributing five points and eight assists off the bench.
DONUT 2: Students of the game ...
But DC -- a very astute student of the game -- must have blinders on not to see the difference in his production from when Dallas started 4-1 to when he was in the middle of a skid during which the Mavs lost eight of 11.
Remember, Collison wasn't just replaced by Fisher on Saturday. A few days before, he was replaced by DoJo, too. The coaching scramble was about a search for many things. Among those: A PG who could consistentely execute a simple entry pass.
DC can, in theory, do that. But he didn't do it well in Indy last year and he lost his starting job because of it. Now it's happening again.
It benefits Collison greatly if this is a temporary thing. It benefits the Mavs greatly if it's temporary, too.
DONUT 3: Mayo maturity ...
You could see it growing day-by-day ... even as O.J. Mayo was fighting through a three-game mini-slump.
"It's a little different with the defensive coverages for me now, so I have to be patient and pick and choose when it's a good time for me to be aggressive so it doesn't seem like I'm just out there jacking up some shots,'' said Mayo, who'd averaged nine points per in three games before busting out for 27 on Saturday. I've just got to continue playing hard on both end of the floor and hopefully it'll break through ..."
A new role. A new responsibility. Patience. Maturity.
DONUT 4: What do 'Vintage' mean? ...
Rick Carlisle called it a "vintage game" for Elton Brand and Elton is quoted as gently objecting to the characterization, saying he doesn't think his 17-points/12-rebounds/four-blocks performance on Saturday is all that notable.
"Nah, that's not vintage," Brand is quoted as saying.
Well, Elton right now is a 6/6 guy. He's essentially had two bust-out games all season so far. It is his position that given more "opportunities,'' he'll put up even grander numbers.
Ah, but don't lose sight of Carlisle's position here. Offensive chances are earned by defensive effort. Carlisle said Brand's "effort was enormous." And that is your clue. And Elton's, too.
DONUT 5: Hello to Holger! ...
The good news is that Holger Geschwindner is in town and that means
Dirk Nowitzki
must be cranking things up in accordance with his desire to return to the court this month. More good news: As long as Holger is hangin' out, he might as well apply his flannel-shirted magic to other Mavs. That includes Roddy B, with whom he worked at practice the other day.
The less than good news: Roddy B's work seems like it might be limited to the AAC basement, as the acquisition of Fisher makes him essentially the Mavs' No. 4 point guard.
DONUT 6: The 39-Million-Dollar Mavs ...
Why are the Mavs performing as such a mediocre level? Maybe you get what you pay for.
Here's a theory as simple as David vs. Goliath, crafted smartly by our David Lord for Premium Mavs Fans: In a league where most teams field $60-to-$70 million rosters, the Mavs have been competing with a set of players worth less than $39 mil.
Check out our Mavnalysis. ... The 39-Million-Dollar Mavs.
DONUT 7: More Pistons, please! ...
Not in this space will you read any suggestion that the Saturday win was "only against Detroit.'' Yes, yes, I'm well aware of that franchise's (perpetual?) state of flux and I'm always well aware that the Pistons are 1-10 on the road this season.
But I'm not a person who lives in the past. In the past, a perennial-titlist Mavs team winning at home over a lousy Pistons club would not be especially notable.
Now? If I'm a Mavs fan, I wish they could play Detroit at the AAC again and again.
DONUT 8: Follow Fish and the Mavs on Twitter ...
Follow @fishsports
DONUT 9: Who needs tickets? ...
Our guy
Ryan at MavCowTickets
knows the ins and outs of the Mavs, the Rangers, the Cowboys, the arenas, the opponents ... the works! For the most personal service in the business -- with no stupid add-on costs -- check him out and tell him The Fish sent you!
DONUT 10: ...
What was Fisher's contribution in Saturday's 92-77 win over the Pistons? Not much in terms of individual stats; he started and played 24 minutes, scored two points, had two rebounds and had three assists.
Yet, Carlisle said, "He ended up a significant plus in the game.''
"Significant plus'' is not an intangible. It's a measurable., It's "plus/minus.'' Fisher was a plus-12 in that game.
Why is this worth noting? As DB.com's Luke Kammrath points out, a positive plus/minus is a pattern with Fisher.
D-Fisher's plus/minus with OKC last year was +5.7. In the previous three years with the Lakers? In '12 it was +1.8, in '11 it was +8.6, in '10 it was +6.4.
Significant plus. Tangibly.
DONUT 11: Want more Mavs? ...
We've got
the best and deepest coverage of the Mavs available anywhere
... take our free seven-day trial and then get your Mavs gold for pennies! Go Mavs and Go Premium!
DONUT 12: The Final Word ...
"I had no delusions that it was going to be easy. We started off 4-1 and that was great. But a lot of those wins were byproducts of hot shooting and we were playing a favorable schedule. The reality was this was going to be a challenging endeavor. We've got the stomach for it, and we're going to stick with it.'' - Rick Carlisle.