Strangely enough, in their time as
Dallas Mavericks
,
Lamar Odom
and
Troy Murphy
almost mirror each other statistically.
That is not complimentary. And in some ways, depending on how much you respect using numbers as your dance partner, it is not fair.
But it is in black and white.
Here were their numbers per 36 minutes as Mavs enter Wednesday night's game against the Knicks:
| | |
| --- | --- |
| 7.3 rebounds | 7.3 rebounds |
Now, let's not allow ourselves to misappropriate this information. First off, there is the issue of sample size. Note that the above numbers include the 7-of-13 shooting (including 7-of-12 behind the arc) for Murphy in the last two games that provided a nice boost to his shooting percentages ... and how that fluctuation proves him two boosts toward respectability ... again, extremely limited sample size.
Also important: This is per-36. In "real life,'' Murphy is at 5.6 points and 4.0 rebounds per game. But ... he's also playing 19.6 minutes per game.
That 19.6 minutes is real. Too real. And again, include the Monday game in which he played 24 minutes as the first guy off the bench, and ... Well, Dirk Nowitzki, you are missed.
We certainly aren't comparing the effort level of Murphy to that of Lamar Odom. Odom arrived here last season in post-labor-dispute physical condition (as did many teammates, including Dirk) but remained that way all year long.
Worth noting: Odom is now with the Clippers, continues to be out of shape, and continues to put up numbers that are a fraction of what he was once capable of when "in the mood.'' Odom as a Clipper so far this season: 1.6 points per game, with 2.4 rebounds and 0.8 assists.
Murphy, on the other hand, is working hard to achieve his mediocre numbers, is a stopgap option until Dirk's return, and was on the treadmill at his local health club hoping for a phone call to rejuvenate his career ...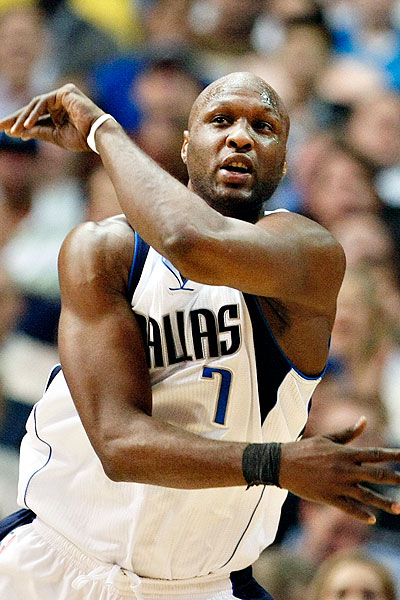 ... As opposed to Odom, who was an employed Laker when he asked for and then was granted a trade to a preferred employer.
The comparison seems a slap into reality, reality of how a roster without Dirk finds itself being assembled ... and how life balanced near the outskirts of contention simply is. Yet, it's not like Dallas hasn't before been forced to grab a scrap-heap veteran to toss into the lineup. ...
We all might need to be reminded that Peja was snagged off the end of the Toronto bench in the 2010-11 championship season (way before we knew it was going to be a championship season). The transaction (an I'll-scratch-your-back trade/cut thing?) was odd. Peja showed up hurt, was Mavs property for 25 regular-season games, and somehow started 13 of them.
So it's really about the demands put on the Pejas and the Odoms and the Murphys -- and the teammates they are blessed to be playing with.
Dallas was Peja's third team that year. He'd played six ineffective games in New Orleans and two ineffective games in Toronto before the Raptors put him by the curb for trash pickup.
Here's a hope that the Mavs get healthy and that while Murphy is going to be relied upon tonight against the 8-1 Knicks (visiting the AAC), he will soon be shoved down the totem pole to where he belongs ... shoved down to where we can make a fun Peja comparison, maybe, rather than having to make a painful Odom one.