FOREWARD:
For all of the good shown, the
Dallas Mavericks
buried those positives beneath an avalanche of turnovers, setting a new season high with 28 losing in double-overtime to the Boston Celtics 117-115.
Though it may seem trite while wading in the frustration of the loss, there was hope to be taken from the manner in which Dallas continued to fight through their mistakes and continually claw and scratch their way into position to win a game their turnovers demanded they lose. Yet, you can only give away so much and still expect to come away with something.
Since the 1985-86 season, this is only the sixth time the Mavs have totaled 28 or more turnovers. They are now 2-4 in those games, with the last win coming Dec. 27, 1988 … almost 24 years ago.
There is plenty to be "encouraged" about, as Rick Carlisle noted after the game, but the simple truth is that it's very difficult to find your way out of a self-made hole that deep … though Dallas showed no lack of effort in doing so.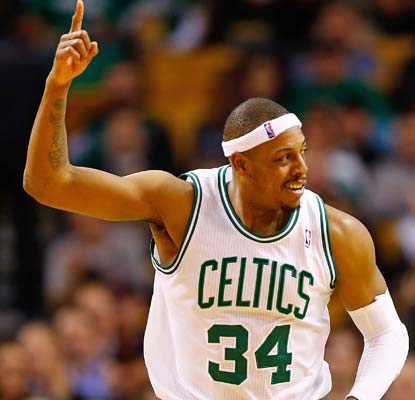 OLD FACES IN NEW PLACES:
We strongly doubt that we're alone in feeling it hard to shake the unsettling peculiarity of seeing Jason Terry in Celtic green wearing number four. Terry gave so much to Dallas, including being a key factor in bringing a championship to the franchise. So much that it's hard to accept seeing him through the prism of another team.
He's Dirk's little buddy. He's the JET whose home airfield is in Dallas. If you cut him, he'll bleed blue.
He's a Maverick.
Terry ranks sixth in games played (619), sixth in field-goals made (3,719), second in 3-pointers made (1,140), sixth in points (9,953) and fifth in steals (735) in franchise history.
Perhaps it's not Joe Montana wearing a Chiefs uniform, or Emmitt with the Cardinals … but that doesn't dilute the emotion here … we were watching a Dallas Maverick wearing a Celtics uniform.
For his part, Terry kept relatively quiet once the game began; finishing with 10 points, 3-of-10 field goals, 1-of-6 behind the arc, three steals … and zero turnovers.
It's strange. It clashes with memory. It's Jason Terry wearing Celtics green. And he knows it, too.
"Dallas is still my home base," Terry said. "I definitely want to be a part of the Mavericks organization (after retirement). I am a Maverick in my heart."
Asked before the game if the Mavs miss Terry, Carlisle said: "Do we miss him? As K.C. Jones would say, 'Does a bear shit in the woods?''
MICROCOSMIC RELATIVITY:
To capture the essence of this game, you need only look to two of the team's primary young players:
O.J. Mayo
and Darren Collison.
Both had their superlative moments, contrasted by deep forays into the opposite end of the spectrum. From the highs of huge baskets in the biggest moments, to leading key clutch surges, to costly turnovers at the worst possible moments, to missed free throws late in the game that may have changed the outcome; such was the dichotomy of their performances … and that of the team's.
Mayo finished with 24 points, hitting 10-fo-19 shots, 3-of-7 behind the arc, six rebounds, three assists, two steals … and nine turnovers. Yes, nine, a new career high for Mayo.
Collison ended the game with 20 points, 8-of-11 field goals, five rebounds, six assists, three steals … and a season-high seven turnovers.
That's 16 turnovers between only two players … that's more than 27 teams, including the Mavs, average per game.
For all of the good they did, and there was plenty to be found … Collison was the driving force behind a surge late in the third quarter that gave the Mavs hope, Mayo hit monster shots down the stretch and in overtime, both doing so with aggression and determination … but it's hard to ignore or overcome the turnovers … so many turnovers.
THE CLOSING:
In the final 5:21 of regulation, other than a couple of situational substitutions late in the game (primarily, inserting Dahntay Jones in for defensive purposes in place of Collison), Carlisle went with a small lineup – to say the least – that featured Shawn Marion at center, Vince Carter at power forward along with Derek Fisher, Darren Collison and OJ Mayo.
In one respect, you can say this lineup worked … as it brought the Mavs back and forced overtime.
In another, you could say it failed … as they would ultimately lose.
One thing you can say with certainty, two of the Mavs veterans came up with huge defensive plays to ensure their survival beyond regulation and the first overtime.
Derek Fisher may have surprised Rajon Rondo (16 points, 15 assists, 9 rebounds) on the final play of regulation by keeping the much younger, quicker guard in front of him and getting a piece of the ball to deny Rondo any chance of putting the game away before the clock reached zero.
Fisher would foul out on a questionable call, where the replay appeared to show little to no contact with Rondo's back as the two went after a rebound with 1:07 left in the first overtime. This caused Dahntay Jones to replace him on the court.
Jones would respond by smothering Paul Pierce to close out the first overtime period, bringing about one final chance for the Mavs to overcome their own mistakes.
HOW IT LOOKED:
Your NBA highlight reel:
THE PLIGHT OF THE WRIGHT CONTINUES:
Boston and Dallas entered the night as the two worst rebounding teams in the NBA, in terms of rebounding differential. The Mavs sat last, being outrebounded by 4.7 rebounds per game. Boston is next, allowing opponents 4.0 more rebounds per.
Kevin Garnett garnered the bulk of the minutes at center for the Celtics, with Brandon Bass (remember him) getting most of the power forward minutes.
There are no dominating, physical post presences there.
On paper, this would seem to be another night where Brandon Wright may find the environment suitable for him to shine. This season, the Mavs are 7-2 in games Wright plays at least 19 minutes. Over the previous three contests, Wright had not played less than 23 minutes and had averaged 10.7 points, 4.7 rebounds, 1.7 blocks, with a 59.3 field-goal percentage … all three were Dallas wins.
Against the Celtics, Wright played five minutes and had two points and one block.
Even with Jae Crowder missing due to a stomach bug, it appeared that Shawn Marion's return shoved Wright a space further down the bench. Perhaps it was a matchup decision, or simply a sign of what's to come … we'll soon see.
TRULY BROOK LOPEZ-IAN?:
We've documented the purple ankle of Chris Kaman and are forced to wonder if that ankle came into play again. Kaman would start the third quarter, just as he did to open the game, but once he left he would not return and would not see the court in the fourth period or either overtime.
Kaman finished with 12 points on 5-of-7 shots and five rebounds in 24 minutes.
It could very well have been the ankle, but allow us to think aloud for a moment as well. Brandan Wright seems to see his minutes constrict by the pace of this rebounding … the less boards he grabs, the less minutes he finds.
Is it possible we're seeing a bit of the same thing with Kaman?
Kaman entered the game ranked 31st in Total Rebounding Rate (percent of available rebounds grabbed while in the game) in the NBA among centers who average at least 10 minutes per game, at 14.3 … and is averaging his lowest amount of rebounds per minute since his rookie season.
Just a few spots behind him is a center with a well-earned reputation of giving a lot on offense … and little else. Brook Lopez is ranked 37th with a total rebounding rate of 13.5.
Combine his rebounding with the subpar defense we're seeing far too often from Kaman, and perhaps it's more than his ankle keeping him on the bench.
Of course, the obvious counter to this, considering the ankle and previous injuries Kaman has played through this season, is that perhaps the rebounding and defense are products of playing while being limited by injury … perhaps we're simply seeing a guy toughing it out through pain and suffering the on-court ramifications of that.
Time will tell.
MAVSELLANEOUS:
Wednesday marked the 11th different starting lineup employed by the Mavs. Five of those lineups are undefeated, though only one of the five has more than one win (
Derek Fisher
, Mayo, Dahntay, Wright, Kaman is 2-0). The only player to be a member of all five is OJ Mayo … Mayo has led the Mavs in scoring 15 times this season. The guy that's led the team in scoring the next highest number of times: Darren Collison with 3 … Shawn Marion returned and played well. He finished with 16 points, 11 rebounds, 7 assists, and two blocks. This was Marion's second double-double of the season. The Mavs are 2-0 in those game … Dallas is now 0-3 in overtime games this season.
THE FINAL WORD:
It's hard to see around the tumbling mass of turnovers, but there were positives to be found here. We saw a team that did not back down from a Celtics group that had shown signs of reclaiming their reputation as a rugged defensive team, holding their opponents to a field-goal percentage of 40.2 over the previous six games, as Dallas hit 51.1 percent of their shots and didn't curl beneath the frustration of their turnovers.
The Mavs outrebounded Boston 50-42, their largest rebounding margin since collecting nine more than Toronto Nov. 7th, and scored 60 points in the paint, compared to 40 for the Celtics.
Dallas didn't yield. Didn't wilt under the weight of their mistakes. Instead, they continued to fight … though they did appear to wear down as the second overtime rolled on.
As ugly as it was pretty, or as pretty as it was ugly … depending on how you look at it.