FOREWARD
Fresh off what was likely the most embarrassing defeat of the season, the
Dallas Mavericks
traveled to Oklahoma City to face a team entering the night with the second best winning percentage in the NBA. In Dirk Nowitzki's second game of the season, the story quickly became a brilliant offensive performance from Darren Collison before meandering its way to OJ Mayo's worst game of the season and an overtime loss, 111-105.
"I like what I saw,'' said Dirk Nowitzki of his mates' effort. "We just made some mistakes down the stretch that we can't make."
They tend to do that this season, especially in games so close they extend to an additional period. The Mavs are now 0-5 in overtime contests this season, eight straight overtime losses in all, are in the midst of their first four-game losing streak since February of last season, have a record of 1-7 in their last eight games and have fallen to 4-13 on the road this season.
Hold us.
OUT WITH THE OLD, IN WITH THE OLD
With Derek Fisher retired – is "retired" the correct word here? – the starting point guard position has been openly up for grabs.
Against the Thunder, Darren Collison, who opened the season as the designated starter, made his most sincere push yet for his return to the job, scoring 32 points on 13-of-22 field goals (59.1 percent), hitting all four of his attempts behind the arc (tying a career high for made 3-pointers), to go with five rebounds, four assists, four steals and three turnovers.
Most memorable of his makes came on a broken play that began with the Mavs down three with 2.2 seconds left on the clock in regulation.
Shawn Marion threw an errant inbounds pass that Vince Carter could only tip back towards half court, where Marion grabbed the ball, cut to the rim and tossed a pass to an open Collison, who caught it with only one foot on the ground, just behind the 3-point line, and leapt in one motion, launching a prayer as time expired … the prayer was answered and the game headed to overtime.
"It was just prayer,'' Collison said. "I honestly didn't think it was going in ... I'm just thankful that it went in. It gave us a chance for overtime.''
Charles Barkley ripped Collison at halftime for having only one assist while leading the Mavs in shot attempts, which was followed by a wave of Twitter agreement. (We know Chuck doesn't actually watch the game; do Twitter followers not, either?) Meanwhile, Collison was too busy being the best offensive player on the court for Dallas to care.
Never mind that Collison had 16 points at the time, more than twice as many as any teammate, with the highest field-goal percentage of anyone to have played more than 10 minutes for Dallas.
There have been plenty of chances to rip Collison this season. Thursday night was not one of them.
Collison's 32 points tied for the second most of his career, and mark the most he has scored in a game since the last time he had 32 on March 5, 2010 against the Spurs … as a member of the New Orleans Hornets.
Four times in his career Collison has scored at least 30 points … all four have been losses.
Does that mean Barkley and company may have a point?
Judging solely on this game … no, it doesn't. Especially as it seems that DC has ended, for now, coach Rick Carlisle's "wide-open search'' for a starting point guard.
"Collison was terrific, really,'' Carlisle said. "Tremendous on both ends, and the way he played tonight is what we need from him just in terms of his presence in the game, his aggressiveness at both ends of the court. ... I'm into presence, and he had it tonight. At this point he's our starting guy.''
MAYO IN THE SUN
At some point, somewhere, someone has left some mayonnaise in a closed off area in the sun, and then had the unfortunate experience of later coming across that mistake in all its pungent ripeness.
Thursday night, Mavs fans can now empathize with how that experience must have gone.
O.J. Mayo has been the best player on this roster to this point. The Mavs' 12-17 record isn't pretty, but would be far worse without the outstanding play of Mayo. That's the truth. So, excuse us if we're not exactly ready to completely turn on a guy who has been so good for the vast majority of this season.
Carlisle is right there with us, refusing to publicly rip Mayo for his struggles.
"We win and lose as a team,'' Carlisle said. "Individual guys struggle -- that's going to happen during an NBA season. And when it does I've got to help those guys do better. It's on me.''
That said, the last four games for Mayo have been very poor. He's appeared tentative at times, flustered at others, and just plain bad at others. Against the Thunder, he was as bad as we've seen him all year.
The numbers: 4 points, 1-of-7 field goals, 5 assists, 3 rebounds, 1 steal, 1 block … and those crushing 6 turnovers.
In the final five minutes of regulation and overtime, Dallas was outscored 24-14 while Mayo went 0-of-2 from the floor, 1-of-3 from the free-throw line, and had three turnovers.
It wasn't just the numbers, which aren't pretty on their own, but the timing of his mistakes.
Those three turnovers:
1: With just over four minutes to play in the fourth period and the Mavs up six, Mayo was dribbling, unaware of Dirk trailing behind him, the ball bounced away off of Dirk's leg as he tried to cut around Mayo, causing an unforced turnover to be gathered in by Russell Westbrook, who passed ahead to Kevin Durant for an easy dunk … and a Mayo foul that sent Durant to the line for the and-1 attempt, cutting the lead in half, to three.
It's possible to make the argument that this wasn't completely Mayo's fault, just unlucky happenstance. We'll give him a break on that one.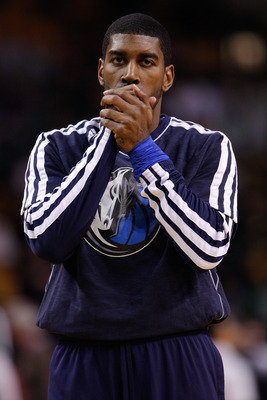 2: With Dallas trailing by one and 7.8 seconds on the clock, Mayo used a Dirk screen to force an advantageous switch that left Serge Ibaka to guard him, dribbled hard left, and lost the ball as Westbrook helped for the steal.
Given Mayo's effectiveness this season in the clutch, perhaps we can forgive his not delivering the ball to Dirk (playing late in only his second game back, with his legs clearly not soundly beneath him), and though Collison would do his best to erase this mistake with his last-second three, the ultimate turnover is a tough error to overcome.
3: With 45.9 seconds to play in overtime and Dallas down one, Mayo picked up his dribble early at the right elbow, forced a crosscourt pass that Westbrook easily intercepted … and after a Westbrook layup the Mavs were once more down three.
Mayo would be granted the chance for a reprieve moments later when Kevin Martin fouled him on a 3-point attempt, giving Mayo the chance to tie the game with 33.2 seconds left of overtime.
Mayo missed the first free throw. Missed the second. Made the third … and the game was essentially over.
Said Dirk: "Juice has got to go back to the way he was playing when I was out. I don't know what happened to him. It looks like he lost the confidence. ... But we depend on him. He's got the ability. He showed it early in the year. He's gotta make plays for us down the stretch as long as I'm not all the way there."
Several times this season, Mayo has stepped to the line in the game's biggest moments … and failed to convert. For a player who appears capable of being a very solid second option, possibly a first in the eyes of some, this must not become a trend. Dirk is right about O.J.'s confidence ... and as Premium Mavs Fans will read this weekend, the Mavs have a way for Dirk to help Mayo get it back.
Stay tuned.
HEY, DIRK'S STILL BACK!
After preseason knee surgery, Dirk Nowitzki played in his second game of the season … and it showed.
Dirk has never been a player readily labeled as "graceful,'' though there has always been a smoothness – yes, even grace – found in the final moments of his attack, as the shot release steadies itself above the awkward body beneath. In that space lays a deadly beauty that has left the best defenders the league has to offer befuddled.
For the majority of Thursday night, that consistently fluid movement was tainted by rust. Maybe is was due to something Dirk noted earlier in the day about his legs being "a little heavy'' and about one of his favorite slogans, a lack of "pep in his step.''
Dirk finished with nine points on 3-of-11 field goals, six rebounds, one assist, one block and one turnover in 26:29.
The good news is that he's back and doesn't appear to be limited in his movements. The bad is that he'll have to work to get his game legs beneath him. Jason Garrett would remind us that it's "a process," and he wouldn't be wrong.
As you decry Collison, Mayo or others for not getting Dirk the ball late in the game, note that this was as often by Dirk's choice than not, as he waved them in another direction. This wasn't always the case, but it's certainly occurred.
Dirk is two games back after missing the first 27. It's going to take some time … regardless of whether or not it's time the Mavs can afford to endure.
BUZZER-BEATERS
* Kevin Durant scored 13 of his 40 points in the fourth quarter, Dirk and Mayo combined for zero points on 0-of-1 field goals.
* Though Durant was strong in the final period as a whole, Dallas held him in check for the final five minutes of regulation and overtime, where he scored seven points on 2-of-8 shots.
* During that stretch (final five minutes of the fourth and overtime), Dallas committed three turnovers that directly led to seven points for OKC … all three turnovers came from Mayo.
The Thunder also attempted seven free throws, making all of them compared to just three for the Mavs (making just one), though Dallas likely would have liked another pair of freebies when Ibaka (19 points, 17 rebounds, 5 blocks) clearly fouled Chris Kaman by raking him across the forehead during a shot attempt.
* Shawn Marion finished with 14 points, nine rebounds, seven assists and a block. The Mavs struggles have concealed a stellar stretch from Marion on the court.
In the last eight games, Marion is averaging: 12.3 points, 2.8 offensive rebounds, 9.6 total rebounds, 3.1 assists and 1 block.
Remove his off night against the Spurs, and Marion is averaging a double-double over the other last seven games: 13.4 points and 10.3 rebounds.
* Over his first 25 games, Mayo failed to score at least 10 points only once. In the last four, he's failed to do so three times … including tying his season low with four points against the Thunder.
Mayo's averages for the past four games: 7.3 points, 25.0 FG%, 12.5 3PT% (2-of-16), 63.6 FT%, 4.3 assists, 4.5 turnovers.
THE HIGHLIGHT REEL
MAVSELLANEOUS
Though this game didn't get away from them, these numbers may be worth sharing. Entering Thursday night: the Mavs had lost 7 games by 19+ points, which is the most in the NBA. Charlotte and Toronto are tied for second most with five each. The only three teams yet to lose by 19-or-more points: the Thunder, Clippers and Lakers. ... Entering Thursday: Dallas has 11.3% of all the leagues losses by 19 or more points (7-of-62) ... Roddy Beaubois was unavailable after he took ill in the pregame locker room. ... "I don't know which was more painful, watching some of those games or the kidney stone," said owner Mark Cuban, who has been suffering through losses and through the passing of the slow-and-painful force we've nicknamed "Lamar Scrotum.''
QUOTABLE
"I think the goal is still playoffs. I don't think that's gonna change." - Dirk.
"No one is pushing the panic button.'' - Mark Cuban.
THE FINAL WORD
At times, this game felt well in hand for Dallas, which makes the result sting all the more. Yet, there was none of the embarrassment the surrounded the Spurs game. In its place, there was a team that fought to the end against the best the NBA has to offer, and came up just short.
Perhaps it's reached the point of reaching for moral victories … but sometimes one has to take what one can get, such as when seven of the last eight games have resulted in losses.
We've got to take all the positives we can from this,''
Shawn Marion
said, addressing the positive and the negative in one paragraph. "We let this slip through our fingers."