DONUT 1: DeShawn to Dahntay ...
Since he was acquired in the deal that also brought
Darren Collison
from Indiana, the easy comparison for
Dahntay Jones
has been
DeShawn Stevenson
.
It's a trade that is nothing but a plus for Dallas in the sense that Ian Mahinmi was outward-bound anyway. That fact doesn't take heat off DC, however; his inconsistency is exactly what Dallas cannot afford at the position of point guard, where "stabilizing force'' is part of the job description -- especially on a roster that was assembled on the fly.
And Dahntay's role? It's simple. It's obvious.
DONUT 2: A history of 2-guard toughs ...
The Mavs of this era have long relied on a 2-guard who can defend the perimeter. We used to call them, however naively, "Kobe-Stoppers.'' Raja Bell is part of the tradition. Greg Buckner played that role. Adrian Griffin did, too. Antoine Wright got a short crack at the job.
Yes, Doug Christie was briefly a part of this tradition, too. But don't hold that against the concept, OK?
Who fared best at the job? That would be DeShawn Stevenson, who will always hold a spot in Mavs lore for a number of reasons.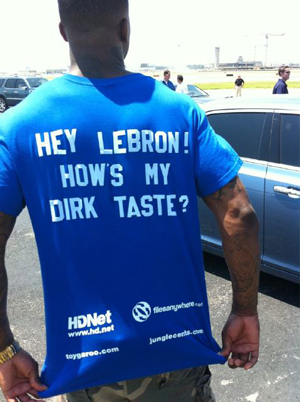 He truly was a defensive ace -- or had been, when healthy, so much so that in previous stops he made a name for himself as a "LeBron-Stopper.'' He was also just the right knucklehead for just the right time -- the personification of coach Rick Carlisle's belief that a roster shouldn't employ "too many milk-drinkers.''
Combine those two aspects of DeShawn's skillset and you have the legendary improvisational "Tell Me How My Dirk Tastes'' t-shirt sported oh-so-politically incorrectly by DeShawn following Dallas' win over James' Heat in the 2011 NBA Finals.
But there is something else DeShawn did to that Dallas team ... something highly specific but incredibly important: He hit those corner 3's.
DONUT 3: A history of 2-guard toughs ...
When we talk about Dahntay and DeShawn, it's an apt comparison in so many ways.
Both are known for their defensive prowess, and both arrived as somewhat of an afterthought in deals where most focused on the other name(s) included.
For his part, Jones has done his part at the defensive end so far this year. but needs to step up considerably in one area that was often understated with Stevenson, but helped the offensive spacing and flow when he was on the court: converting the corner 3-pointer.
In 2010-11, Stevenson converted on 41.3 percent of his corner-3 attempts … and 37.8 percent of his total 3-pointers.
Through Saturday's game against Minnesota, Dahntay Jones has converted 15.4 percent of his corner threes (2-of-13) … and just 15.8 percent of his total 3-pointers.
Jones, even at 31, has shown quite a bit more athleticism than Stevenson, but he must begin to convert his shots from deep with greater regularity to help the flow and court spacing of this offense.
The good news is that he has shown the ability to do so. Last year with the Pacers, Jones hit 40 percent of his corner-3s and 42.9 percent of his total 3-pointers. He's a career 34.1 percent 3-point shooter, but that still leaves a lot of improvement compared to what we've seen so far this year.
DONUT 4: A one-shot deal? ...
We are left wondering whether last year's Dahntay numbers represent a one-shot deal. He made 33-of-77 3's last season in Indy. But that 77 is one-third of his attempts over an eight-year career. In assorted seasons, he was 1-of-4, 3-of-21 and 4-of-32.
"Dahntay's got to continue to work on his shooting," Indy coach Frank Vogel said last spring when Jones was still on the Pacers roster. "Nobody really talks about Dahntay but it's rare to see somebody this late in a career have the type of dramatic improvement in terms of his 3-point shooting. I praised him regularly for that. It's along the lines of Bruce Bowen early in his career being a non-shooter and then really getting to the point that late in his career he was one of the best 3-point shooters in the league, percentage-wise.''
Dahntay-as-Bowen? We cannot even stomach the thought. Dahntay-as-DeShawn? That's something Jones must continue to build towards ... and the building blocks are in those two corners at the offensive end.
DONUT 5: It's party time! ...
Holiday gathering? Watching party? No matter the occasion,
Frisco Party Station
is your neighborhood headquarters for the fun stuff. Thanks for your support of the Mavs, Frisco Party Station!
DONUT 6: Stay informed on your Mavs! ...
You can catch the details on the
Dallas Mavericks
' Weekend That Wasn't
here in the DallasBasketball.com Archives
and
here with fans like you on DB.com Boards!
DONUT 7: Job 1 today at practice ...
DallasBasketball.com will be in the AAC basement today for Mavs practice -- a full report coming this afternoon and minute-by-minute updates coming on Twitter ...
Follow @fishsports
Follow @mdug
But Job 1 is investigating the unusual usage of Chris Kaman. As we noted over the weekend, Kaman has registered zero fourth-quarter minutes in any of the last five games. We'll ask Rick and Chris about what it all means.
And actually, that's Job 2. Anything having to do with the progress of Dirk is Job 1. And we're on that case, too.
DONUT 8: Speaking of Dirk ...
Yes, yes, we have seen the Sports Illustrated note suggesting that Dallas may have to "liquidate its assets.''
And no, no, we put no stock in it.
Dirk is going nowhere, of course, in terms of trade-deadline stuff. And until The UberMan is on the floor with his teammates, the original vision for this group is going to be given a chance to be realized.
When there is trade-deadline stuff to be talked about, you will get it here ... you will get it first and right and in-depth in the way no media outlet can exceed. But SI's take was issued when Dallas was 8-10 ... a time for an observer to knee-jerk. We can virtually guarantee that it was also written without any consultation from the Triangle of Trust, Cuban/Donnie/Rick.
SI notes that its talk of "liquidating assets'' "might seem a bit presumptuous.'' And that note is pitch-perfect.
When the media is contemplating trades before the team itself is doing so? Yes, yes. That might indeed "seem a bit presumptuous.''
DONUT 9: Thanks, Red Rock! ...
The BIGGEST place to watch sports?
Red Rock Bar & Grill,
with the 200-inch screen and the life-long Mavs passion and live music on the weekends, too! Thanks for the partnership, Red Rock!
DONUT 10: Sean Williams to Frisco ...
Center Sean Williams is re-upping with Frisco
and before you get any bright ideas, no, this has no big-club significance. The Legends love the guy -- his talent at the D-League level and his personality as an ambassador of what they are in the process of accomplishing there.
It's a minor-league basketball move but maybe impactful, long-term, beyond what he and they do on the floor.
DONUT 11: Trollinger leaves journalism ...
John Hollinger is leaving ESPN to take a job with the Memphis Grizzlies. Our impeccable manners
preclude us from making Trollinger jokes here. But y'all go ahead.
DONUT 12: The Final Word ...
The Colony's non-Mavs point guard Deron Williams attended the game at Cowboys Stadium on Sunday wearing the gear of "his'' team, the losing team. Yep. Deron Williams came to the game wearing Steelers gear.
Why, of course he did.