The
Dallas Mavericks
have lost 11 of their last 13. They are 13-21 after yet another overtime loss, this one by a 99-96 score to a poor Hornets team.
The Premium coverage of that game with a unique Dirk-centric view is here.
The
rock-bottom aspect of the loss is covered here.
The
fans' fire and ire is recorded here on DB.com Boards, among the subjects: Dirk's "I always liked to think you don't want to build your franchise on hope'' remark.
And below: What the Mavs are saying about the Mavs ...
DONUT 1: "ROCK-BOTTOM''? ...
"It feels like a lot of things. It feels like (expletive). This (expletive) sucks. Ain't no way to explain it other than that.'' -- Shawn Marion.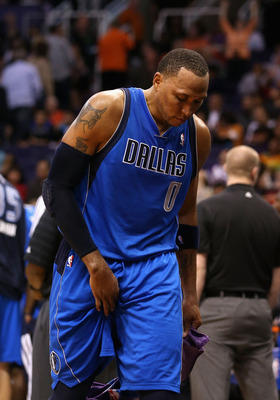 DONUT 2: MORE WAVES?! ...
"This sucks and there's no other way to explain it more than that. Every loss hurts. ... Things like this come in waves. There will be more of these.'' -- Rick Carlisle.
DONUT 3: TIME'S NOT ON OUR SIDE ...
"I think it's going to take us some time. Unfortunately we don't really have (time) since we're so far behind the eight spot." - Dirk Nowitzki.
DONUT 4: WHEN YOU'RE HOT, YOU'RE HOT ...
"We've got to be better at knowing hot players, finding them. We're struggling with some little things that are killing us." -- Rick Carlisle.
DONUT 5: FILM ROOM ...
"We've got to keep working hard, keep watching film and we've got to get better fast.'' - Rick Carlisle.
DONUT 6: THANKS, FRISCO PARTY STATION! ...
Our guys at
Frisco Party Station
serve as your neighborhood party store! Birthdays, team celebrations, your Super Bowl party ... Frisco Party Station gets it done!
DONUT 7: OLD GUYS, BIG MINUTES ...
"These overtime are running our older players' minutes way up. That's what concerns me. Vince should be at 30 and Dirk should be at 30. That's where those guys should be, but they're not, so this is where we are.'' - Rick Carlisle.
DONUT 8: WANT MORE MAVS? FISH ON 'THE FAN' ...
We've got
the best and deepest coverage of the Mavs available anywhere
... take our free seven-day trial and then get your Mavs gold for pennies! Go Mavs and Go Premium!
By the way, we take that same focus that we provide on the Mavs here on DB.com and apply it to
the Mavs and the Cowboys on 105.3 The Fan. Listen live here for some Fish on Football and for breaking Mavs stuff, too
... throughout today and every day ... and we'll take you inside the teams in every possible way!
DONUT 9: (EXPLETIVE EXPLETIVE) ...
"We can't make the simple plays, and it shows. Like Coach says, we keep doing (expletive) to (expletive) it up." -- Shawn Marion.
DONUT 10: BOO-BIRDS ...
"I was telling Dirk, we have the best fans in the world. I appreciate all those 60-plus win seasons and the champions, because these fans are great sticking with us, because Northeast, New York, Philly we would have been booed off the court a few times for sure.'' - Elton Brand.
DONUT 11: FOLLOW THE MAVS ON TWITTER ...
New to Twitter? Here's where to start!
Follow @fishsports
Follow @mdug
DONUT 12: APOLOGIES AND BLAME ...
"I'm sorry, NBA fans. I've tried for 13 years to fix the officiating in this league and I have failed miserably. Any suggestions? I need help." -- Mark Cuban.
DONUT 13: THE FINAL WORD ...
"yeah, it's frustrating. Disappointing. All that stuff. We've just got to keep fighting.'' -- Dirk Nowitzki.