DONUT 1: A powder-dry, financially flexible purgatory. ...
The rumbling crept over the horizon, snaked its way through a labyrinth of choice and punishing happenstance, and raised high overhead to shatter the mirage of a clear, sunny sky. Sending shards of splintered gold and blue down like diving angels stripped of wings, servants to an undeniable gravity charging down in a prolonged and violent crash.
Dancing in the glass-like surface of the crumbling splinters of a once-perfect sports-sky are captured dreams, shimmering sights of a championship banner, of heroes moved on, of one capped with a golden crown left to stand almost alone, of decaying hopes that heave for breath while caught in the suffocating grip of doubt.
Heaven has come crashing down, bringing not hell … not directly … but a powder-dry, financially flexible purgatory.
DONUT 2: Yes, it's about Dirk ...
It's frustrating. This week's been a brief and welcomed furlough; four consecutive wins --
Wednesday's 105-100 home win against Houston and all these 'Dirkie' candidates
the latest success -- lends a thread for my natural optimism to pull, unveiling an infant faith that will be cautiously nurtured. But overall, this season? It's been gut punch on top of gut punch. It's been neither relief nor pure hurt … but helplessness. It's waiting for what comes next amid the punishment of now.
It's watching your favorite son, the
Dallas Mavericks
' brightest sun, cast out in the hopes that he'll be called back to contextual relevance before it's too late to be freed from the drowning storm clouds locking away the past season and a half … threatening to be two full seasons of Dirk Nowitzki's career spent on little more than waiting for what may or may not come.
DONUT 3: But it's not 'just Dirk' ...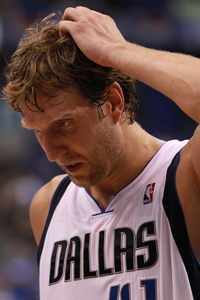 Perhaps as frustrating as any other facet of this ache, is watching a team bent on adhering to long-term goals off the court, grasping desperately for the short-term fix on it.
How else to you explain the signings of 38-year-old Derek Fisher, of the 37-year-old Mike James, but as a sacrifice to future gains for the reach at present strides?
How do you justify placing so much late-game faith in soon-to-be 36-year-old Vince Carter, often in favor of possible long-term-fit OJ Mayo?
Never mind that Carter has not fared particularly well in this role, shooting the worst field-goal percentage (34.3 percent) in "clutch" situations (last five minutes of a game within five points) of anyone on the roster that's taken more than three "clutch" shot attempts other than Darren Collison (30.8) – with a worse turnover rate, offensive rating, defensive rating, plus/minus and a significantly lesser effective field-goal percentage than Mayo in the "clutch."
DONUT 4: Why not be tied to youth? ...
Some of this reliance on Carter was absolutely forced by the prolonged absence of Dirk, but if the end of the Clippers' game, and others since Dirk's return, is any indication, it hasn't changed … at least not fully.
Until a trade takes place, should that come to pass, this team's hopes were always tied to youth, bound to the fates of Mayo and Collison … and to a lesser extent, Roddy Beaubois, Bernard James, Jae Crowder, and Brandan Wright.
To optimize this roster, the growth of those players was/is a necessity. Denying that truth is to turn your back on reality, to chase duct-taped fixes that bear no long-term fruit … and are likely to hold only minor short-term advantages; apt to be a detriment to what's near and long to come.
In this, short- and long-term goals intermingle … at least, they should.
DONUT 5: You, sir, are not Jason Kidd ...
Neither Fisher nor Mike James is Jason Kidd. They are not all-time greats who have seen their feet slow while maintaining one of the greatest basketball minds of all time. Arguably, neither was ever the player that Kidd remains.
They are 38- and 37-year-old point guards left unsigned well into the season, bearing all the implications that designation includes. They are not the difference between true relevance and the lottery. Nor are they a part of a passable sales pitch to free agents next summer (at which point their association with the Mavs will almost assuredly be finished, even had Fisher not asked out prematurely).
At best, they could/should be motivation to spark Collison and/or Roddy into action. In that role, perhaps they did/do offer true promise … yet, it's hard to argue that was their desired place when Fisher was named the starter his first game in uniform … and maybe the instant level of dependence on Fisher is tainting our view of the James signing, as he hasn't had near the level of instant dependence thrust upon him that Fisher did.
This isn't directly a comment on Fisher or James the players, merely what their presence (speaking more directly of Fisher's role) seems to represent.
DONUT 6: The goal of 'Plan Powder' ...
The goal of "Plan Powder" continues to stand. While it has been a failure thus far, it has not failed, at least not completely … it's only inching, perhaps sprinting, in that direction.
The desire to win now also stands.
Both are wilting … not dead.
Yet, signings like Fisher, perhaps Mike James as well, and the heavy reliance on Carter to close games are contradictions to both. They offer minimal reward at best, and, at worst, are an impossible to accurately quantify risk that compromises both the immediate present and future.
In support roles, even as mentors, these players make so much sense … as heavily-relied-upon centerpieces, they simply do not.
It's hard to preach patience in one area while showing so little in another, particularly when they are inherently linked.
DONUT 7: Why can't we call it 'rebuilding'? ...
Are we (those on the outside looking in) merely experiencing the emotional turmoil of enduring the dichotomy of these stated goals, for future and present success, as they seem to oppose one another in this moment?
Are we caught in the confusion of a "rebuild" that the franchise refuses to call as such?
Would it be easier to accept what we're seeing if we set aside denials that the Mavs have slipped into "rebuilding" mode, and accept the murkiness that keeps Dirk at the core but is simultaneously "rebuilding?"
Or, would it be harder, a deeper dive into the well of frustration, confusion and possibly painful empathy for a star we all feel deserves better … were "deserve" more than a platitude in sport, something more than the abstract, unreliable and continually changing, so often present only when convenient, notion of loyalty … even if Dirk has proven an exception to that rule, proving ever faithful to the only franchise he has ever known.
The
pursuit of DeMarcus Cousins (the realities of which are detailed here)
is a "rebuild'' with risk.
The idea of signing on with Greg Oden is something altogether different, and earns an angle altogether different - "The Trick Of The One-Day Contract'' -- as detailed exclusively by DB.com here.
DONUT 8: The plateau ...
Hindsight tells us the current 17-23 record, after their longest winning streak of the season, was obtained with forced reliance on guys like Fisher and Carter. Obviously, this was not the expected result, and those decisions were not made with the knowledge we now have.
Yet, it was known, or it should have been, that Carter and/or Fisher would not show great improvement over the course of the season. They are past the point of an ascending on-court evolution. At best, they've plateaued as role players.
DONUT 9: Worst-case ...
The worst case scenario were Dallas to have placed faith in Collison, Mayo, and company is that they would have the same or possibly slightly worse record … but also have had the chance for lessons learned, for growth, improvement, for higher trade values or more thoroughly definable individual futures within the organization, and for having increased the attractiveness of the franchise to free agents who could see the sprouting roots of a sustainable foundation.
None of these possible rewards were ever present within Fisher or Carter … or Mike James, should heavy minutes move in that direction.
DONUT 10: Shrinking from growth ...
And now, we're here. Almost everything that could go wrong has … including some missed opportunities for growth.
Dirk noted that you don't want to build a franchise on hope … and he's right. Clearly, the plan wasn't and isn't merely an architectural design of fragile hopes, but as we watched the Mavs come up short again and again late in games, it's hard not to have tied our fears, our dreams, and our hope into one confused tangle … for as ethereal as those hopes may be, winning streak aside, they feel more tangible than anything else our eyes can search out in the moment.
Again, maybe the four straight wins mark the beginning of a turnaround. We can hope, can't we?
DONUT 11: Hope isn't a plan. ...
We all agree: Hope, by itself, isn't a plan. It is part of why this has hurt so much and why the frustration of watching the greatest player in Mavs history endure what could become two lost seasons in search of a savior it's getting harder and harder to envision, rips so deeply into our sports soul.
This season isn't lost. Not yet. A continuation of this winning streak and perspectives can flip … Even now, the standings show that Dallas can see the butt end of playoff contention from where it sits ... but again, that's just another limb of hope we'll climb out onto.
DONUT 12: The Final Word ...
No, hope isn't a plan … but that doesn't mean it isn't the faint ember we'll pet longingly in our minds … while chanting for change … petting and petting … hoping this world of second-guessing is only temporary … petting and petting … this mouse in our pocket, our callous hands continually reaching for its soft texture … to cling to … as we pray it lives on through our anxious caressing.
We can't deny our emotions … and so hope is what we'll cling to even as our frustrations mount, gathering in the scattered slivers of a shattered and plummeting sky … a sky we must have faith can be glued back together again.
And that rumbling creeping up the horizon is a reality we'll send forth our hope, now surging on the back of a four-game winning streak, to battle as we seek to avoid the purgatory of "what if," of second-guessing … of regret.