DONUT 1: Overtime Woes Continue ...
Once Wednesday regulation in Miami ended in a 103-103 tie, despite how well the
Dallas Mavericks
had played, overtime still represented a bad omen. With the latest loss, Dallas now falls to 0-6 in overtime games after being outscored by 10 points in Miami in a 119-109 loss.
"It shouldn't have gotten to overtime," Mavericks Coach Rick Carlisle said afterward. "Our inability to keep them out of the paint was our downfall."
Dwayne Wade and LeBron James both made shots at the rim in overtime but Dallas would hit only one of their four shots in the extra period while Miami went five of six.
DONUT 2: Miami's stars too much ...
...
In
our initial game report (see here)
we address every aspect of the outcome. It's All-Access.
But we cannot say enough about LeBron and company's talents ... so brilliant that the NBA is almost taking James in particular for granted now.
LeBron's final line, 32 points, 12 rebounds and 9 assists was as quiet a near triple-double as you will see. However, he still played like the best player in the game, which he is. He scored five of the Heat's 16 points in OT.
Meanwhile, old Maverick nemesis D-Wade finished the night with 27 points, 10 rebounds and five assists.
Both Wade and James seemed to have their way against a Maverick defense that was focused on keeping them from the paint. Indeed, James and Wade combined to attempt as many free throws, 20, as the entire Maverick team.
Oh, and neither recorded a foul for the entirety of the game. The foul-call discrepancy is a different argument altogether. But LeBron's unstoppability? No arguments there.
DONUT 3: Dirk Breaks out at his Coronation Site ...
"Dirk's doing better every game," Carlisle said afterwards and Nowitzki did indeed experience his best game of the season against the Heat. On his highest minute count of the season, 29:14, Nowitzki scored 19 points, going 7 of 15 from the floor and pulling down six defensive boards.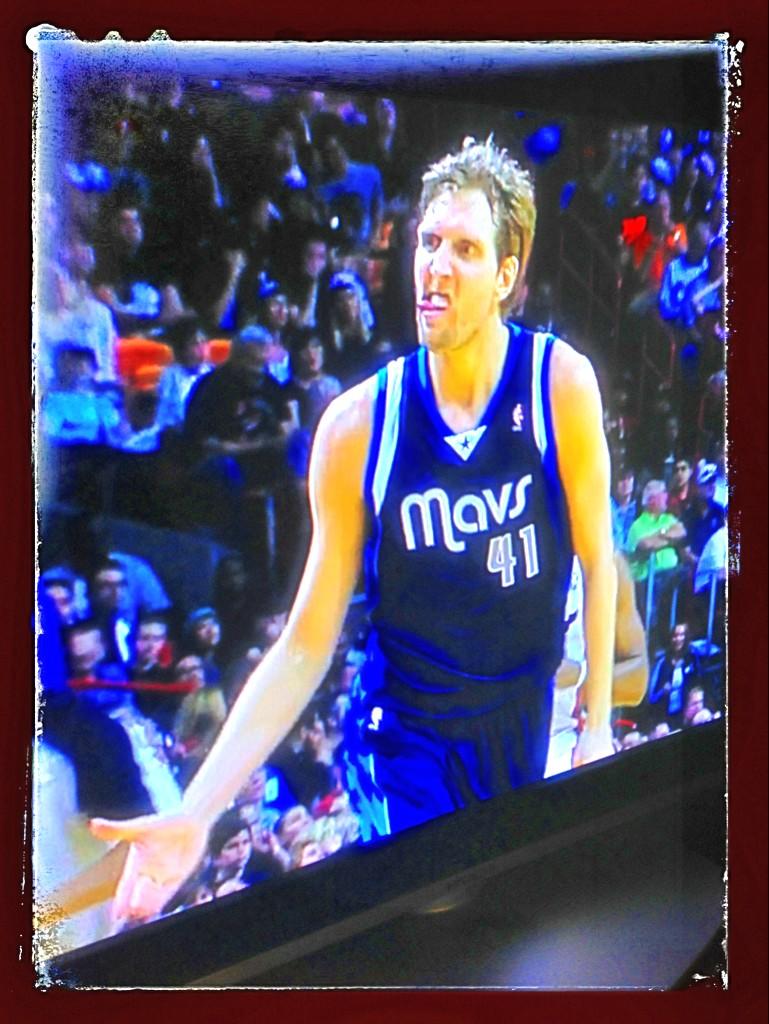 Beyond the numbers, Dirk was calling for the ball late, driving, taking and making big shots. He even flashed some of his trademark, slightly goofy, game faces. Though Dirk is still seemingly not respected by the zebras on the same level of James and Wade, he is beginning to return to their level of play on the court.
DirkFace is always a positive sign.
DONUT 4: Vince Carter Helpful Early, Awful Late ...
With Dirk Nowitzki likely in line to start his first game of the season Saturday night, perhaps the "Vince Carter as a Starter," experiment will come to an end.
He provided the sought-for offense in the first quarter again, scoring three points, grabbing four rebounds and dishing out two assists in the period. He even added eight third quarter points.
However, in the waning minutes, he was far more of a detriment than an asset. Bricking all three of his fourth-quarter shots, including one very ill-advised three in the final minute of regulation, and missing wide-open teammates in overtime, Carter was clearly a detriment.
You take the good with the bad with Carter, and he still has the talent to turn those bad shots into made shots that few others can make. Still, when they are not falling, his high usage impedes the Dallas offense as much as an opponent's defense.
DONUT 5: Darren Collison's Roll Continues ...
As long as Collison continues to perform, we will continue to write about him. (Actually, we'll write about him if he slumps, too. But you know what we mean. We're kind of excited by this.) In Miami, Collison netted 11 points, three assists and grabbed four boards. Importantly, he limited turnovers, recording only one, against Miami's physical, aggressive defense.
For his last six games, Collison has hit 41 of his 77 shots (53%) and is averaging almost five assists per game. Importantly, he's giving it away less than twice per game. He's even averaging 3.7 rebounds per contest over that stretch.
Heck, maybe the best leadership trick Derek Fisher ever did around here was getting the hell outta DC's way.
DONUT 6: The award-winning DB.com Mavs Podcast for the first week of January is here! ...
If you would like to roll with The DB.com Mavs Podcast ... roll here:
DONUT 7: Moral Victories? ...
Despite the loss, Dallas' crunch-time execution still showed some promising signs. Yes there were failures that ultimately led to a loss after leading by six points with 3:30 remaining.
However, Dallas outscored a clearly superior opponent in the 1st and 4th quarters by a combined 10 points. In the last two weeks, Dallas has had 4th quarter leads against both of last season's Final's squads.
Ultimately, however, these moral victories do not translate on the scoreboard as Dallas now sits at 13-20, seven games below .500 but only a handful of games out of the 8th seed in the Western Conference.
DONUT 8: Want more Mavs? ...
We've got
the best and deepest coverage of the Mavs available anywhere
... take our free seven-day trial and then get your Mavs gold for pennies! Go Mavs and Go Premium!
By the way, we take that same focus that we provide on the Mavs here on DB.com and apply it to
the Mavs and the Cowboys on 105.3 The Fan. Listen live here for some Fish on Football and for breaking Mavs stuff, too
... throughout today and every day ... and we'll take you inside the teams in every possible way!
DONUT 9: OJ Mayo is Back, as a Scorer ...
O.J. Mayo enjoyed his highest scoring output, 30 points on 21 shots, since his 40 point outburst nearly a month ago. Historically, whenever he scores 30 or more points, good things happen for Dallas, as they had previously been a perfect 3-0 in such games.
Make that 3-1.
However, it is encouraging to see Mayo returning to his early-season level as a scorer. Last night he had the deep ball going as well, hitting four of his 10 three-pointers and dished out six assists.
But ... Mayo's turnover woes continue.
As good as Mayo was as a scorer, as a decision-maker, he is far from a finished product. Despite his team-leading 30 points, Mayo was a game-worst -19. With six more turnovers against an attacking Heat D, Mayo now has nine games with five or more turnovers this season.
Not surprisingly, Dallas is 1-8 in those contests.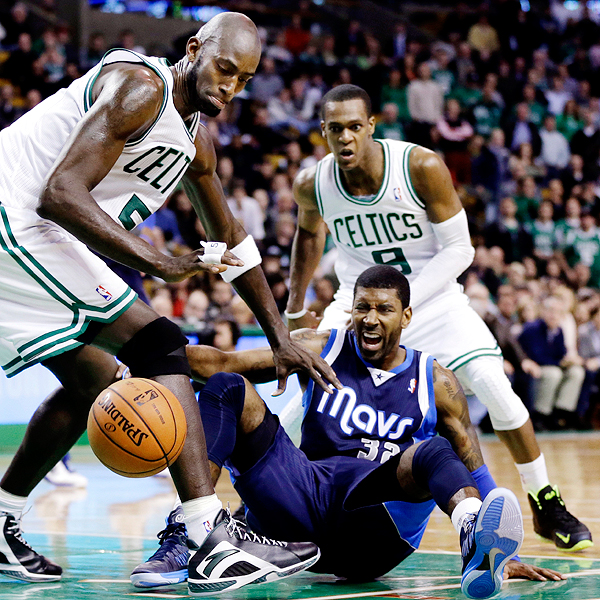 Part of that is to be expected, for so long Dallas needed to put the ball in Mayo's hands just to stay afloat. With more opportunities, naturally come more failures. However, Mayo still makes far too many "unforced" errors that are limiting his ability to take that next step to bona-fide star level.
DONUT 10: The Way Forward: An Uphill Battle ...
With their record, and the eye test telling us that Dallas sits at least few cuts below elite. For Dallas to make the playoffs, they will face an uphill battle against mostly-superior foes. It is hard to envision the Lakers missing the postseason, so which two teams currently in the West's top eight will be displaced by Los Angeles and Dallas?
Dallas will certainly have plenty of opportunities to make up ground, with games against Utah and the West's current top seed, the Los Angeles Clippers.
DB.com will have you covered in every way on that roadie, by the way. Fish will have the telecast on Fox Sports Southwest (along with Bob Ortegel, Mark Followill and Derek Harper) and DB.com's Mike Piellucci will be in LA for the Clippers game.
DONUT 11: Tanking vs. Clawing ...
There is a growing sentiment among Mavs' followers that Dallas would be better off tanking the rest of the season and playing for a lottery pick.
Every time we feel like we've shut down such talk with logic as we've done here
, the talk pops back up. Fine. For the sake of argument ... Some other way may, in fact, be the best way forward for the franchise. However, let's fresh up with these points need to be considered:
*Tanking only improves the chances any team has at landing the top pick, as the NBA operates on a lottery system to prevent such skullduggery.
*No expert would call this draft class "strong," and many are saying it is one of the weakest in years.
*How will intentional losing go over with Dirk, who only has one more year on his contract beyond this one? (Pssst: We already know the answer to this, do we not?)
*If the goal is still to be an attractive destination for free agents, will these superstars look at the Mavericks and see the lottery-bound franchise as an attractive destination? It would be easier for other suitors to paint Dirk as "Father Timed-Out" in such a scenario.
Now the flip side of that argument is simple. What is to be gained by another first-round exit? Dallas does not look to be talented enough to knock off one of the West's top seeds in a seven-game series and even if they somehow do, they would need to do it again in the next round.
But yet ... isn't "competing'' the whole point?
For some of us, it is a question with no easy answer, and one that will require Dallas to turn these "moral victories," into "actual victories" for it to even be a debate at all.
DONUT 12: The Final Word ...
Starbucks is selling reusable (non-paper) cups to 'reduce waste.' Our way of 'reducing waste' is to not buy 5-dollar cups of coffee.