DONUT 1: Another Game, Another Loss ...
With their 18th loss in 30 games, the
Dallas Mavericks
are now losing games with the same regularity that they used to win them. To further illustrate the sense of the upside-down world many in Mavsland feel they've fallen into, it was the visiting team that came into the AAC Friday night with the better outside-in European big man. Indeed, Danilo Gallinari went 7 of 11 from downtown for a career-high 39 points.
A
detailed account of the loss -- Dallas' fifth straight -- is here.
And more upside-down stuff from DB.com's Luke Kammrath, who pulls out the Big Calculator to reveal this:
The record that the Mavs will need to have in their last 52 games to likely make the playoffs is 32-20.
That creates a winning percentage of 0.615 in those 52 ... in order to get to 44-38 ... and achieve a winning percentage of 0.537. In only two years since 2002 have teams made the playoffs in the Western Conference with a winning percentage less than 0.537.
In that time the worst winning percentage while making the playoffs in the West was 0.512 (42-40). The Mavs would have to go 30-22 (0.577) to do that.
Up to this point the Mavs have played 12-18 basketball (winning percentage of 0.400).
Turning that around would be quite an accomplishment ... and at this moment, it seems, quite unlikely. Conclusion: For the first time in the Cuban Era, as Feb. 21 approaches, the Mavs are becoming increasingly likely to be trade-deadline sellers.
DONUT 2: Mayo (partially) re-emerges ...
Prior to last night,
O.J. Mayo
, after early-season brilliance, went only 10 of 40 from the field over his previous four games. Though he would lead Dallas in scoring on Friday night with 15 points overall, over his past five games, he is just 3 of 21 (14.2%) from beyond the three-point arc. Though he is still one of the best from downtown in the league, he no longer leads in any statistical category.
So what is to blame for Mayo's struggles just as Dirk Nowitzki returns to the lineup? Nowitzki offered his opinion after the overtime loss to the Thunder.
"Juice gotta go back to playing the way he was when I was out," Nowitzki said. "I don't know what's been going on lately. It looks like he doesn't have the confidence."
While there certainly appears to be some truth in Nowitzki's words, especially after watching Mayo miss 2 of 3 crucial free throws in the waning minutes of Thursday night's contest in OKC, turnovers have also been a big part of Mayo's undoing. Indeed, he is averaging nearly six per game and, by himself, accounts for exactly 1/3 of the team's turnovers over the past four games (23 TO's by Mayo, 69 for the Mavs in total).
DONUT 3: Dirk Still Struggling ...
With word leaking from Nowitzki that he was two weeks away from game shape at the time of his surprise return, it should come as no surprise that Nowitzki is not yet his typical, transcendent self. However that hasn't stopped some from dogging the guy for his sub-standard play.
"He was one of the best players in the game," Gallinari said of Nowitzki. "So you always try to follow and learn from the best."
Wait,
was
? Are we already burying the guy and precluding the possibility that he can be the UberMan again?
"It was too much tonight," Dallas coach Rick Carlisle said of Nowitzki's limited minutes. "It was back-to-back games and he isn't limping or anything, but he just can't give us what everyone expects him to give."
Fine. But don't
was
him yet, OK?
DONUT 4: Panic Time?...
With all the fires burning down the Mavs' season, it certainly seems like the perfect time to panic for some. The defense has been a sieve this year after two straight seasons of near-elite production. The offense has been middling, buoyed by decent-enough shooting and a break-neck pace of play.
Rebounding has been a well-documented nightmare. Ditto, turnovers and ball movement. The positive signs are few.
DONUT 5: Thanks, Red Rock! ...
Wanna goof around with music and fun and friends for New Year's Eve? Check out one of DB.com's favorite hangouts,
Red Rock Bar and Grill!
DONUT 6: Avery Johnson out in Brooklyn ...
As you know by know, Avery Johnson was let go by the Nets mere months after winning the Coach of the Month award. The Nets were 14-14 at the time of Johnson's firing, and while he certainly deserves some of the blame for the team's slide, he is far from the only problem in Brooklyn.
Indeed, that roster, while expensive and flashy, is largely composed of ill-fitting one-on-one players that have not meshed as well as expected. Further, while they boast a top-10 offense, they are slowed by having one of the worst defenses in the game.
Avery isn't a coach without his attributes, however, it appears that in many ways he still has not yet learned from his time in Dallas.
As word leaks out
that Avery was grating on those within in the Nets organization and asking for a contract extension amidst the Nets slide, Mavs followers are reminded of a familiar criticism of Johnson.
If you are going to be a power-gathering authoritarian, you have to produce genius-level results (think Bill Belicheck). Unfortunately for the ousted coach, he's never quite become "Avery Auerbach.'' (DB.commers might get the old reference.)
DONUT 7: Deron Williams Catching Blame Again ...
With Johnson's dismissal, Deron Williams is once again catching heat as a "coach-killer." Some of the criticism is deserved. When Jerry Sloan suddenly retired in Utah, there was much said that his relationship with Deron Williams was the primary cause. Further, when Williams vocally critiqued Avery Johnson's offense earlier this season, many will seek to connect the dots between that quote and Avery's subsequent firing.
Though Williams is saying all of the right things now in denying any involvement in Johnson's firing, the "coach-killing" label is beginning to stick on the PG. Whether or not, Williams had a hand in Johnson's dismissal in the board room, his play on the court was a big reason Johnson got the axe.
Indeed, Williams has not played near the level commensurate with his contract. No matter who coaches the Nets, the ultimate success or failure of that expensive roster will be determined by Williams' ability to elevate his play and to harmonize his ill-fitting teammates.
And let's add these two observations issued by us this week on 105.3 The Fan:
1) Deron didn't fire Avery, no. But a word from Deron to the owner likely could've saved him from getting fired.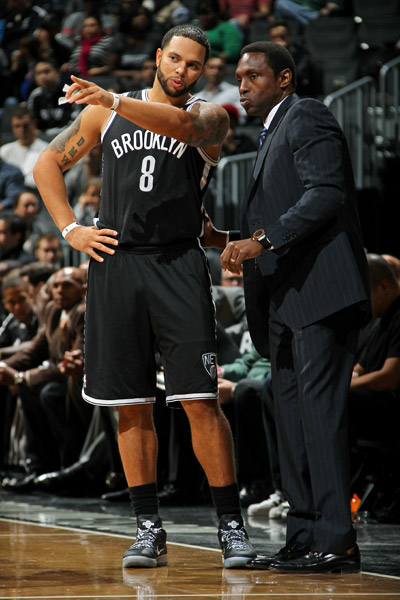 2) Avery being dumped by a Deron-led team is a story so predictable that DB.com wrote it in early July, as soon as Deron decided to go there. It was a foregone conclusion stalled by the Nets' fools-gold start.
DONUT 8: A 14-year track record on the Mavs ...
We've got
the best and deepest coverage of the Mavs available anywhere
... take our free seven-day trial and then get your Mavs gold for pennies! Go Mavs and Go Premium!
By the way, we take that same focus that we provide on the Mavs here on DB.com and apply it to
the Mavs and the Cowboys on 105.3 The Fan. Listen live here for some Fish on Football and for breaking Mavs stuff, too
... throughout today and every day ... and we'll take you inside the teams in every possible way!
DONUT 9: Collison heading in the right direction? ...
Though he has been a problem far more often than a solution this season, recently, Darren Collison has been more of the latter. Over his past three contests, Collison is hitting nearly 59% of his shots and averaging 19 points per game. His progress seems particularly evident on the defensive end of the court, on display last night as he was able to keep pace with Ty Lawson more often than not.
Now, check back with us after tonight, when DC opposes point guard Tony Parker and the Spurs. It's a 6:30 p.m. tip at the AAC on Fox Sports Southwest. A
full preview is here.
And no matter the results or the records ... we still hate the Spurs, do we not?
DONUT 10: Enter the DoJo ...
The other member at the Mavericks' much-maligned PG position this season has also shown some encouraging flashes of late. We will dive deeper into DoJo's growth this season later this week, but he is averaging career-highs nearly across the board while adapting his game to a new position.
As we will attempt to show, as much as Roddy B has been a disappointment, there are encouraging signs of life from DoJo.
Stay tuned.
DONUT 11: New to Twitter? Here's where to start! ...
Follow @fishsports
Follow @thechuckp
DONUT 12: The Final Word ...
On one hand, we get it. With Dallas falling further and further below .500, there is a building sense of urgency around those who follow the team. Indeed, Dallas is now in real danger of missing the playoffs for the first time in over a decade.
However, this team is better than its current 12-18 record. (Isn't it?) Yes, there are problem areas all over, but some solutions lie fairly close at hand. Nowitzki's return will help many of these. Oh, and
check out Michael Dugat's brilliant study of Dirk and the pick-and-roll potential of partners Mayo and Collison here.
That's also hopeful. But the continued evolution of the PG position, the porous defense, and the rebounding deficits will still need work. With improving health and cohesiveness, hope remains.
Even during this worst stretch of the season, Dallas is only three games out of the final playoff spot. Making the postseason this year remains the goal -- but it's more "goal'' than "probability.'' Now whether or not it would be good for Dallas long term to claw its way into the seventh or eighth seed and likely first-round exit vs playing for a top draft pick remains to be argued.
With our David Lord, we think we did some
crushing the notion of tanking.
But that's all about the problems with losing on purpose.
What's left to be analyzed: The trade-deadline impact of continuing to lose at this pace despite the best efforts to do otherwise.