When a team sits at 12-18, has a worse record than all but three teams in the Western Conference, is currently the 12th seed in the West, is in the midst of a five-game losing streak and has lost eight of the last nine; optimism is a rare commodity … an endangered species rendered deaf, blind and dumb as it stumbles through a thousand crosshairs focusing in.
And, so it goes with the
Dallas Mavericks
.
Yet, as fickle and suppressed as it may be, there lingers a flicker of hope, brought on by the return of Dirk Nowitzki … and all that comes with him.
Dirk isn't alone in the league, but has been unique to this franchise in the depths his influences have on every inch of the court.
Though not a great individual rebounder,
Dirk Nowitzki
has continued to positively impact this facet of the game for the Mavs; note that Dallas experienced their best team rebounding percentage last season with Dirk on the court, and their worst with him on the bench – implying his individual impact was greater than anyone else's on the roster.
During their championship season, when looking at players that totaled at least 500 minutes, no individual's absence made a larger negative impact on the team's rebounding percentage than Dirk's … that includes guys like Tyson Chandler, Brendan Haywood, Shawn Marion and Jason Kidd.
Much like rebounding, Dirk isn't an elite individual force as a defender, but remains a significant positive influence. Early career struggles have left a tattered reputation, but time has seen Dirk become vastly underrated in this area, particularly when it comes to team defense.
While he'll never be categorized as a stopper or a lockdown defender, his length and ability to understand and respond to opponents in a desired/intelligent manner has ensured that the team's defense as a whole is consistently improved when he is on the court. For example, in the last three seasons Dirk has ranked either first or second on the roster in the differential between the opponents offensive rating (points per hundred possessions) … meaning, the opponents offensive rating has seen their largest increase when Dirk is on the bench as compared to when he is on the floor.
According to Basketball Reference, Mavs' opponents had an offensive rating of 109 with Dirk on the bench during the 2010-11 regular season. With him on the court, opponents were at 103. A differential of minus-6.0 … easily leading the team.
You can credit playing beside Tyson Chandler, and you wouldn't be completely wrong in doing so, but note that his differential was minus-3.5. It wasn't all Chandler.
Merely by being on the court, and doing what he should, Dirk enables his teammates to be better rebounders, better defenders.
As the clutch unfolds, Dirk gives his team direction and causes bouts of helplessness and frustration in opponents … where this year's Mavs have so often appeared aimlessly adrift in the game's biggest moments (even if their numbers don't necessarily scream of those struggles), Dirk gives them a starting point, he also grants them something just as important: space.
What optimism endures finds its breath conceived in dreams of what this could mean for a team that has struggled at times in all of the areas above (rebounding, defense, clutch offense) … and larger still, what Dirk's presence could mean to
O.J. Mayo
and
Darren Collison
.
Offensively, Mayo has been tremendous for Dallas. He continues to lead the league in points per possession on isolation attempts at 1.19, and rank in the top 8 in both spot-up and hand-off chances.
He's been the best offensive player on the court for Dallas, and as his recent struggles may partially indicate, opposing defenses have taken notice. With the return of Dirk, we should see a shift in the focus of those defenses, hopefully leading to a wealth of newfound space for Mayo to operate in.
The logic behind this seems simple, direct and easy to fathom. Attention divided means fewer double teams, more preoccupied help defenders, wider lanes, and clearer sight lines.
Yet, is this what we all truly dream of?
Or, is it of a two-man game blooming … of Jason Terry reborn, only "new and improved," younger and more dynamic … the two-man game 2.0.
This is certainly a possibility, but the numbers do not necessarily show it as a certainty.
To begin, note the three areas above where Mayo has truly excelled this season (isolation, spot-up, hand-off). The only category that sees Mayo as the primary ball handler is isolation plays. All three should benefit from Dirk's presence as previously stated, thanks to an infusion of space, but none seem to fit in nicely with the prerequisites for an elite two-man game with Mayo handling the ball and Dirk setting the screen.
Using Synergy Sports (pulled Dec. 26, 2012), we looked at how a Mayo and Darren Collison stacked up against a number of players as pick-n-roll ball handlers. Our list includes names that would seem to make a fairly direct comparison due to their time in Dallas, such as Jason Terry, JJ Barea and Jason Kidd.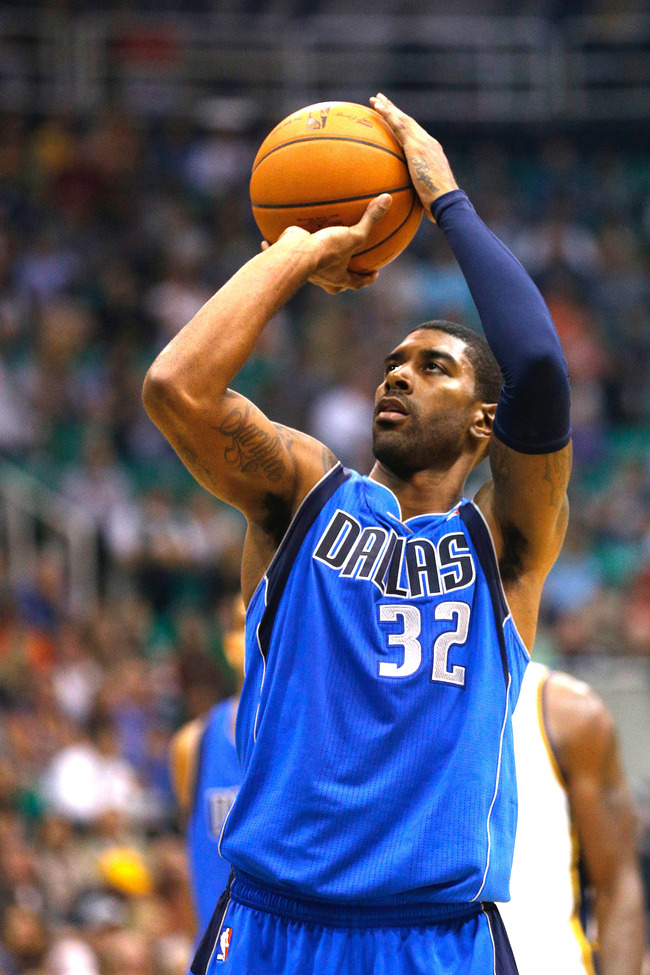 We also pulled in other names based on reputation, age, or simple curiosity.
Those included: Chris Paul, Rajon Rondo, Jeremy Lin, Michael Conley Jr., Ty Lawson, Raymond Felton, Deron Williams, Devin Harris, Jrue Holliday, Kyle Lowry, Russell Westbrook, Damian Lillard, Tony Parker, George Hill, Kyrie Irving, James Harden and Jameer Nelson.
That brings us to 22 players in all, including Mayo and Collison.
Of those 22, only Devin Harris (32.4 percent of the time) has turned the ball over at a higher percentage rate than either Mayo (23.9) or Collison (23.8) as the ball handler in pick-n-roll plays.
Mayo ranks 13th among these 22 with 36.7 percent of his chances ending up in at least one point scored for his team.
Collison ranks 21st at 30.7 percent, again only fairing better than Devin Harris.
In points-per-possession as the pick-n-roll ball handler, Mayo is tied with Raymond Felton at 16th of these 22 (0.76 points per possession). Collison once more finishes at the bottom of the list, again above only Devin Harris, with 0.59 points per possession. To put that in a larger perspective, Mayo and Collison rank 56 and 96 respectively in the entire NBA.
Those rankings may not seem terrible, until you factor in that there is a minimum requirement for number of tries that removes a significant portion of the league (you're not going to see Tim Duncan trying to dribble around a pick, as just one example of what we're talking about).
Let's view this through a more constrictive and familiar prism. How do Mayo and Collison compare with Jason Terry and JJ Barea when it comes to this portion of the two-man game?
09-10: P-N-R PLAYS AS BALLHANDLER
PLAYER PPP TO%
JTerry 0.76 12.0
JBarea 0.89 13.8
OJMayo 0.59 22.0
Darren 0.68 16.4
10-11: P-N-R PLAYS AS BALLHANDLER
PLAYER PPP TO%
JTerry 0.80 17.5
JBarea 0.94 11.6
OJMayo 0.69 15.0
Darren 0.72 16.7
11-12: P-N-R PLAYS AS BALLHANDLER
PLAYER PPP TO%
JTerry 0.84 19.1
JBarea 0.75 18.5
OJMayo 0.68 18.2
Darren 0.76 18.5
12-13: P-N-R PLAYS AS BALLHANDLER
PLAYER PPP TO%
JTerry 0.89 20.0
JBarea 0.80 19.8
OJMayo 0.76 23.9
Darren 0.59 23.8
There are a few things you can draw from the information above. Perhaps most prominently, is that, by the numbers, Mayo and Collison have not been consistently the equal of either Terry or Barea as pick-n-roll ball handlers.
Mayo's highest points per possession in this window comes this season (0.76). Collison matched this number last season, setting a new career best at 0.76. The worst Terry or Barea posted during this timeframe came last season from Barea (0.75).
Perhaps the most worrisome observation comes from the turnover rate, which is far greater for Mayo and Collison than either Terry or Barea ever endured as a member of the Mavs. In fact, both are at more than twice that of Barea during the 2010-11 season.
That's not good.
If you're looking for a positive, there appears to be a glaring positive for Mavs fans in the dive Barea's numbers have taken since leaving the Mavs. Another way to put that is: how much better Barea performed on a roster that included Dirk … a possible advantage Mayo and Collison are soon to be granted.
In the two seasons Barea had Dirk, his points per possession as the pick-n-roll ball handler were 0.89 and 0.94. Immediately following his changing of teams, those dipped to 0.75 and 0.80.
Barea's percentage of these plays that resulted in turnovers also rose significantly, from 13.8 and 11.6 percent with Dirk to 18.5 and 19.8 without.
Though Terry is actually posting his best points per possession of this window with the Celtics, he has also seen his turnover percentage continue to rise, reaching 20 percent for the first time … though his trend of a continually rising rate here may be proof of greater indicators, such as age.
Flip that around, and it's not beyond reason to believe Mayo and Collison could see the benefit of a chance to play beside Dirk, and see their numbers rise because of it.
To put some of these numbers in an easier to decipher glimpse, to remove numbers that are below zero and seem fairly close, let us pull these out to a full 48-minute game. Obviously, no team is going to run pick-n-roll every possession, but grant us a little latitude for the sake of comparison.
Dallas is currently playing at the league's fifth fastest pace, averaging 96.84 possessions per 48 minutes.
The final score between teams playing at that pace using Barea's best points per possession (0.94) and what stands as both Mayo and Collison's best during this window (0.76) would be: 91-74 … rounding to whole integers.
Using the average (weighted equally) of all 22 players previously listed, would have the field winning by a score of: 81-74.
However, those scores show no advantage gained by opponents due to the high turnover rate for Mayo or Collison … a contributing factor that likely significantly adds to the efficiency of the opponent, and pushes the final margin much wider.
What the numbers don't show us … the future.
While there isn't a wealth of success in the pick-n-roll game from Collison or Mayo in the last four years, nor is their any data on how they will adapt to the advantages of playing beside the greatest offensive weapon of their careers, a healthy Dirk.
Dirk isn't a selfish player, is a willing passer, and demands the focus of every defense the Mavs will face. He's a game changer. His mere presence redefines the game.
Because of this, there is plenty of room for optimism, but until dreams slip through to reality, until Mayo and/or Collison prove they can take advantage of an area (pick-n-roll ball handlers) of their games that has not been a significant strength in the past and thus capitalize on the opportunities playing beside Dirk will grant them, their successes remain what they begin as … dreams.
But sometimes … sometimes dreams come true.