Dirk Nowitzki
will get his first start of the season tonight at 7:30 when the
Dallas Mavericks
play host to the Hornets at the AAC.
"We're going to start Dirk tonight,'' Carlisle said, an announcement that marks a milestone in The UberMan's recovery from arthroscopic surgery on his right knee on Oct. 19. It's been a slow climb; while returning to action during a difficult stretch in the Mavs' schedule, Dirk has played six games. Dallas is 1-5 in those games, with Nowitzki averaging 10 points per in 22 minutes of play.
On Wednesday, Dirk played in the second night of a back-to-back in Miami and the One-Legged Euro LeanBack was on full display. The 11-time All-Star played 29 minutes and scored 19 points in helping Dallas to take Miami to OT before losing.
"I finished the other game (against Miami), felt decent for the 30 minutes I was out there,'' Dirk said on Friday. "That's really the major thing. Whether I'm starting or not really doesn't matter.''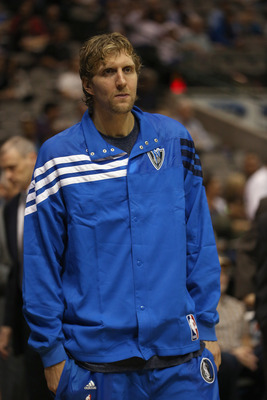 Ah, but it does. It matters to the audience and it figures to matter to the emotion of a team that has struggled to a 13-20 record during which Dirk has either been absent or Dirk hasn't been Dirk.
The work of trainer Casey Smith and staff, plus the supervision of flannel-shirted mentor Holger Geschwindner have been key in the comeback. Starting a game is key, too.
"It's just part of the process of re-integration,'' Carlisle said. "We just feel like we're at the point where it's time to do that, and he feels the same way.''
And so do we.
Your Hornets-Mavs game preview is here.
Talk about the Mavs here on DB.com Boards!