Wire-to-wire loss
On Sunday night, San Antonio began the game on a 14-2 run and never looked back, leading the every minute of a 111-86 win. The
Dallas Mavericks
entered the half and the fourth quarter down 14 points and only managed to score 16 points in the final frame.
At this point, Dallas is clearly not at the level many had hoped coming into the season and they do not seem to be close to it, either.
Consider:
At 12-19 their winning percentage is 0.387.
To get to 44-38 (0.537) the likely winning percentage of the 8th seed they need to go 32-19 (0.627).
To get to 42-40 (0.512) the likely low end of an 8th seed possibility, they need to go 30-21 (0.588)
Rick Carlisle Lays Blame
As expected, the head coach was not pleased with the results and his disappointment showed in the Sunday postgame.
"We just didn't get it done, and we haven't gotten it done in a pretty significant stretch of games now,'' he said. "It starts with me and then it goes right down the line. There are no excuses. We have simply got to dig in harder and we know we've got to do a better job."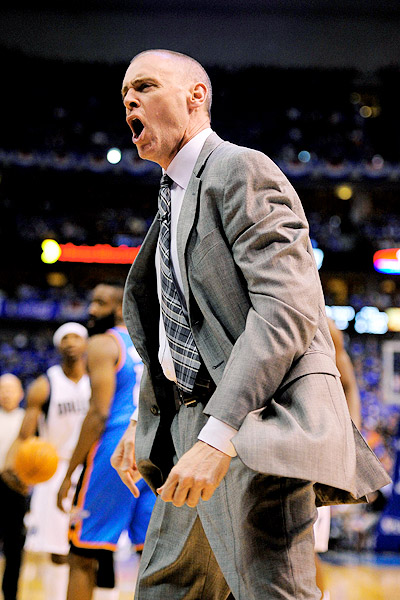 Where to From Here, Coach?
As far as what Dallas needs to right this rapidly-sinking ship, Carlisle did not mince words.
"The first thing we've got to do is collectively make a stand and just decide we're going to bust through this thing,'' he said. "It's got to start defensively and on the boards. From there, the offensive things generally take care of themselves as long as we're not throwing the ball all over the place. We're just very disappointed, but we can't make excuses. We've got to stick together and we've got to fight - and we've got to fight harder than we did tonight."
Defense, rebounding, offense, passing and … effort? Oh, just the fundamentals then, that should be easy.
And if not? Hey, let's just suspend everybody!
On Sunday, Carlisle suggested all-too-casually that he might have to crack a different whip.
"I (have) to be inventive and find ways," to motivate and teach, he said. "I don't have a better answer than that. The last week, I've had to literally scream in the face of two guys in practices and shootarounds to get the point across. And I will continue to do that.''
OK. Screaming is a tool that is at a coach's disposal. Rick continued:
"If I have to start suspending guys for not doing things they're supposed to be doing on the court, I'll do it. And Mark and I will get into it about that. But somehow, things have got to change and it can't just be about that it's a tough schedule. It just can't."
Yes, the owner and the coach might have to "get into it about that.'' And so might the Players Association. It occurs to us that suspending a player (we believe without pay) is not viable ... not in terms of maintaining relations with individual players, with continuing a reputation as a player-friendly organization, or with staying legal in the eyes of the Players Association.
Can a team suspend a player for "breech of contract'' and "moral turpitude''? Sure. Can a coach suspend a guy because he lazily stood in the wrong position at a shootaround?
As Dirk said, "That's a little aggressive. I never heard anything like that.''
And you probably won't. Coach Carlisle probably doesn't want to serve at that guinea pig.
Vince Carter (kick)-Starter
Carter earned his first start of the season as Carlisle continues to search for the right mix of personnel while Dirk plays his way into game shape. Seeking more offense from the SF position than the defensively-focused Dahntay Jones provides, Carter's insertion did not provide desired results.
Dallas was outscored by 28 points when Carter was on the floor and was three points better than San Antonio while Carter sat.
Overall, Carter finished 5 of 11 from the floor for 13 points with four boards and two assists.
Darren Collison Continues to Produce
Lost in the Mavericks' swoon against quality opponents is the continued production of Darren Collison against those same quality foes. Last night Collison scored a team-high 18 points, dished out eight dimes and even grabbed five boards while committing only three turnovers. More importantly, he assisted on nearly 48% of teammates' baskets while he was on the floor. To give you an idea of how big that number is, Jason Kidd, for his career, averages a 39.0 assist percentage
DoJo exposes the underbelly of Plan Powder
Over the weekend, Dominique Jones, frustrated after the loss to OKC, offered this juicy bit:
"We can't look for people to blame. Everybody in the organization just needs to look in the mirror. "People say we're so close. I don't think we're close to being a good team. I think we got a lot of work to do. Everybody's got to be on the same page and have the same goals. We can't worry about there being nine free agents or why is this guy playing or why ain't this guy playing. Everybody's just got to be on the same page."
This "same page" theme is being echoed by many in the organization and obviously speaks to a lack of cohesion on the court. Also, DoJo's inclusion of the "nine free agents," also could indicate a lack of togetherness off the hardwood.
Now we don't want to start any rumors -- there are enough bogus rumors on DeMarcus Cousins alone to go around, which we'll get to below -- but once again, we believe the culture of transience threatens to infect the locker room. We know that the wish to quarantine a similarly disgruntled guard led to the dismissal of Delonte West, who was talking very openly about money and management's intentions, and continue to do so after being warned against it.
As losses mount and frustrations grow, do not be surprised if more quotes hinting at this dark underbelly of Plan Powder continue to make their way into the press. ... and yes, we will continue to bring it to you while also continuing to be hopeful that this mess gets fixed pronto.
A Twelve-Year Low
Dallas is now 1-9 in its last 10 games and falls to seven games below .500 for the first time in this millennium. Dallas must now point to areas other than W's for comfort.
However, after the game, Carlisle was not one for moral victories.
"I don't want to get into a dialogue on the parts of the game that were 'OK','' he said. "It's not what this organization has been about since Mark bought the team. This is a stretch that is unprecedented, really. It's bad. We've got to fix it, and it starts with me. I'm taking the blame for it."
What to be blamed for, by the outrageous numbers: Dallas is responsible for 13 percent of the entire league's losses of 19-or-more points (9-of-69).
Brand Points to Intangibles
After the game in which he recorded his third double-double of the year with 14 points and 10 rebounds, Elton Brand pointed to a more troubling aspect of what ails Dallas: effort.
"I'm feeling a lot of frustration right now,'' EB said. "We're going down the wrong path and need to get back on track. That's not just x's and o's, but we have to have a little more energy, a little more competiveness, and a little more fight in us for us to win."
"We just have to find within in our locker room. We're getting healthy and we got the talent and we just have to bring it out of each other. We got to have leadership, energy, and have our competiveness."
What is real and not real about Cousins
There is logic in the Mavs exploring the availability of troubled Kings big man Demarcus Cousins.
One Mavs source we spoke to this weekend conceded that, while touting Dallas' reputed ability to absorb troubled talents. We think, frankly, that the rep isn't what is once was, for three reasons:
1) Kidd and Terry no longer help run this room.
2) Goofy guys at, say, Shawne Williams' talent level no longer serve as LIBB (Lightning In Bottle Boys) 15th men; those caliber of players presently get starts on this club.
3) Delonte West was signed ... was left dangling ... was re-signed ... was suspended ... was invited back to the BBQ ... was suspended again ... and then was released -- the last six shifts all coming within a matter of preseason days.
However, contrary to the rumors being floated by one network and apparently by agent Dan Fegan, too, a second source tells DB.com that there have been no talks of "substance'' with the Kings regarding the gifted 22-year-old.
That doesn't mean Fegan hasn't attempted to pair his new 6-11, 270-pound client with the Mavs, with whom he has a fine and active relationship. (It figures that the Mavs have talked to the agent without having talked to the Kings.) What it does mean, we are told, is that the Kings' desire for financial relief (dumping a long-and-ugly contract) and Dallas' shortage of at-this-moment desirable pieces limits the motivation to visit.
Anything beyond that is ESPN Trade Machine junk. They've cornered that market. As fun as it can be, we don't bother.
Another issue here: Why are the Kings so ready to dump a fixable star-in-waiting? Why not just fix him themselves? (Coaches tire of this effort. Owners do not.)
Cousins-to-Dallas isn't impossible. (It'd be interesting to see DeMarcus' fist reunite with Mayo's testicles.) It's just not the front-burner issue it's being portrayed as. An instructional lesson comes from this weekend's "Marion-to-Houston rumor.'' DB.com received a dozen requests for deeper info on the concept. How might it work? What do the Mavs say about it? Where did it come from?
We chased our tails for three hours on Sunday morning while in the Cowboys team hotel and finally figured it out. The "story'' was created by our own Mike Bacsik, and wasn't a "story'' at all, just Bacsik tweeting some random concepts.
Mavsellaneous
Still coming off the bench and limited to around 20 minutes,
Dirk Nowitzki
shot only 3 of 9 from the floor for eight points. However, he also grabbed five rebounds, helping Dallas finally outrebound an opponent, and blocked three shots. ... As illustrated by MDug recently, Dirk has the ability to fix much of what ails the Mavericks, but he will certainly need help. ... The Mavericks are on a six-game losing streak, so it stands to reason changes will take place. ... Rookie Jared Cunningham has been called up to the varsity from the Texas Legends. He averaged 18.1 points in seven games while in Frisco ... Carlisle is instituting a dress code for travel starting today, as the club goes to DC.
Mayo's continued swoon
O.J. Mayo continued his trend toward the mean in the middle-third of the season. He would hit only four of his 14 shots for eight points. He would limit his turnovers, committing only two in this contest.
His offensive rating was the worst of the Dallas starters last night and over his last six games, Mayo is averaging less than nine points per contest. For all of Mayo's many talents he needs to be scoring the basketball to help this team. Indeed, Dallas is 9-5 when Mayo hits over 20 points per game and 1-13 when he scores 18 or less.
Any Hope on the Horizon?
If there is any time to try and right this ship, it lies in the next six games against mostly-inferior competition. With the Wizards, Hornets, Jazz and Kings, Dallas will face only two playoff teams (Miami and the Clippers) in the next 10 days.
With Dirk on the mend, such opponents provide ample opportunity to work on those "effort," things and hopefully, work on those "x's and o's," as well.
The Final Word
"We have good guys. I never questioned that. And we're all in it together. That's the bottom line. There's a foxhole and we're in it right now." - Carlisle, slightly calmed by Monday morning.