DONUT 1: AT THE DOOR, BUT STILL OUTSIDE ...
"It comes down to one play,"
Dallas Mavericks
coach Rick Carlisle said after the game. "You can take a pick of what play it is."
Start with a look for yourself ...
In a microcosm of how much of this season has gone, in that one play, whichever one you choose, the Mavericks came agonizingly near success, yet infinitely short, the embodiment of being so close and so far away.
Whether it was Serge Ibaka grabbing an offensive rebound with 18.3 seconds remaining in regulation of a one-point game. ...
Or Darren Collison getting a defensive rebound with 11.1 seconds left in the first half, racing the length of the court and plowing into Kevin Martin for a charging foul, changing what should have been final shot of the half for the Mavs into a Westbrook tip-in with 0.5 seconds … a two-point swing at best, four at worst. ...
Or,
O.J. Mayo
making a great steal with 17.8 seconds remaining in the third quarter, charging up the court, missing a contested layup through a pair of defenders, allowing Kevin Durant time to drill a 3-pointer with 2.8 seconds on the clock when the Mavs should have had the opportunity to take the final shot of the period … a three-point swing at best, five at worst.
Three quarters. Three mistakes. A three-point loss in overtime: 117-114.
And then there was …
DONUT 2: AND THE ONE WE'LL REMEMBER ...
...
Whether it is justifiable or not, the play that stands out the most came after the Mavs inbounded down two with 16.5 seconds to play in overtime.
Vince Carter threw the ball into Mike James, who was once again Carlisle's choice down the stretch of the fourth and for all but three seconds of the extra period.
Dirk Nowitzki
set a screen for James and then flared out to the side, causing a switch that left Russell Westbrook guarding Dirk and Kendrick Perkins on James.
Dirk was not initially open, leaving him to linger to set a screen for OJ Mayo, curling up from the baseline after crossing the court. Mayo was not particularly open.
Option one for Dirk, option two for Mayo; this was likely the design of the play.
The result was Mike James standing about five feet beyond the top of the arc … to launch a contested three over Perkins, releasing the ball with about seven seconds left on the clock.
In every way, this failed.
You need look no further than the mistakes at the end of the previous three quarters to spread the blame around. This loss doesn't fall solely on Mike James, far from it, but that doesn't deny the fact that he made a mistake in judgment.
He didn't get the ball to Dirk, mismatched against Westbrook.
He didn't attack the much slower Perkins, who stood close at the 3-point line.
He released a bad shot, a deep three over a challenging defender with Dallas only down two, when there was still time to do something else … at the very least, to attack and create.
"I made the wrong decision," James said. "I had a big on me. You know, I've got to understand my situation. I should have attacked him, and I didn't."
Due to when it came, it's what we'll remember. It was a poor play … but, as is always the case in a loss, it was not the only one.
DONUT 3: BEST GAME AS A MAVERICK ...
Buried in the loss was likely Vince Carter's best game as a member of the Dallas Mavericks.
Carter finished with 29 points on 10-of-17 field goals, his highest point total since joining the Mavs and the most he's scored in a game since March 8, 2011, when he had 32 for the Suns.
With Dirk missing ten of his first 11 shots, and Mayo shooting only 6-of-16, Carter was a significant reason behind the Mavs having the chance to send this game to overtime.
We may worry over the overreliance on Carter for much of this season, but in this game he lived up to every bit of the responsibilities, the faith, placed in him.
DONUT 4: THE FOURTH QUARTER ...
Dirk and Elton Brand were finding open looks, but the invisible hands that sometimes flutter around the rim to deny all attempts mocked them for three quarters. Entering the fourth, Dirk and Brand had hit a combined 1-of-17 shots for three points.
Then the fourth period began … and the rim widened.
In the fourth, Dirk and Brand combined to score 22 points on 7-of-12 shots, and added nine rebounds between them … with zero turnovers.
Setting up …
DONUT 5: CLUTCH ...
When Chris Paul and LeBron James simultaneously take to Twitter to praise the design of a single play, it's ok to feel a little pride for your coach.
"@CP3 (Chris Paul): MAN, Did anybody see that play the Mavs just ran??"
"@KingJames (LeBron): Helleva play drawn up to get that look for OJ"
So, what happened?
Out of a timeout, Shawn Marion used a screen set by Elton Brand near the baseline to find space as he moved away from the inbounder, Vince Carter. The pass was a little high, carrying Marion out to the 3-point line at the opposite side of the court as the inbounds pass.
While Brand is setting a pick for Marion, Dirk, at the top of the key, moves away from Carter, setting a soft screen on Thabo Sefolosha, who is chasing OJ Mayo as he races towards Carter, giving the illusion that he is coming to get the inbounds pass.
Then, after the pass is thrown across to Marion, Mayo doubles back, racing towards Marion and the ball, as Dirk squares for a second screen on Thabo.
The space is created. The shot is there.
Mayo rises up over the too-late-to-close Thabo and Perkins (who had been guarding Dirk) and nails the game tying 3-pointer.
A thing of beauty, executed to perfection … even the bobble by Marion on the pass, that pulled him out a little further, couldn't have worked out better.
"Their coach is unbelievable,'' said KD, crediting the architect of the play. "He does so many good things with those guys."
DONUT 6: WIPERS ON...
Coming into Friday night, all of the indications pointed towards this being a fast-paced style of game … like leaving the crowd looking like they were watching a good ping-pong match type of game.
The Thunder were tied with the Rockets as the league's highest scoring team, averaging 105.4 points per game (105.6 during their five-game winning streak), while the Mavs had averaged 109.8 during their four-game winning streak.
In fast-break points and pace, Dallas ranked fourth (17.1 per game) and seventh respectively, where Oklahoma City ranked sixth (16.5) and eighth.
The Thunder entered scoring the fourth most points off of turnovers (18.2), where Dallas was allowing 17.8 points off of turnovers per game, 28th worst in the NBA … not that OKC faired much better, allowing their opponents 17.2, ranking 21st.
DONUT 7: IT'S A PROCESS ...
The Mavs have been better over the course of their winning streak, allowing only 13 points off of turnovers per game, while scoring 20.8.
Not coincidentally, Dallas had significantly lowered the number of turnovers they were giving away as of late, averaging only 10.7 over the past seven games and 10.5 during the winning streak.
Wednesday night against Houston, Dallas held the Rockets, who lead the league in fast-break points per game at 18.4, to only 14.
Prior to the winning streak, the Mavs had a point differential of minus-4.6 (which would currently rank them 26th in the NBA). Yet, in the last four games prior to Friday night, Dallas had a differential of plus-11.5, moving them up to minus-2.9 for the season (which ranked 22nd).
Four games, moved up four slots.
There were signs of progress, of a team appearing to turn a corner.
DONUT 8: ARE YOU ALL-ACCESS? ...
We've got
the best and deepest coverage of the Mavs available anywhere.
We invite you to try Mavs Premium for free on a 7-day trial, and then let us take you into the practices, into the locker room, onto the court and upstairs in the front office for just pennies a day.
Go Mavs and Go Premium!
DONUT 9: BUT THEY'RE STILL THE THUNDER ...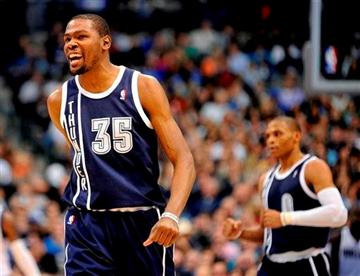 The Thunder scored 24 points off of 16 Mavs turnovers. Those 24 points mark the most Dallas has allowed since San Antonio scored 25 Dec. 23, a game the Mavs lost by 38.
The 16 turnovers for Dallas was their most since giving away 20 in that same game against the Spurs.
The Mavs did outscore the Thunder 17-8 in fast-break points, but were killed on second-chance points, where OKC had a 25-11 advantage … including 3-0 in overtime, which happens to match the final margin.
"It's rough,'' Carlisle said. "A rough way to lose.''
DONUT 10: IT'S CLOSING TIME ...
Darren Collison played 30 minutes, scored 15 points on 5-of-8 shooting, and had six assists, four rebounds, three steals … and only one turnover.
That all sounds pretty good … but he would play only four minutes in the fourth period and would not see the court in overtime.
In contrast, Mike James played 8 minutes in the fourth and all but three seconds of the overtime.
Rick Carlisle called it a "coach's decision" that led to him turning to Mike James while Collison stayed on the bench late … trust in a player one day into his second 10-day contract over one playing his 40th game with the Mavs, the starter.
In a nutshell, this is he epitome of what caused us to voice some frustration over the lack of willingness to let players like Collison (and Mayo, though it was Collison Friday night) get their chances to succeed or fail … to grow.
(See our "Purgatory'' column here in DB.com Archives. )
Mark Cuban recently made the analogy (loosely paraphrasing) that learning on the job was fine elsewhere, but not as the point guard of the Mavs. Perhaps he has a point, but seems to also have two major flaws.
First, Collison was brought in to be the starting point guard with only Roddy Beaubois and Dominique Jones behind him. The decision was made to hand him the keys. That is now a decision that must be lived with until options better than guys tickling the dawn of their retirement are available.
Second, every player that has ever played in the NBA has learned on the job. That's simply how it works.
This isn't a contender progressing rookies along slowly behind grizzled veterans … it's a 17-24 team turning to guys left unsigned as the season unfurled. That's the prism this must be honestly viewed through.
DC seems to be dealing with it better than we are.
"It's coach's decision,'' Collison said. "I'm a team player. He made the call and that's something you've got to ride with.''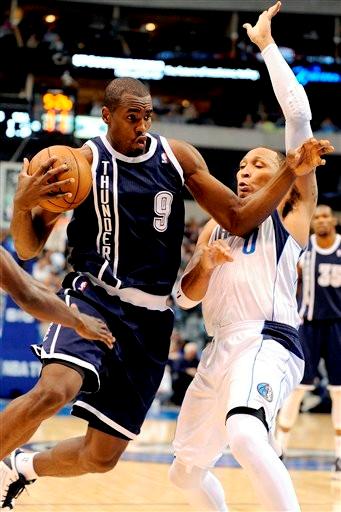 DONUT 11: BUZZER BEATERS ...
*Trix is not hiding the fact he thinks this was a poorly-officiated game.
"It's hard for you to beat any team when you feel like you played five against eight," said Marion in what may constitute a fine-able offense.
*Kevin Durant is amazing. There's little else you can say.
Durant finished with a career-high 52 points … as quietly as such a feat is possible. Hitting 21-of-21 free throws certainly helped the understated feel of the performance, but that doesn't remove the fact that Durant was there again and again when the Thunder absolutely had to have a basket.
Durant is now averaging 46 points through two games against the Mavs this season.
He's a special player.
"He is the best offensive player on the planet,'' Carlisle said. "I don't think there's any question about that."
*Elton Brand finished with his fifth double-double of the season, getting all 10 of his points in the fourth quarter and setting a new season high with 13 rebounds, including five offensive boards.
*Mike James attempted three shots in overtime. The rest of the Mavs attempted two.
* A quote from Durant that might pacify you just a bit:
The Mavs have "a heart of a champion,' said Kevin Durant. "Dallas is a championship-level team, no matter what their record is.''
*Partially attributed to early foul trouble, Chris Kaman played only 16 minutes, scoring six points on 3-of-5 shots to go with three rebounds, two assists, and three turnovers.
DONUT 12: THE FINAL WORD ...
Despite the aching residue this leaves deep in the belly, there stand plenty of positives to draw from this game.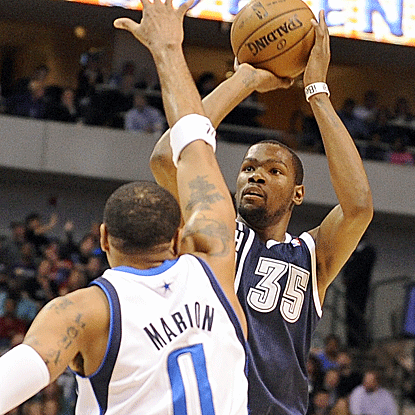 For the second time in their two meetings this season, the Mavs took the best of the Western Conference to overtime … and Dallas continued to look like a team renewed. This wasn't an uninspiring performance by a team that appeared to not care; again and again Dallas erased deficits and refused to surrender a game that offered ample opportunities to do so.
It hurts because it seemed so close, so within reach … but it was entertaining, and the signs of progress from the team as a whole continue to shine through.
"I think we've improved tremendously,'' Dirk said. "But we've got another gear to go to."