IS COLLISON THE CLOSER?
I thought it a logical question, given the fact that the
Dallas Mavericks
are coming off a win in Orlando in which Darren Collison was allowed to be the finisher ... something that wasn't the case the game before when Mike James was the losing PG of record against OKC ... and in which DC hit a critical 3-point shot with 31 seconds left to justify his presence.
Rick Carlisle does not agree with my assessment of my quality of question.
"Right now, he's won the starting job and as far as who finishes games, that's going to depend on how the game's going, depend on matchups and how people are playing," Carlisle said of DC. "You guys want all definites so you can come back at me when I change up and say, 'Well, you said that was definite.'''
In fact, of course, that is not at all my goal. I am a deep and non-linear thinker. I don't want "definites.'' I want the best players on the floor at the right times.
So, Rick ... isn't DC now just that as a closer?
"I'm not getting into that stuff,'' Rick fired back. "We got a team here. It isn't about one guy having to finish every night at a particular position. It's about us winning as many games as we can win. And all our guys know that."
Having said all that, Carlisle does concede that DC has impressed him of late. In the Orlando game, Collison had 11 points on 4-of-6 shooting with nine assists and just one turnover.
DIRK AND THE STANDINGS
Once upon a time, the Mavs lost 10 of 11. Suddenly they've followed that up with five wins in six outings.
And they are talking openly about being just a few games back of the eighth spot in the playoffs.
"Coach comes in every day and reminds us what we have to do," Dirk Nowitzki said. "We don't really need the paper or the internet when we've got Coach doing that."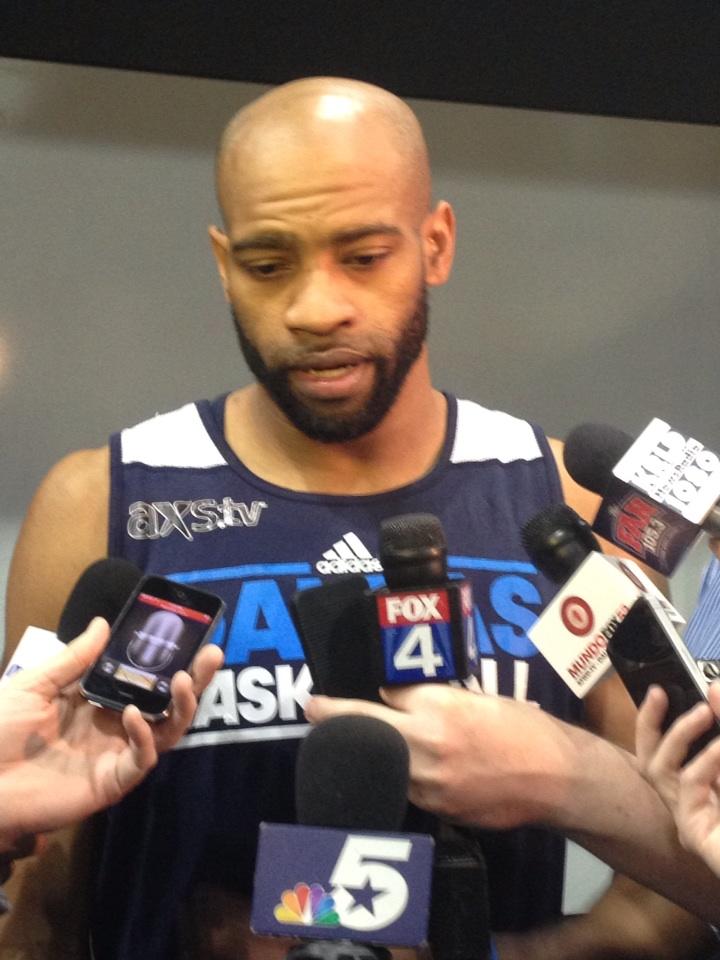 Carlisle first went public with this unusual-for-him practice after the Orlando win. He may not continue to do so, but that's OK. We don't really need the coach when we've got DB.com doing it.
VINSANITY IN BALANCE
Vince Carter's scoring has been central to Dallas' bounce-back -- but it's scoring as part of balance.
"Balance is big for us," Carter said. "We have our go-to guys and we put our guys who can score in the positions that they need to be in and give them the ball. But when we're moving the ball, I think that ignites our defense as well ... I think when we're moving the ball and playing well everybody feels good and we carry that over on the defensive end.''
GIVING JAE THE BUSINESS
Maybe Dahntay Jones weren't in a
heated argument
. But they were in an
intense debate
that turned into a series of biting remarks that transformed Dahntay into entertainer.
Jones and rookie Jared Cunningham collected in a corner of the gym watching Jae work on his 3's. Crowder made all five in a series of corner 3's, at which time Jones turned up the heat.
"Watch what happens now,'' Jones said as Crowder missed his next try. "You shoot like Blake Griffin!''
In terms of perimeter shooting, Dear Premium Mavs Fans, you already know that's not a compliment.
Crowder missed a few more, empowering Cunningham to pipe up. He yelled "Clank! Clank'' every time Jae released the ball.
Crowder's shooting session -- part of a contest that Jones was also involved in -- did not end well.
"You couldn't win nothin' but a long-hair contest!'' Jones yelled at Jae.
But it ended well after that. As Jae later tweeted, he took Dahntay to lunch -- and maybe that's what they were so fired up about the entire time.
MAVSELLANEOUS
"We got a good day in today,'' Dirk said. "Short and quick and explosive.'' ... Rick said Collison's work on Sunday was almost predicted on Saturday. "We were in here Saturday practicing and I talked to him about end-of-the-game stuff and I said this is something that's going to be on me to decide who finishes," Carlisle said. "Keep doing the good things you're doing and you're going to be in these situations a lot. I just know that. And sure enough, that's how it turned out on Sunday." ...
Dirk Nowitzki
and OJ Mayo engaged in a lengthy 4-point shoot-off well after the scheduled end of practice ...
THE FINAL WORD
The Mavs spent Tuesday "cleaning things up,'' as Carlisle put it. Wednesday will be a day to focus on defense. Thursday is a full day, too, as the team gets four days "off'' before hosting San Antonio on Friday.
"I thought we were going to mix some rest with some work. Looks like we're mixing more work than rest." -- Dirk Nowitzki.