There is nothing especially shocking about news that
Dwight Howard
and Kobe Bryant are feuding inside the Lakers locker room. The NY Daily News says the two stars had to be "restrained'' from one another following a "heated exchange.'' The paper may be exaggerating this. But conflict in some form? This was predictable in the sense that the Lakers are "Kobe's team'' and that anyone who bucks that – whether justifiably or driven by immaturity, as is the case with Howard – finds themselves in conflict with the face of the franchise.
But Howard's recent quote about "chemistry'' speaks volumes.
The two stars have "denied'' conflict by posting playful photos of themselves on Twitter.
"(Chemistry) is something we have to do to get better," Howard said. "We have to play like we like each other. Even if we don't want to be friends off the court, whatever that may be, when we step in between the lines or we step in the locker room or the gym, we have to respect each other and what we bring to the table."
Add to the Lakers problems the fact they are bloated with aged superstar talent but are still just 15-18 and you feel an implosion coming.
The
Dallas Mavericks
, however, need to hope the implosion comes later rather than sooner.
Dirk Nowitzki
is making headlines to open this week as the frustration of being 13-21 is among the reasons he's speaking as if he's run short of patience.
"I always liked to think you don't want to build your franchise on hope,''
Dirk said.
"We hoped for Deron last year. We hoped for Dwight. Why would he leave the Lakers? To me, it makes no sense. He's in a great situation.''
Now, those words can be twisted in a variety of ways. The answers can also be fill-in-the-blank responses to leading questions. But Nowitzki's doubting the logic of somebody like Howard wanting to leave someplace like LA in favor of someplace like Dallas?
That deserves further examination.
It is a matter of record that Dallas was (if not "is'') on the short list of a trio of target-worthy stars. Dwight Howard and Chris Paul privately discussed finding a way to team up as Mavs. Howard and Deron Williams did the same. Ultimately, the Mavs were bridesmaids in the cases of all three players. (In the case of Dwight, Atlanta might end up in this mix. Brooklyn? Hard to gauge in one sense: The story of the Kobe-Dwight conflict came straight from a NY paper that covers the Nets and is motivated by newspaper sales to boost this angle, true or not.)
"If you're not first, you're last,'' as Ricky Bobby once said. Fine. But again, it is a matter of record: The Mavs were "finalists'' for all three coveted stars.
In the case of Howard, the Mavs had their serious conversation with the Magic on July 25 -- but lacked the ammunition to make a deal.
"There's just not much there (in terms of a Mavs-Magic trade to be done in 2012),'' Dallas GM Donnie Nelson told DallasBasketball.com at the time.
Orlando, of course, eventually worked a complicated deal that sent Dwight to LA. Howard is now in position to re-sign with the Lakers this summer and earn a five-year, $100-million max deal.
If the Lakers opt to trade him before the Feb. 21 deadline, he can get that same deal by re-upping with his (suddenly) new team. Or ... he explores free agency in the summer of 2013 -- something he has vowed to do.
If chemistry was a non-issue (or if it can be a solved issue), LA would not consider losing Howard via any avenue. Money is not the issue there ... in a coming Premium analysis, we'll break down that aspect of this story -- an aspect that figures to disappoint Mavs followers.
All of this leaves Dallas is the same position it was in back in late July: Hope Howard either stays in a city he doesn't want to be in (Orlando then, LA now) or gets traded to a city he doesn't want to stay in (Houston once qualified; Brooklyn might now qualify as "desirable.'')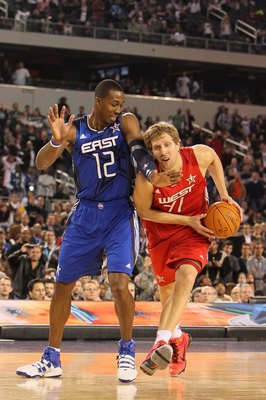 We empathize with Dirk. After 12 years of contention, we want 12 more. Oh, and we want it NOW, please.
There are other trades that could be fueled by Nowitzki's statement that "Maybe Cuban has something up his sleeve. Maybe you have to take a chance on a bad contract to get him in here and make something happen.''
(Think DeMarcus Cousins, almost certainly the precise idea Dirk was referencing.)
By the way -- and another theme for an upcoming story: Wouldn't biting on Cousins and whatever baggage he arrives with provide short-term excitement but block Plan Powder thus creating long-term pain?
But in the case of Dallas and Dwight, NOW, if it comes at all, will have to come later. "Plan Powder'' and all its frustration is closer to a solution than "impatience'' is.