Donut 1: Back in December…

O.J. Mayo's first chance to show up the only other team he has ever played for was back on December 21st and it didn't exactly go well.
But Memphis soured on Mayo's game and his next to years saw him coming off the bench and playing a reduced role. Following last season the Grizzlies chose to let him leave the franchise via free agency.
Mayo is having the best season of his career with the Mavericks averaging 18.4 points per game and shooting nearly 46 percent. But Mayo's homecoming to Memphis back in December was one of his worst performances of the season. Mayo scored just 10 points and shot 3-11 from the field as the
Dallas Mavericks
lost to Grizzlies 92-82.
Donut 2: Mayo's Quiet revenge

Mayo didn't exactly turn any heads on Saturday night either. Mayo finished with just 11 points. But on the other hand, he shot an efficient 4-7 from the field and was 2-2 from 3-point range.
But more importantly, when his former team came to his new home the result was much different than it was back in December. The Mavericks got a much-needed win and the Grizzlies were on the wrong side of a 104-83 blowout.
"That was cool,'' Juice said. "It was good. We handled our business."
After the game, Rick Carlisle summed up what he saw from Mayo in his second game against the Grizzlies.
"I thought O.J. played a really solid game," Carlisle said. "This is one of those times when you're playing against your former team. It's tempting to get caught up in all that kind of stuff and hunt for shots. He didn't do that. He played a really complete game. He really worked defensively. He made a couple of timely plays."
Donut 3: A long drought comes to an end
Just how bad did the Mavericks need a victory against the Memphis Grizzlies? By defeating the Memphis on Saturday and getting a win over the Sacramento Kings the previous Thursday the Mavs recorded back-to-back wins for the first time in over a month.
The last time Dallas won two straight games was back on December 10th. From that time up until the Sacramento victory, Dallas went 2-13 with wins over Washington and Philadelphia.
Donut 4: No better time than now
If the Mavericks are going to make a push to get back into the playoff picture (or simply work their way back to a .500 record) then now is the time to start making up that ground.
Starting with their game against Memphis on Saturday night, the Mavericks are in the middle of a stretch in that includes six out of seven games in Dallas and includes a four game home stretch. While there are certainly some tough opponents in that stretch, including Oklahoma City and San Antonio, long home stretches like this are rare and the Mavericks will need to find a way to take advantage.
Donut 5: Should the Mavericks target Rudy Gay?
The constantly swirling rumor mill would suggest that Memphis forward Rudy Gay is on the market. Some believe that the Grizzlies wouldn't mind parting with Gay (and his hefty contract) in order to be able remain financially flexible to continue to build around the core of Zach Randolph and Marc Gasol. There's even speculation that the Grizzlies are looking to add a scoring guard and that the Phoenix Suns are a possible destination for Gay.
With the Mavericks sitting well below .500 and considering Dirk Nowitzki's recent comments about not being able to "build around hope" might it be a good idea to make a trade for a good, young, borderline All-Star?
We're DB.com. So we'll eventually get the best in answers to questions like this. But in this space I can take a look at the numbers and see what kind of trade would be logistically possible. A trade that sent Shawn Marion and Vince Carter to the Grizzlies and landed the Mavericks, Gay would be logistically possible.
It would be hard to part ways with a player like Marion who does so much on both sides of the ball, but would a nucleus of Mayo, Gay and Nowitzki be worth it? On the other hand, some might say that Mayo and Gay never meshed well together when the two teamed up in Memphis.
Gay scored 12 points on Saturday night against the Mavericks and he is averaging 18 points and 5.8 rebounds per game this season.
For now, toss this piece of grist into the rumor mill. ... along with everybody from Dwight Howard to Greg Oden to everybody in between.
Donut 6: What does Cuban have to say?
While Mark Cuban was not asked about any specific roster moves, he did comment Saturday night on the strategy of improving the team via trade. Cuban advised the media to pump the breaks on the idea that the roster needs immediate improvement.
"We're not going to make a trade just to make a trade," Cuban said.
But then again, if they did decide to make a trade…
"We're going to try to get better," Cuban said. "We're going to be opportunistic. If something comes along we're going to look… We never say 'this is the only way we're going to do it.' We're going to be opportunistic. If it's a short-term value trade we'll look at the pluses and minuses of it and make a decision. But there's a 100-percent chance we're going to look to do something."
Fish conducted a one-on-one interview with Mavs GM Donnie Nelson on this subject and much more. Stay tuned!
Donut 7: Speaking of Marion and Carter, which should play in the clutch?
Prior to Saturday's game Rick Carlisle was asked about his choice to as of late to play Carter in the lineup over Marion in the crucial final minutes of close games. Carlisle has always been an defensive minded coach, but recently he has chosen to rely on the more offensively focused player in Carter.
Here was Carlisle's response.
"Coach's decision," Carlisle said. "Sometimes it has to do with dynamics of running the floor. Other times we need a stretch 3-point shooter. Sometimes we need a playmaker off the dribble at that spot….As you've seen in recent games, sometime we go with both those guys when we play Marion at the five."
Donut 8: Matrix makes his case
The Mavericks didn't find themselves in a close late-game situation on Saturday night as they blew out the Grizzlies so neither Carter or Marion were in the game in the final minutes.
But despite Carlisle's reasoning for playing Carter in the clutch as of late, Marion made a pretty good case that the more minutes he plays the better. Marion had arguably his best game of the season scoring 20 points and shooting 9-13 from the field and chipped in four rebounds.
Carter scored 8 points off bench and recorded four rebounds and five assists.
Donut 9: Best Win of the Season?
Looking back at the Mavericks 15 wins this season, the Memphis Grizzlies at 24-11 have a better record than any of the other teams that Dallas has beaten.
Combining that with the fact that the Mavericks out played the Grizzlies on basically every level and completely blew them out by the third quarter and it is probably safe to say that Saturday night's game was the Mavericks best win of the season so far.
It is true that the Grizzlies might have been fatigued from playing an overtime game against San Antonio the night before, but it is a credit to the Mavericks that they were able to take advantage of that. These type of victories are often the ones that spark a struggling team to go on a run. Only time will tell if the Mavericks can sustain this success moving forward, but if they can manage to replicate the type of performance they had on Saturday and it might be fair to say that a number of people buried them far too soon.
"It's the kind of game we need," Carlisle said. "We need more of these. But they're hard to come by."
Donut 10: Put to the test
That theory will be put to the test tonight. Minny at Mavs, 7:30 tonight. DB.com will have full coverage during and after Dallas' attempt to get a third straight win.
Donut 11: Dirk looking like Dirk
We all knew that this team would never really be any type of threat in the Western Conference until Dirk Nowitzki was back playing at a level that we have grown accustomed to seeing from him over the years.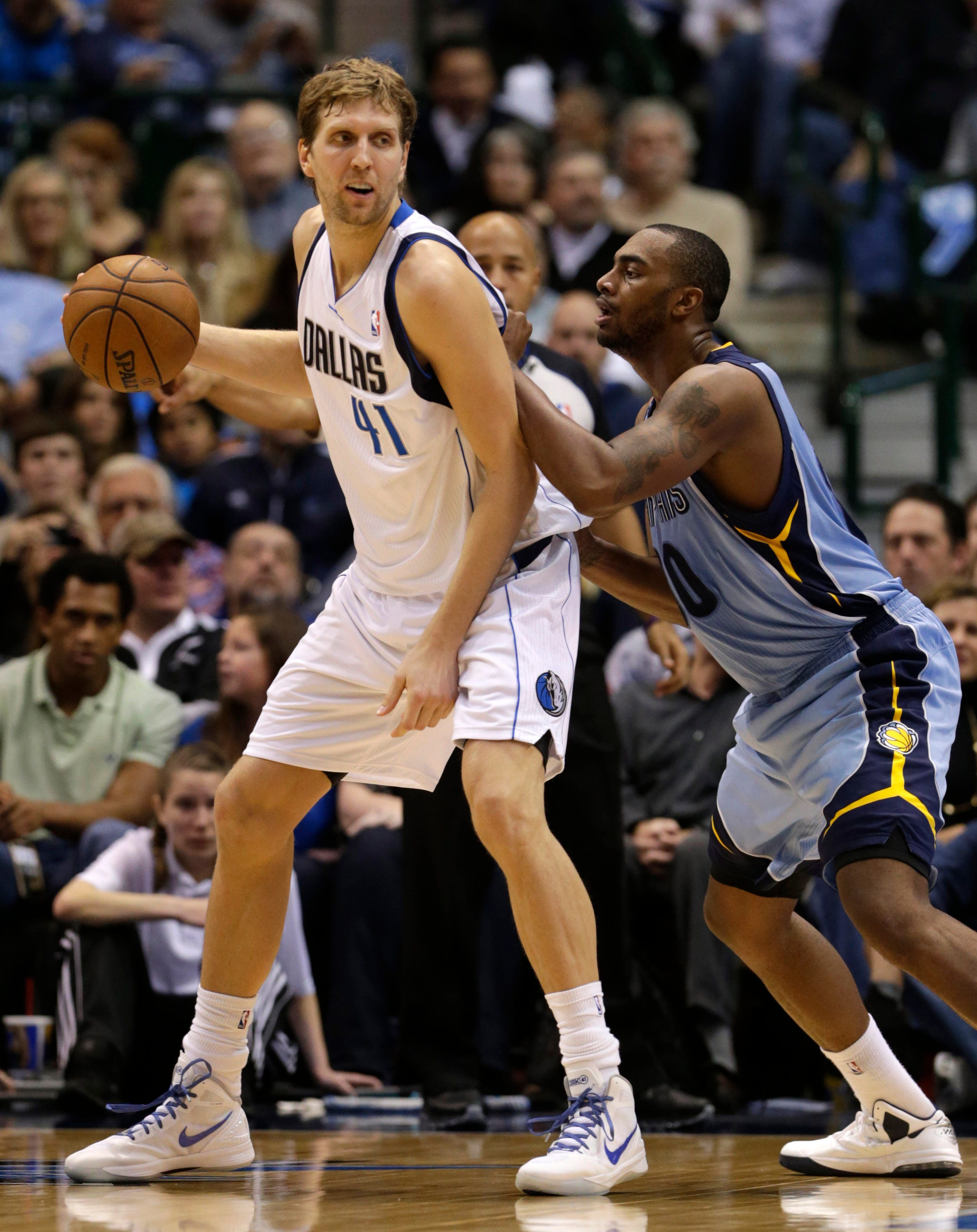 He may not be all the way back to normal, but if Saturday was any indication then Nowitizki is well on his way. He finished the game with 17 points off of just eight shots. He also made all three of the 3-pointers he took and tacked on 6 rebounds and three assists.
When Nowitzki is shooting well and scoring efficiently everything tends to click for the rest of the Mavericks. At least that has been the case for the past 13 years. No reason to think it will change anytime soon…
One more reason it makes so much sense for Cuban to say ...
Donut 12: The Final Word
"I just wanted to make clear to (Dirk) that we're in this through thick and thin. So there's no way that I'd trade him, no matter what." - Mark Cuban.