DONUT 1: FOREWARD
For the first time this season, a star power forward was available as the
Dallas Mavericks
took on the Minnesota Timberwolves. As it was, happenstance favored the Mavs, with that available power forward being
Dirk Nowitzki
. Kevin Love was again out, beginning the 8-to-10 week stretch a fracture in his right hand will keep him out.
Minnesota was playing on the back end of a back-to-back and Dallas showed them no quarter, jumping on the Wolves early … in eerily similar fashion to the Mavs sprint from the gate against the Memphis Grizzlies.
The Wolves would make a late run, but Dallas proved too much, clinching their third consecutive win (matching their longest winning streak of the season, their third three-game winning streak) by a final of 113-98.
And, from the darkness burst forth a familiar, if not wholly forgotten, theme: hope.
DONUT 2: WHERE DO YOU START?
In Wednesday Donuts, we will address the flip side -- the "absence of hope,'' if you will. Or better, the blown chances along the way this season that have Dallas clinging to successes like this one, successes that still leave Darren Collison issuing an almost ominous announcement.
"Every game from here on out is a must-win for us," he said.
With the win, Dallas would tie a season-high three-game win streak, a mark they've now hit three times this year. With a healthy Nowitzki, and a team that is starting to come together in all facets of the game, the progress is evident, but there is still plenty of room for growth.
But for now, enjoy the moment ... and the video ...
DONUT 3: EMBRACE CHANGE!
So often this season, we've had to untangle a mess that avalanched into a disheartening loss. We've been forced to stare at the calamity and choose where to begin when searching for the "why" or "how" the game got away from the Mavs.
Perhaps because of this, the warmth of being allowed to look at so much good, and having to pick out where to start the praise, is a more-than-welcomed change.
Before moving on to any individuals, we must praise the ball movement from the Mavs as a whole.
Once you add in the nine assists from each of Mayo (a season high, second highest of his career) and Collison (his third highest total this season), along with a season-high six from Dirk, it's not hard to believe that Dallas set a new season high for assists as a team, with 33.
In fact, this ties the highest assist total in a game Dallas has taken part in this season, by the Mavs or an opponent.
Perhaps the last game to see 33 assists stands as a perfect example of the contrasting emotional juxtaposition Mavs fans may now find themselves spinning through … of just how closely hope and hurt can rest at times.
That last instance of 33 assists in a game including Dallas came from the San Antonio Spurs in a blowout, in the third straight Mavs loss of what would become a six-game losing streak.
This time it comes in a third straight win …
While it may be a little premature to hug the hope this breeds too close, forgive us if we take a moment to breathe it in, to savor it.
DONUT 4: ORANGE JUICE MAYONAISE
Given his contributions over the season as a whole, we'll begin with OJ Mayo.
First, his near triple-double contributions: 20 points, 8-of-11 field goals, 3-of-4 3-pointers, nine assists, seven rebounds, two steals and only one turnover.
This was a glimpse of the ideal, of Mayo fitting perfectly within the offense, taking the shots that found him, rather than those found with forced searching. It was both Mayo the compliment … and Mayo the difference maker.
"Mayo had 20 points, but I thought his nine assists and seven rebounds were really big,'' coach Rick Carlisle said. "I think he's doing better and better defensively, which is very encouraging."
Much like the bumps, this is only a moment in the journey -- a mere 12 games into his regular season voyage beside Dirk, only the sixth with the pair sharing a spot in the starting lineup – but it leaves you with a residue of what could be, a film of hope coating it all.
Dallas is now 13-7 in games Mayo scores at least 19 points, and 2-1 in games he's reached that same point total with Dirk also taking the court.
DONUT 5: HELLO, NICE TO MEET YOU, MR. COLLISON … AGAIN
Including Monday night, here are Collison's averages over the last 12 games: 15.8 points, 54.1 field-goal percentage, 55.0 3-point percentage, 5.1 assists, 1.5 steals, 2.0 turnovers.
Against the Wolves: a game-high 23 points, 7-of-11 field goals, 1-of-1 behind the arc, 8-of-8 free throws, nine assists, three steals and three turnovers.
Some of the unexplainable turnovers have continued through this stretch, see the Sacramento game, and the fact that the Mavs record is 4-8 during this time frame keeps anyone from getting too high; but that doesn't discount the fact that Collison has been playing much better.
His greatest natural strengths remain his ability to rely on his quickness to create points, particularly in transition, and not in the "game manager" aspects of the game, yet the positives of what you see from Collison are beginning to creep their way back into sight.
He's not Jason Kidd. He never will be. But, he is doing his best to let us know it may not be time to write him off just yet, for there, half hidden in shadow, but not gone, is a hopeful optimism for what could be.
DONUT 6: WHO DESERVES 'THE DIRKIE'?
You do the voting ... and talk about the game and the team with the world's most passionate and astute Mavs fans
... on DB.com Boards!
DONUT 7: RE-BRANDING
When the Mavs stole Elton Brand off the amnesty wire we all thought they were getting a rugged interior defender with the ability to drain mid range jumpers with ease … then the season began.
Where we knew the miles were showing through, we saw a player that seemed to be chained to the floor on the second night of back-to-backs, that saw his jumpers consistently off, and found our disappointment fed.
Though his first 13 games, Brand averaged: 5.5 points, 34.2 field-goal percentage, and 5.8 rebounds.
The numbers, particularly his shooting efficiency, weren't there … but something was: the desire to play hard and get better. Brand was never an echo of Lamar Odom. He cared. And since those initial 13 games, he's gone about showing us that the skills haven't eroded as much as that small stretch could have led some to believe.
He's shown us that any hopes placed in him were not misgiven.
In the 22 games since, Brand is averaging 8.3 points, 55.8 field-goal percentage, and 6.3 rebounds in limited minutes.
The raw numbers don't leap off the page, but the efficiency, and how well he's seemed to fit beside Dirk should.
Chris Kaman was plagued by foul trouble against the Wolves, playing only 15 minutes, scoring 10 points on 5-of-6 shooting to go with 3 rebounds. Despite the strong shooting performance, one can't help wonder if he could get Wally Pipped by the foul trouble that sent him to the bench in this game … the thought at least has to be there.
Carlisle has stressed that Kaman will get every chance to be the starting center, but how long can that desire hold if Brand continues to outplay him, particularly when paired with Dirk?
DONUT 8: 'THE BANK OF CUBAN IS OPEN'
The Mavs' big-fish targeting of Dwight is understandable. Heck, even 'No-Hope' Nowitzki says, "The good thing with cap space is you can turn your situation around pretty quick.''
On Monday, Dallas owner Mark Cuban laughed and said, "The Bank Of Cuban is open.''
All of this feels great ... a continued commitment to doing whatever possible. But Dwight (the customer you'd most like to lure into the bank) says his mind's already made up. And LA's got a bank, too.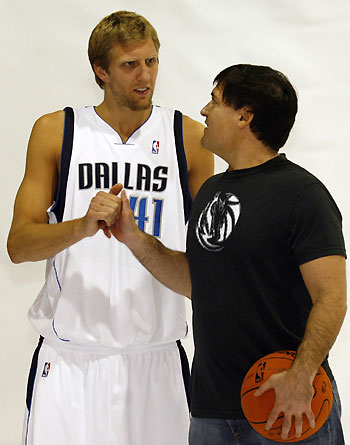 "Cubes has been generous with the money, obviously,'' Dirk said
Ah, but nowadays, The Bank of Cuban cannot work like it once did.
Read our Premium examination of how the concept applies to Dwight Howard and you'll be fully informed!
DONUT 9: DIRK SIDE EFFECTS
Dirk started his sixth game of the season. Dallas is 3-3 in those games, with wins over Sacramento, Memphis and now Minnesota.
It remains a process for Nowitzki, as he searches for his legs and the stamina to press for an entire 48-minute affair (or longer), but the impact his mere presence has on the game is undeniable, even if the results haven't always been so clear this season.
Coming into Monday night, Dirk had played in 11 games. Prior to this return, Dallas had a rebounding differential of minus-4.6 though 27 games, the worst in the NBA.
That number still hasn't been very good with Dirk back in the fold, but the differential had slimmed to minus-2.5 rebounds per game. After getting demolished on the boards by the Wolves (who lead the league in rebounding differential at plus-4.5), 43-30, that differential creeps back up to minus-3.33 since Dirk's return … but still shows solid improvement.
Another area that has shown a marked improvement since Dirk's return is team turnovers. In the first 27 games played pre-Dirk, the Mavs were turning the ball over 15.1 times per game, 0.5 times more than their opponent.
With Dirk, Dallas is averaging 12 turnovers, and is now forcing 1.5 more turnovers per game than they are giving away.
Dirk is still working to get to full strength, but even as he fights to return to form, the benefits of having him on the court shine through … it was only an amount of time before the team's record started to reflect this.
Will it be enough to ultimately matter this season? Who knows … but he has carried a little glimmer of something with him … hope.
DONUT 10: QUOTABLE
OJ Mayo's nine assists were the second most of his career, more than he's had in any game outside of the 10 he posted March 30, 2009.
"OJ had 9 assists today,'' Dirk noted. "I think a couple of months ago (if someone would've said that) I would have said, 'You're crazy.'"
DONUT 11: UNWELCOME HOME
Monday night marked JJ Barea's first game action in the AAC since the 2011 Finals, and reminded all Mavs fans of just how frustrating witnessing Barea as the opposition can be, drawing charges by overreacting to forearm's near his chest and chin while scoring 21 points to go with five assists.
We miss you Barea … now stop flopping against the Mavs … kidding … sort of.
DONUT 12: HOT SHOTS
Over the final 5:30 of the first half, Dallas went on a 15-7 run keyed by Elton Brand, who scored eight points on 4-of-4 field goals. During this stretch, the Mavs hit 7-of-10 shots, compared to only 2-of-10 for Minnesota … and the lead was at 10 at the half.
Elton Brand (10-fo-13 for a season-high 20 points), OJ Mayo (8-of-11 for 20 points) and Darren Collison (7-of-11 for 23 points) combined to hit 25-of-35 shots, converting an impressive 71.4 percent of their shot attempts for 63 combined points.
When that happens, you can afford Dirk hitting only 5-of-12 shots for 10 points and still get the win.
DONUT 13: THE FINAL WORD
Hope is a fickle beast, hard to suffocate and often just as hard to feed.
At 16-23, there's not yet reason for celebration in Mavsland, but, on the back of a three-game winning streak, there is room for a well-guarded optimism … a trickle of justification for a hope that can grow.
Dirk continues to round into form. Brand is who we thought he was. Mayo and Collison seem to be emerging from swoons to resemble the players we saw early in the season. Perhaps this isn't ideal, but it is some faint reminder of what could be.
"We're crawling a little still,'' Shawn Marion said, reiterating his now-nightly baby-steps analogy. "Sooner or later we might be able to walk.''
To crest the hill, you must first begin to climb ... or crawl ... and so the steps have found the slight rise and made the first hint of ascent.
Bruised, shaken, wounded … hope still breathes.