DONUT 1: Fool's gold ...
Dallas Mavericks
coach Rick Carlisle is cautioning all of us about the "fool's gold'' of recent victories.
Dirk Nowitzki
explains in more detail.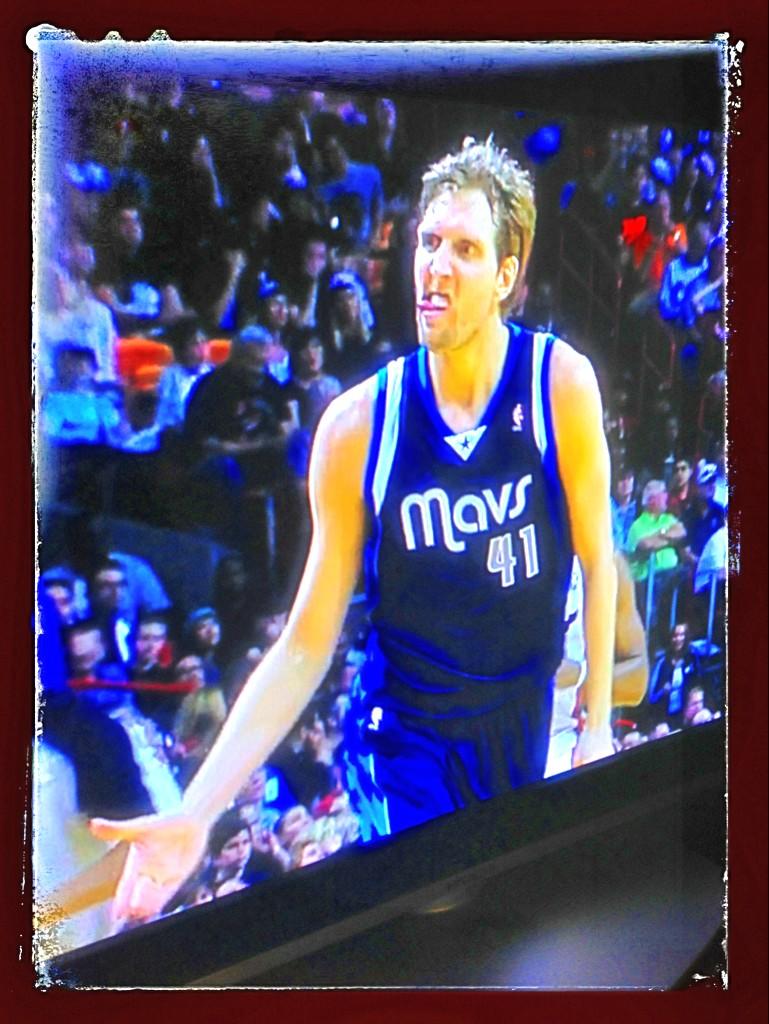 "I don't want to overrate these wins,'' Nowitzki said. "All these teams that came in here were on a back-to-back and we took it to them early, and that's what you're supposed to do at home when a team comes in a little tired.
"We took care of business, so that was good that we won the games.''
That was indeed the case for three recent visitors to the AAC, and tonight the 17-23 Mavs don't have that scheduling benefit tonight as OKC visits for an 8:30 tip.
OKC is 31-8). And no, the Thunder didn't play just last night.
Dang it.
DONUT 2: Stupid lawsuits ...
...
Remember that Heat-Spurs game in which Pop decided to send all the fellas home?
Yeah, it's a San Antonio-attacking lawsuit now.
Zany. It'd be like a Mavs fan suing Cuban/Donnie/Carlisle for not keeping Tyson Chandler and thus giving Dallas a chance to defend its title ...
Oh, shoot. I didn't just give you a stupid-lawsuit idea, did I?
DONUT 3: Coached yelled? Oh no! ...
Some national outlets seem to be a bit panicky over the news that Rick Carlisle "yelled at''
O.J. Mayo
at halftime of what would eventually be a 105-100 Wednesday win over Houston.
"It'll be a bigger sign when I don't have to scream at him at halftime about (efficiency)," Carlisle said this week. "I thought in the first half, he took some shots that were ill-advised, when he is becoming a very good play-maker and a very good all-around basketball player. I'm sorry, it's beneath me to watch a guy continue to veer off from the path that's best for him and our team."
That's a terrific quote. And what Rick is saying here is exactly what Juice signed on for. The 18 points on 3-of-14 shooting is not ideal for anybody. And O.J. -- having signed on with Dallas in part because he wanted to hand over his game to this coach.
It would therefore be "beneath'' Mayo to have any problem with this. And "beneath'' us to make too big a deal of it.
DONUT 4: Josh Smith, anyone? ...
Here
on DB.com Boards, Let the Josh Smith-to-Dallas rumors begin!
DONUT 5: Prediction of Pace ...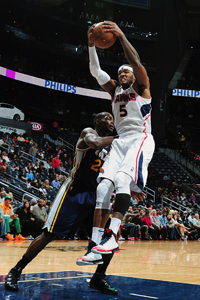 Our man Coop helps us out with a Prediction of Pace for tonight's game by noting that in all the NBA, Mayo and Collison rank fourth and seventh, respectively, in fast-break points. Meanwhile, Westy and KD rank third and fifth.
And there is your Prediction of Pace: Windshield-Wiper Basketball tonight.
DONUT 6: Another 10-day for James ...
We still scratch our heads over the direction of a franchise suddenly reliant on 37-year-old off-the-couch point guard Mike James as a key rotation player. But there is no doubt he's performed well enough to merit the second 10-day contract that will become official today.
The shooting (3-of-16 from the field in 42 minutes) hasn't been there. But the intangibles are there.
"He brought exactly to the team what I told you 10 days ago,'' Nowitzki said. "He's bringing some savvy-ness, just a swag about him, he's not scared of the big situations. He's definitely brought something to this ballclub, so it's no surprise that he's around for 10 more days.''
If the Mavs want more of James? When this period expires, they'll have to sign him for the remainder of the season.
DONUT 7: Quotable ...
''Well, I like our chances in any game where we come out and play with a disposition and an attitude and an unselfish mindset. That's going to be my universal answer for the year.'' - Rick Carlisle, whose team is suddenly four games out of the last playoff spot in the West.
DONUT 8: Want more Mavs? ...
We've got
the best and deepest coverage of the Mavs available anywhere
... take our free seven-day trial and then get your Mavs gold for pennies! Go Mavs and Go Premium!
By the way, we take that same focus that we provide on the Mavs here on DB.com and apply it to
the Mavs and the Cowboys on 105.3 The Fan. Listen live here for some Fish on Football and for breaking Mavs stuff, too
... throughout today and every day ... and we'll take you inside the teams in every possible way!
Today, I'm co-hosting RAGE from 2-7 on 105.3 The Fan!
DONUT 9: Streak note ...
OKC (five) is the only team with an active winning streak longer than the Mavs (four).
DONUT 10: The All-Star writing on the wall ...
Dirk participated in the three-point shootout in 2000 and '01 during All-Star Weekend. And he's been featured in the All-Star Game from 2002-'12.
So this year is going to be ... weird.
Restful, but weird.
The UberMan's streak is pretty sure to end when All-Star Weekend is held in Houston from Feb. 15-17. Plans are being made
including aeronautical-themed uniforms
but Dirk is making plans to not be there.
"Yeah, that's obviously a disappointing streak to end, but it is what it is,'' Nowitzki said. "I had fun representing the Mavs all these years, but it's a tough year for me with injuries. But I guess those four days I'm going to enjoy and get a good amount of work in as well and be recharged for the second half of the season.''
Rest and work for Dirk on All-Star Weekend? It's pretty much a first ... but it's a welcome first.
The voted-in West starters, by the way: CP3, Kobe Bryant, KD, Blake Griffin and Dwight Howard.
DONUT 11: Sorry, Sactown ...
You hear
David Stern talking about the Kings and Sacramento and Seattle
and he doesn't sound very committed to yet another city about to be left behind.
DONUT 12: The Final Word ...
I hear Manti Te'o's girlfriend works at Vandalay Industries.