DONUT 1: Foreward ...
The Phoenix Suns arrived in Dallas having won only four of their previous 14 contests, playing their fourth game in five nights. They left with the worst record in the Western Conference after a 110-95
Dallas Mavericks
victory.
It wasn't always pretty, particularly as the Mavericks allowed what had once been a 20-point lead to be shaved to five early in the fourth quarter, before
Dirk Nowitzki
kick started a 10-0 run with a trailing 3-pointer, ultimately pushing the lead back to 15 and removing any lingering doubt over the outcome of the game.
When a team is fighting to catch up to the eighth playoff seed, style pointing a victory, whether through the quality of play or prestige of opponent, is no longer allowed. Dallas needed a win, and that's what they got.
DONUT 2: Long live the Matrix ...
...
Shawn Marion played the first game of his career Nov. 2, 1999 wearing a Suns jersey. Sunday night, he to took part in the 1,000th game of his career, his 255th as a member of the Mavericks, against those Suns.
Marion finished with 18 points, tied with Dirk Nowitzki and Goran Dragic for the game high. After missing his first four shot attempts, Marion hit 9-of-15, and added a game-high nine rebounds, five assists and a steal.
Whispers questioning Marion's willingness to be a team player that followed him out of Phoenix have long been shrugged aside in Dallas. The team, and fans, have been blessed by the presence of the ultimate team-first personality willing to sacrifice personal glory – averaging less shot attempts per game with the Mavs than at any time in his career outside of his rookie season – and embracing the role of a determined, elite defender, rebounder and all-around contributor.
A player as multi-faceted as his personality, a quote machine that never shies away from his feelings, or the truth of the game, he has evolved into a true leader on this team.
"He played extremely well,'' coach Rick Carlisle said of Trix' Sunday work. "He stepped up his game tonight and I thought he was very aggressive from start to finish; a lot of big rebounds in traffic. When he's on the floor at forward, Dirk is off the floor. Those are big minutes for us because that's just the time of the game that's very critical. He's been holding the fort really since Dirk's been back in those stretches and did a really good job again tonight."
He's done a really good job now 1,000 times.
DONUT 3: The Trix travesty ...
Shawn Marion's career has garnered a share (not sure we can say his "fair share," see the end of this donut) of league recognition.
He's a four-time All Star, made the All-Rookie second team in 1999-2000, has twice made the All-NBA third team, twice led the league in steals, finished in the top ten in rebounds per game six times, finished in top ten of steals per game six times, and has finished in the top ten in defensive win shares six times (all per Basketball-Reference.com).
He's one of only four players in NBA history to tally over 16,200 points, 9,100 rebounds, 1,500 steals and 1,100 blocks … joining Hakeem Olajuwon, Karl Malone and Kevin Garnett.
And, has one championship ring.
"A lot of miles,'' Shawn joked. "No, it's a great milestone. It's a true blessing to playing at such a high level."
Yet, for all of his high levels and all of his defensive brilliance, he has never been honored as a member of the NBA's All-Defensive Team. As far as oversights in sport go, this is a travesty.
DONUT 4: Another step up the ladder ...
With 9:58 to play in the third quarter, Dirk Nowitzki hit a fadeaway jumper giving him 24,368 points for his career … tying him with Allen Iverson for the 18th spot on the NBA's all-time leading scorer list.
With 5:38 to play in the same quarter, Dirk hit another fadeaway (as fitting as it would have been, this was not the one-legged-leaner) over Luis Scola and took sole possession of that 18th spot.
Iverson: One more Hall of Fame player pushed down the list.
Dirk finished with 18 points, 7-of-14 field goals, 1-of-3 behind the arc, and seven rebounds in 30 minutes … ending the game with 24,375 career points.
With 38 games to play, Dirk needs to average only 11.6 points per game to catch Patrick Ewing at the 17th spot, or, more optimistically, 21.5 to catch Jerry West at 16 (assuming Kevin Garnett remains healthy and stays ahead of Dirk).
But that's super-big-picture. Dirk, put a smaller frame on it, please.
"I'm starting to feel better,'' he said. I have a little more pop on my jump shot, I have a little more lift. I'm looking forward to continuing to work but this was a great effort. Honestly, this was as close to a must-win as we have in the regular season. We have a tough road trip coming up against some of those teams we are competing against for the eighth spot. We really needed this home win, get a good practice in (Monday), take a long flight, then we have a tough game in Portland (on Tuesday)."
DONUT 5: A vision of what's to come? ...
Rick Carlisle used his league-leading 17th starting lineup of the season, starting Bernard James at center.
Even if Sarge gets his minutes as a tone setter in bunches at the beginning of the first and third quarters, much as DeShawn Stevenson once did, it's great to see the team's most proficient total/offensive rebounder, and the player with the best defensive rating (of those that have played at least 10 games) on the roster; get minutes somewhere.
This wasn't one of his best performances, though we still saw the persistent energy he's shown every time he's seen the court.
James finished with two points and three rebounds in almost 11 minutes.
"He's energetic and he goes hard,'' Rick said. "The biggest thing we need right now is energy. We need any kind of injection of it we can get. He's one of those guys where you put him in there and you know what he can do."
Was James' presence in the starting lineup a motivational message to Chris Kaman, who has disappointed as a defender and rebounder (ranking 29th in rebounding rate among centers with enough minutes to qualify … that's just centers)?
Was it based purely on the matchups with this Phoenix team?
Or, was it a turning point … a continued move away from consistent reliance on Kaman, who has played over 25 minutes only once in the last 11 games, including just 12 and 11 in the last two?
Kaman clearly isn't pleased with the situation -- "I'd rather not talk about it and get myself in trouble,'' he told reporters -- but he also holds the power to alter it. The fact that he did play 11 minutes (6 points, 5 rebounds) means he hasn't been cast into full on Carlisle banishment.
Time will tell which of the above is true … or whether Kaman can render the conversation moot by taking back what was his (the starting spot) by sheer will and force.
DONUT 6: The NBA highlight reel ...
DONUT 7: No extra Mayo ...
OJ Mayo didn't have one of his best scoring games, finishing with only eight points on 4-of-9 shooting, adding six assists, three rebounds and two steals.
Fittingly, this marked the 14th time he's at least tied for the team lead in assists … as Mayo passed the 1,000 assists total for his career (ending the game at 1,002).
For the first time all season, Dallas won a game in which Mayo failed to score at least 11 points, going 0-7 in the previous instances.
With the win, the Mavs are now 3-14 in games Mayo fails to score at least 15 points … conversely, they are 16-11 when he does score 15 or more.
DONUT 8: He's still on the team! ...
For the first time in the new year, since Dec. 28th, Brandan Wright saw minutes in something other than "garbage time."
Checking in 11:22 to play in the fourth quarter, Wright replaced Kaman, and would not leave the game until the final whistle had blown.
Wright finished with four points and three rebounds.
Wright and Bernard James in one game? Carlisle continues to make any guesses at his future rotations look bad … something we'll need to remember when trying to postulate Kaman's role moving forward.
"He did a terrific job,'' Rick said of B-Wright. "When they went with a smaller lineup, I just felt he was the right guy to go with instead of Kaman at that point. He had had a really, really good game at Phoenix in the game we had there which was a really close game. We had to go deep tonight. We had a lot of guys, 11 out of 13 guys, play important minutes when it counted, and we needed all of them to do what they did."
DONUT 9: Buzzer beaters ...
*Shawn Marion is the 107th player to play at least 1,000 games.
Official Leroy Henderson limped off the court with 8:15 to play in the first quarter. He would not return to the game after straining his left calf. That left just 2 officials to call the rest of the game.
*Darren Collison finished with eight points (all scored in the fourth quarter), five assists, two steals and two turnovers.
This ended a 16-game streak of scoring in double digits, the longest such streak of his career.
*Dahtnay Jones did not leave the bench in the previous two games, and had not scored a point in the last three. He played 17 minutes, scored 11 points and helped set a tone of energy and aggression.
Much like Bernard James and Wright, Dahntay is further proof that any player under Carlisle had best accept and embrace the "Be Ready" mantra.
*Mike James is going to be guaranteed a deal for the rest of the year with the big club.
"I'm just going to continue to keep working,'' the 37-year-old point guard said. "We've still got a good chance to still do something special this season."
DONUT 10: Who deserves 'The Dirkie'? ...
If you're a Mavs fan, you get a vote!
Check in here on DB.com Boards and vote for the Player of the Game -- "The Dirkie''!
DONUT 11: 'Inconsequent' ...
If our free translator has not led us astray, that is the French spelling of Roddy Beaubois … or "inconsistent" … and for what Roddy's play must deny.
After a strong performance against the Spurs, Roddy B was handed the backup point guard minutes. Other than a trio of turnovers in just under three minutes during the third quarter, he wasn't brilliant, but also wasn't a detriment.
That's not precisely a glowing endorsement from the source of the "Free Roddy B" movement, but it isn't condemnation either.
Roddy finished with eight points, three assists, three rebounds and four turnovers (no other player had more than two).
On the positive side, he also hit two of his three attempts behind the arc, making it 4-of-6 in the last two games … he entered the game converting only 26.7 of his 3-point attempts.
Carlisle on Roddy's game: "It's got to continue to build to a higher crescendo if he's going to really establish himself on this team."
Perhaps this is a sign that the shooting stroke that has so abandoned him this season is attempting to make a return … we can hope.
DONUT 12: One more big shot ...
Early in the fourth quarter, Phoenix had cut the lead to five. A team that was supposed to be worn out, playing their fourth game in five nights, was making a surge at the exact moment "tired" teams are meant to begin to show signs of their mounting fatigue.
In response, Dirk, trailing the play, did what he's done so many times before: stepped into a 3-pointer and hammered nail number one into the Suns' coffin.
Moments later, Dirk's three had become a 10-0 run that then stretched out into a 19-5 spurt … and the game's fate was sealed.
DONUT 13: The Final Word ...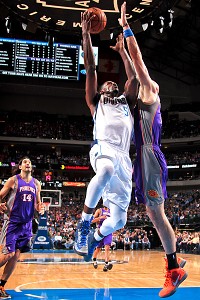 One may choose to dismiss this win against the worst the West has to offer, playing on the tail end of four games in five nights, but there is little room for such notions with this Mavs team.
Every win is big. Every win is needed. Barring significant injury, every win is a step in the right direction.
Such is the path of a team fighting and scratching their way back into the playoff picture.
In that light, this was a good win … six good wins in the last eight games.
Take enough baby steps and you'll be surprised to find the distance traveled once you have a moment to look back … in the last eight, Dallas has taken six baby steps forward.