DONUT 1: The Measuring Stick...
Given four days with which to prepare for an elite-level opponent, and coming off their most promising stretch of the season, Friday's game was an opportunity to measure the
Dallas Mavericks
' progress this season.
Despite the deceiving 113-107 final score, Dallas proved it was not quite up to the level of the Spurs and the rest of the leagues elite. That's not to say that progress has not been made, however, as Dallas is clearly no longer the level of the cellar-dwellers.
Scanning the box score, Dallas was not decisively bested in any statistical category, but poor shooting for much of the first three quarters doomed Dallas despite the Mavericks pulling close to the Spurs near the game's end.
"They played at a higher level than we did. We had some stretches where I thought we were doing OK. Our shot making really wasn't there and that was a problem," Rick Carlisle summarized.
The Mavericks are clearly better than they were, but plenty of work remains.
DONUT 2: Get caught up ...
...
In
our initial game report (see here)
we address our First Impressions. For
the best depth in coverage of the Mavs you can get anyway, It's All-Access.
DONUT 3: Tony Parker vs. Darren Collison ...
Despite suffering a cut above his eye that required stitches to close, Tony Parker still validated his All-Star selection with a game-high 23 points and dished out 10 assists. Rick Carlisle admitted before the game that he even voted for Parker as an All-Star before declining to name any more players for whom he voted.
Unable to navigate Parker pick-and-rolls for much of the night was Darren Collison, who finished with 13 points but as many turnovers, 2, as assists. Though Collison's improvement this season has paralleled the Mavericks' overall rise, Collison remains a work in progress.
It should be noted, however, that his defense on Parker's pick-and-rolls improved in the second half. However, Parker responded by hitting his outside shots and finding a rolling DeJuan Blair more often.
Blair would finish the night with 22 points off the bench.
DONUT 4: Are Dirk's Days among the Elite Over? ...
Earlier this week
in Donuts, I warned that it wouldn't be surprising to see some claims
that with Dirk's streak of All-Star appearances at an end that his days among the top-echelon of players in the league were also over.
Well, it's happening around the local media and much sooner than I thought it would. While we haven't seen Nowitzki play at the level he reached during the 2011 playoffs, a litany of caveats prevent the reasonable observer from concluding that "Dirk is done," as an elite player.
The roster turnover around him and two seasons delayed by injury have robbed him of the continuity, and rhythm that older players so often rely on. Further, he no longer has a veteran, not to mention Hall of Fame-level point guard getting him the ball in his favorite spots. Finally, a proven, elite-level shooter no longer flanks him to play the two-man game and keep defenses off of Nowitzki.
DONUT 5: Excuses versus Reasons ...
None of these reasons should be looked at as excuses for Nowitzki's play. He will be the first to tell you that he has not played like he has in the past.
However, that's an entirely separate idea from proclaiming that he no longer can perform at such a level.
Dirk Nowitzki
's game has never relied on athleticism or skills that atrophy with age, therefore aside from injury and the roster turnover mentioned above, he should not be looked be looked at as a drastically different player than he was just 19 months ago.
To be fair, those proclaiming that he is no longer an elite player may eventually be proven correct. However, given the factors mentioned above confounding his situation, it's simply too soon to make such proclamations.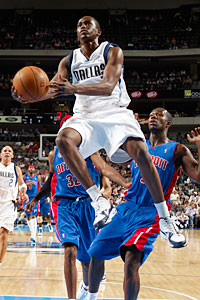 DONUT 6: Roddy B: Basketball Zombie ...
One of the few bright spots for Dallas on Friday night was the inspired play of Roddy B, who would finish with a team-high 19 points on six of eight shooting. It seems that every time we bury the kid, he rises from the dead and reminds us all how vast his physical talents are. His athleticism was particularly evident in the half court last night when Dallas often struggled to find offense beyond Nowitzki.
The challenge, as it always is for Roddy, will be attaining the consistency that has so far eluded him in his career.
. I'm a long-time supporter of his, and when he does things like he did (Friday), he tells on himself,'' Rick said. "He basically says, 'Hey, this is what I can do.' And when he doesn't give it to us all the time, you know, that's where the problem is. We've got 39 games left. I'm very open-minded about everything, believe me, and we need to see him doing this every time he steps on the floor. And he's certainly capable."
DONUT 7: Lebron James becoming a Likable Guy ...
Friday night, a fan in Miami hit a $75,000 shot from half court as a part of an American Airlines Arena promotion. As expected, this brought those in attendance to their feet as they joined in the lucky fan's celebration.
However, it also brought the best basketball player on the planet into the fray as an overjoyed Lebron James tackled the jubilant fan to the ground as well, providing one of the most genuine player/fan interactions you'll ever see.
DONUT 8: Want more Mavs? ...
We've got
the best and deepest coverage of the Mavs available anywhere
... take our free seven-day trial and then get your Mavs gold for pennies! Go Mavs and Go Premium!
By the way, we take that same focus that we provide on the Mavs here on DB.com and apply it to
the Mavs and the Cowboys on 105.3 The Fan. Listen live here for some Fish on Football and for breaking Mavs stuff, too
... throughout today and every day ... and we'll take you inside the teams in every possible way!
DONUT 9: No Delonte West on the Horizon ...
Despite news breaking that the Mavericks' Developmental League affiliate, the Texas Legends, would be acquiring Delonte West, don't read the move as a precursor to Delonte's return to the Mavericks.
"Not gonna happen," Mark Cuban said of any potential reunion on the Mavs level.
Instead, I think this move looks like one of goodwill to help West perhaps return to the league with another club.
"That doesn't mean we don't like Delonte, care about him as a person, want to help him get back on track," Cuban said.
Despite the Mavericks' issues at the point guard position this season, the team simply feels that West is too much of a chemistry-risk to the locker room to return him to the big league club.
DONUT 10: Cuban Wants to Host Another All-Star Game ...
Just not at Cowboys Stadium again.
"I wouldn't do it there again," Cuban said. "It's hard to repeat that. It's hard to get people excited a second time. The second act's a lot harder."
Though Cuban was publicly against the idea of bringing an All-Star game to town for fear of disenfranchising his season ticket holders, he seems to have warmed to the idea now.
The earliest the NBA's showcase could return to Dallas is 2015. There are were rumors that game will go toward the refurbished Madison Square Garden.
DONUT 11: The Road Ahead and Missed Opportunities ...
With two games each upcoming against the Suns, Warriors, and Trail Blazers and one against OKC ahead, that Spurs meeting was a game Dallas needed to win against a short-handed opponent to keep breathing life into those slim-but-possible playoff hopes. Though Dallas is aided by some stumbling of teams above them in the standings (and the Lakers continued fall), too many missed opportunities will also lead Dallas to their first lottery in this millennium.
As Dallas continues to stratify itself as somewhere between the elite and the fringe playoff teams, beating the winnable games, as well as stealing the occasional game against the elite will be the clearest path towards achieving the goal they believe is theirs.
The goal can be aided with success tonight at home against the Suns. It's a 6:30 tip and
your preview is here.
DONUT 12: The Final Word ...
The obvious corollary to not bringing back West is that the 37-year-old Mike James will likely be signed for the remainder of the season once his second 10-day contract expires this weekend.
"So far, so good," Cuban said of James, who is averaging six points and 2.6 assists in 17 minutes per game over his last three. "No reason to think otherwise at this point."
Sign him? Fine. Play him? Not too much, OK?