DONUT 1: Fourth-Quarter woes to fix ...
Since the start of the new year, the
Dallas Mavericks
have played 11 games. They have held fourth quarter leads in all 11 contests.
Their record?
6-5.
Are these anemic results in the face of crunch-time leads a result of chemistry issues? BBIQ issues? A lack of talent relative to their opponents? Or could it be some combination therein?
As ESPN's
Marc Stein noted this week,
Dallas has been within 3 points in the final 30 seconds in 25 of Dallas' 42 games so far this year. Though the Mavericks are only 8-17 in those 25 contests, that stat, more than any is the reason so many around the team still maintain they are better than their current record.
DONUT 2: Standings Check ...
At 18-24, Dallas sits on the lip of the cup of the playoffs. With a 5-1 record over the last six games, Dallas is headed in the right direction but still faces an uphill task over the second half of the season.
The hill gets a little smaller with each win. And Dirk says the playoffs don't have to bother clicking into the standings every morning.
"Coach comes in every day and reminds us what we have to do," Nowitzki said. "We don't really need the paper or the internet when we've got Coach doing that."
DONUT 3: Closing Time PG ...
Two games ago, it was Mike James running the show during closing time while starter Darren Collison sat on the bench. Against Orlando, it was the opposite and Collison delivered, with a big three in the waning seconds to help deliver Dallas the win.
Though Collison has played well of late, it's clear Carlisle is not getting from Collison what he demands on a nightly basis in some capacity. Head Coach Rick Carlisle has a history of a low tolerance for poor decision-making and with all the names Dallas has tried at point guard this year, it still doesn't seem that we are close to a sustained answer at the position in closing tight games.
Not that Fish didn't try to get answers.
"Right now, he's won the starting job and as far as who finishes games, that's going to depend on how the game's going, depend on matchups and how people are playing," Carlisle told Fish. "You guys want all definites so you can come back at me when I change up and say, 'Well, you said that was definite.'''
We will monitor this situation as it continues to develop, but the hope is that Collison will begin closing games with the same regularity that he opens them. Because we're not looking for "definites.'' Just solutions.
DONUT 4: The DB.com Mavs Podcast ...
Dirk Nowitzki
says, "I thought we were going to mix some rest with some work. Looks like we're mixing more work than rest."
That's also the way we roll at DallasBasketball.com.
Fish is down in the AAC basement digging up Mavs scoop
and for the rest of The 75-Member Staff? A brief break in the action only means more time to craft this week's DB.com Mavs Podcast, in which Roy White and Mike "The Machine'' Marshall cut up the issues of the day.
Showcasing veterans. Time for Dirk to pick it up. A historic run coming. Enjoy!
DONUT 5: Are the Turnover Problems Solved? ...
8, 16, 10, 9, 9, 12. Those are the turnover totals for the Mavericks' last six games.
Guess which one they lost?
Indeed, they had 16 turnovers in the loss to Oklahoma City.
Though Dallas is still among the 10-worst offenders in the league in turning the ball over, they are headed in the right direction on that front, averaging under 11 turnovers a game since the new year.
DONUT 6: Return of the SuperSonics? ...
It was recently reported that the Maloofs have agreed to sell their controlling stake in the Sacramento Kings to a Seattle-based group. This is expected to signal the end for basketball in California's capital city as the Kings are expected to be moved to Seattle for play as the SuperSonics, as early as next year. (Seattle retained the rights to the Sonics' name, but little else when the Thunder moved to OKC.)
The NBA's Relocation Committee will soon approve the move, but it is expected to
a "formality," of a vote.
Who is the head of this committee? Only the man who took basketball away from Seattle, Thunder owner, Clay Bennett.
It's bittersweet, really, as Seattle deserves an NBA team. However, it's hard to argue that they deserve NBA basketball at the expense of the fans in Sacramento. (And then there is Kansas City ...)
Such is the give-and-take in the for-profit world of NBA basketball. Perhaps somewhere down the road, either by expansion or by relocation, basketball will return to Sac-town. Until then, they are the victims of the games of billionaires.
DONUT 7: Dirk's All-Star run at an end? ...
Dirk Nowitzki's run of 11-straight All-Star appearances has come to an end. It's not particularly controversial, as Nowitzki's numbers this year do not make up for the amount of time he missed due to injury. Dallas' sub-.500 record didn't help his candidacy, either.
In fact, Nowitzki, was lucky to make the game last season, as his inclusion on the West bench was much more a nod to his recent play in capturing the Larry O'Brien Trophy and was the basketball-equivalent of what we at the time called a
"Lifetime Achievement Award."
The lazy narrative that will undoubtedly be printed in the coming weeks is that this is the end of Nowitzki as an elite player in this league. Perhaps, with time, that will be proven right, but it's far too soon to make such a bold proclamation. Nowitzki's last two seasons have been marred by injury and high roster turnover around him.
He is still only 19 months removed from being arguably the best player on the planet. Though he is approaching his 35th birthday, and few NBA All-Stars are ever over that threshold, let's hold off on declaring the demise of Dirk.
DONUT 8: A Light Week? ..
Dallas took a long week "off'' but DB.com's been on it.
You can get caught up on your Mavs stories from DallasBasketball.com. Check out the DB.com Archives for all the catch-up.
DONUT 9: Trade Talk ...
While we at DallasBasketball.com cover the trade deadline like no one else -- wait until you see "Trade Rumor Traffic,'' one of our most popular features every year -- let's set some parameters before we delve into specific trade rumors and news over the coming weeks.
One, what do the Mavericks have to offer? In the wake of the hemorrhage of assets that followed the championship, Dallas mostly offers cap relief. They have money to spend. Though they also offer some players that may be of use to contenders, like Chris Kaman, Vince Carter and Shawn Marion, the former two players are more attractive because of their contracts.
Two, though Mark Cuban recently declared that his 'Bank of Cuban' is once again open, don't necessarily think that such a statement represents a wholesale change of philosophy. Based on how far Dallas already is into Plan Powder, they would be foolish to take on salary ballast at the deadline and remove themselves from the table this summer when big name players will be hitting the open market, no matter how small the chance that such players would leave their current teams.
Three, the Mavericks can't include their first round pick in this year's draft in any trade. If it falls inside the top 20, it must remain in Dallas. If it is outside the top 20, it will be owed to OKC via a complicated route that was part of both the Lamar Odom and James Harden deals.
There are other realities. Fish says Rudy Gay isn't on Dallas' wishlist. D-Lord has detailed the realities of Dwight Howard's situation. Donnie Nelson has help DB.com with insights into DeMarcus Cousins. So ... we do "Trade Rumor Traffic'' but we deal in realities.
Keep those parameters in mind in the coming weeks as the rumors will be flying fast and furious.
In fact ...
let's get you started now: You've Got Questions On Mavs Trade Rumors? We've Got Answers - And We Name Names.
It's that time of year again. Much like the early days of free agency, anything to everything sounds possible through trade, at least on some level. Here's an early-edition 'Trade Rumor Traffic' look at the Mavs and some 'whys' and 'why nots' on guys like Granger, Jefferson, Calderson, Bledsoe, Cousins, Gay and more ... Michael Dugat nails this must-read.
DONUT 10: In Praise of Rick Carlisle ...
Hiding the Mavs' disappointing season from the marquee of the national media is the ever-evolving mess that has been the Los Angeles Lakers. Loaded with a Hall-of-Fame backcourt in Nash and Kobe with the most dominant big player of his generation, Howard, and versatile Gasol up front, the Lakers are on pace to miss the playoffs for the first time since Kobe Bryant was born.
Now not all of this is the fault of Mike D'Antoni, as the Lakers have weathered injury to Nash, Gasol and Howard among others while learning to play together. However, it is still hard to take a roster loaded with that much individual talent and miss the playoffs.
D'Antoni has now drawn the ire of national talking heads for his refusal to adapt his system to the needs of the Lakers and for his misuse of Pau Gasol.
It's as if the Lakers are the anti-Mavs: loaded with talent but unable to put the pieces together.
Rick Carlisle, however, has squeezed nearly the maximum out of this roster. From taking O.J. Mayo's game to a new level, to trying new lineup combinations nearly nightly while attempting to stay afloat without Nowitzki, Carlisle is anything but stubborn.
He isn't perfect, but he's been right far more often than not and that is why he's routinely mentioned among the top coaches in the league.
In a season where so much has gone wrong for the Mavericks, coaching has not been one of them.
We've got
the best and deepest coverage of the Mavs available anywhere
... take our free seven-day trial and then get your Mavs gold for pennies! Go Mavs and Go Premium!
By the way, we take that same focus that we provide on the Mavs here on DB.com and apply it to
the Mavs and the Cowboys on 105.3 The Fan. Listen live here for some Fish on Football and for breaking Mavs stuff, too
... throughout today and every day ... and we'll take you inside the teams in every possible way!
DONUT 11: No Timmy, No Pop ...
The Spurs announced on Thursday that all-time big man Tim Duncan and best-in-the-biz coach Gregg Popovich did not travel with the club and will miss tonight's 7 p.m. tip at the Dallas Mavericks.
That was the case for the Spurs on Wednesday as well but San Antonio nevertheless beat New Orleans.
The Mavs have been a pushover this season for the 34-11 Spurs, who are in a virtual tie with OKC for the NBA's best record.
Duncan has a bum left knee. Even with the problem, he's at 17.5 points, 9.8 rebounds and 2.7 blocks per game. Popovich is ill and will again be replaced by assistant Mike Budenholzer, who was in charge for the Spurs' 106-102 victory over the Hornets.
Dallas is 18-24 and has won five of six. Dirk Nowitzki this week acknowledged SA's dominance over Dallas this year (losses by scores of 129-91 and 111-86). Looking forward to seeing if the absence of two icons changes Dallas' fortunes tonight.
DONUT 12: The Final Word ...
This week, it was announced that the Cavs' Anderson Varejao would be sitting out the remainder of the season. He has suffered a blood clot that likely originated from a surgery on Jan 10th or possibly from a bruised knee last month. The clot traveled to his lung (called a pulmonary embolism in the jargon of the medical world) and he will now miss the rest of the season as a result.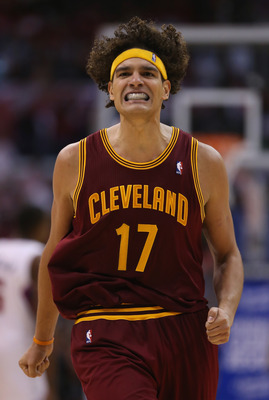 It's a reminder of the fragility of it all.
The athletes we love to watch can perform superhuman feats that we can only dream. They jump higher, run faster,dunk harder and bury shots against the best athletes in the world.
However, like us, they are still human and still fall victim to all the imperfections inherent in the human condition.
The blood clot that lodged in Varejao's lung derailed what many were calling an All-Star season, as he was averaging 14.1 points and 14.4 rebounds in 25 games so far.
Instead he will sit the remainder of the season and he should be thankful the it didn't rob him of more. Had the clot been large enough, it could have killed the 30-year-old forward.
Varejao will likely play again next season; hopefully, he gets one more day playing a game most can only dream of playing. Perhaps, though, it comes with a little less of the invincibility that seems to mark so many young professional athletes and, instead mindful that he's lucky and of how fragile it all really is.