"The longer things go, the more opportunities present themselves,"
Dallas Mavericks
owner Mark Cuban
said over the weekend.
"That's pretty much the way it works. The higher the payroll, the longer the losing streak, the better the chance that something happens."
Cuban is talking about Mavs' trade options.
On Tuesday, ESPN spend a chunk of time allowing a forum for this:
Dwight Howard
needs to be traded,'' yelled Stephen A. Smith. "If it goes the way it's going there's no incentive (for Howard to re-sign in LA.)''
Smith is talking about the Mavs as a trade target.
DB.com can tell you this, from what we've been told by those in the know: when Dwight Howard becomes a free agent this summer, his preference list will include LA, Dallas, and Atlanta. (Brooklyn is on his wish list but there's no room at that inn.) We believe that if he leaves LA, the Mavs are his first preference. An assortment of NBA higher-ups believe the same thing.
And of course, the Mavs themselves have created Plan Powder in the belief/hope/need of such an acquisition.
What we will concede regarding Dwight remaining with the Lakers (besides the fact that the star-studded Lakers are in serious danger of missing the playoffs) is this: the tax cost for LA to re-sign Howard on a max deal this summer is daunting, even by their standards. If the current surrounding cast doesn't change, re-signing Howard on a max deal will have LA paying about $100 million in luxury tax in 2013-14 alone, with a total outlay salary plus tax outlay of about $215 million (about triple that of most other NBA teams).
If they're losing anyhow, maybe there will be a mutual desire for a divorce by both player and team, right?
Sorry. We're Mavs homers. We love the idea of Dirk as the Mavs' second-best player. But we're not convinced that Dwight-to-Dallas has anything more than the slightest of chances of coming true.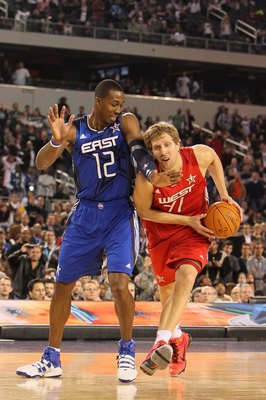 No, Dallas being outside the store window and looking in has nothing to do with the silly notion that "free agents don't want to come to DFW.'' In fact, the Mavs have only had the cap room to court free agents in the last two years. And they've been a secondary option for a number of players, including Deron, Chris Paul and Dwight. The Mavs also signed a free agent named Dirk Nowitzki, and won a title with him. So that worked out pretty well.
But the reality is this: Dwight is now married to the Lakers. Short of Kobe issuing a him-or-me declaration, Howard is getting almost all the things he signed on for (except for wins): It's LA, Hollywood, Showtime, the glitz and glamour ... with the cherry on top being the fact that the Lakers will be able to pay him more money and guarantee more years than any other team, if he stays.
That's the inescapable reality that history says cannot be overcome by any sort of clever Mavs recruiting.
That tax issue the Lakers will face if they sign him? That will be spotlighted by those eager to imagine his availability, but our big calculator says it's a non-issue.
While such a potential payroll (salary plus tax of about $215 million) is massive, the Lakers' revenue of about $400 million can easily handle it if they wish. Their concern is less about payroll, and more about having big-time stars and future titles to continue to fuel the huge revenue stream.
In addition, when they re-sign Howard, the bottom line outlay doesn't have to be nearly that big if they want to make it smaller. The Lakers could trade one or both of Gasol and Artest for a smaller contract, gaining some salary and tax relief in the process, and they could also opt to use their amnesty waiver on one of those players. If they got rid of both with nothing in return, they would remove $27 million in salary and reduce their tax obligation by about $100 million, dropping the bottom line from around $215 million to the relatively miserly $90 million.
Can they make such trades? Their track record says that not only will they be able to get it done should they wish, but they will also be able to add talent somehow as they do so.
• Odom to Dallas, dropping their taxable payroll by about $9 million? They also got the Mavs to give them a No. 1 pick to take the salary off their hands, and they got a trade exception they turned into Steve Nash.
• Getting rid of the useless contract of Luke Walton with another year remaining? They got a badly needed starting point guard in Ramon Sessions, on an expiring contract to boot.
• Getting rid of the failed point guard Derek Fisher with another year remaining? They got Houston to give them the young talented Jordan Hill for the privilege of buying out Fisher.
• To get superstar Dwight Howard? They gave up the highly paid but highly impaired Andrew Bynum, who is a non-factor in Philly.
All in all, a ton of salary reduction, yet the Lakers still came out ahead in talent too, in every swap.
It's also important to note that any possible tax issue created by the Lakers re-signing Howard would only last for one year. Right now they have just one contract for 2014-15 and thereafter, the $9 million per year contract of Steve Nash. Adding a max deal for Howard puts the 2014-15 payroll (and later years) at about $31 million, far below the tax line of $70 million-plus, leaving more than enough room to avoid any further tax if they so desire.
If you're the Mavs, you get excited by the buzz and you stay prepared for the possibility that your four-year, $80 million offer is somehow more attractive to Dwight than the five-year max he gets by re-upping with his present team. (Same song-and-dance as with Deron, remember?)
Dallas, flashing its "Bank of Cuban'' business cards, is almost certain to approach the Feb. 21 deadline working to preserve enough cap space to take a run at him this summer ... or heck, to go ahead a propose to the
Los Angeles Lakers
a virtually impossible trade right then and there.
But the reality is that while the Mavs can talk and the media can yell, it's LA -- not Dallas -- that has the resources to do what it wishes. And it's LA that can simply have the patience to end up with what it wishes as well.