FOREWARD ...
There was no Tim Duncan, no Gregg Popovich when the San Antonio Spurs traveled to Dallas to take on the Mavericks Friday night. Other than a scoreless eight-minute stint, playing in his second game since missing four straight due to a hamstring injury, there was no Manu Ginobili. For a few minutes, as he retreated to the locker room to receive three stitches to close two cuts over his left eye opened by an inadvertent Elton Brand elbow, there was no Tony Parker, either.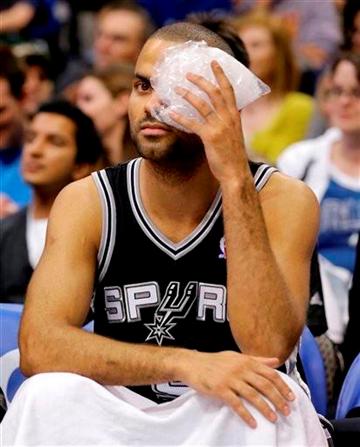 There was, however, a Spurs team entering the night with six straight wins and a
Dallas Mavericks
team that hadn't played since the previous Sunday.
Rick Carlisle was effusive in his praise of Tony Parker before the game, and despite those three stitches above his left eye, Parker showed us why, with a game-high 23 points and 10 assists in only 30 minutes of action, leading the Spurs to a 113-107 win.
"They played at a higher level than we did,'' Carlisle said. "They just kept pouring it on and we just couldn't overcome that."
The final margin may appear slim, but a brutal third quarter saw the San Antonio lead swell to as much as 26. If you're looking for the rare 6-point blowout, behold.
THE BRIGHT SPOT ...
In a game with far too few, we'll begin with the Mavs most significant silver lining: Roddy Beaubois.
Roddy finished with a season-high 19 points, making 6-of-8 shots to go with three rebounds, two assists, one throwback block – yes, if you've witnessed Roddy's career, it's possible to have a "throwback" play in only his fourth season – and two turnovers.
As evidenced by the point total (the most Roddy has scored since March 13, 2012, when he also had 19), a season high in field-goal attempts, made 3-pointers, and made field goals … we saw a level of controlled aggression paired with shot making that we haven't glimpsed this season from Roddy.
"I haven't been myself lately," Beaubois said. "I have to take it personally. I did some good things, but I have to stay focused and everyday do the same thing. Obviously, I have to do a better job to be more consistent."
Mike James was again the first point guard to spell Darren Collison, but after a couple of mental errors, James was pulled early in the second quarter and Roddy quickly embraced his opportunity, scoring seven points in the second quarter alone.
"He's so athletic and fast,'' Dirk said, "if he wants to be."
Perhaps it was seeing a familiar Frenchman as the opposition, perhaps the weather was just right, or perhaps he simply didn't want a chance to go to waste. Regardless of the reason, we'll anxiously await what we always do with this player … consistency.
"He was terrific," Carlisle said. "It's not about the points, but about the energy, enthusiasm and disposition. It's up to him. If he plays like this, he has a chance to secure the backup (point guard) position and will challenge for the starting position.
"I think when he was deactivated for the Orlando game, that got his attention. It shouldn't have to be like this. I'm a long-time supporter of his, and when he does things like he did tonight, he tells on himself. He basically says, 'Hey, this is what I can do.'
"And when he doesn't give it to us all the time, you know, that's where the problem is. We've got 39 games left. I'm very open-minded about everything, believe me, and we need to see him doing this every time he steps on the floor. And he's certainly capable."
A LONG TIME COMING ...
Elton Brand moved into the starting lineup … making this the 16th different starting unit the Mavs have used this season. That's a new starting lineup every 2.7 games, on average.
Brand finished with eight points and tied a season high with 13 rebounds.
On the floor, the indications have been there for a while: this team looks better with Elton Brand, over Chris Kaman, on the court beside Dirk Nowitzki.
Dirk has played 193 minutes with Kaman, 233 with Brand.
Per 36 minutes with Brand, Dirk is averaging: 17.3 points, 38.6 field-goal percentage, 30.8 3-point percentage, 6.8 rebounds, 3.1 assists, 1.5 turnovers … and the Mavs, as a team, have a total plus/minus of minus-2.
Per 36 minutes with Kaman, Dirk is averaging: 17.9 points, 46.8 field-goal percentage, 47.1 3-point percentage, 6.3 rebounds, 3.4 assists, 1.7 turnovers … and the Mavs, as a team, have a total plus/minus of minus-42.
Outside of Dirk's shooting percentages, with the bulk of that separation caused by attempts behind the arc (an area the presence of Kaman vs. Brand is unlikely to provide much of an influence), his individual stats show little significance to who of these two is on the court with him.
However, note the vast difference in the team's raw plus/minus numbers. If you want to break that down to plus/minus per 36 minutes, it's minus-0.3 with Brand, minus-7.8 with Kaman.
That is significant.
For further illustration, Dallas has offensive and defensive ratings of 97.7 and 107.8 with Dirk and Kaman on the floor (a net rating of minus-10.2), offensive and defensive ratings of 104.6 and 106.4 with the Dirk/Brand pairing (a net rating of minus-1.8).
With Brand/Dirk, opponents are averaging 98.3 points per 48 minutes. That jumps to 103.7 with Kaman/Dirk.
If you apply those points allowed per 48 minutes (the length of a standard game) to the current "points allowed per game" rankings, it would come to 18th with Brand and 30th with Kaman.
Neither is great … but one is clearly inferior.
THE DIRK QUOTIENT ...
Obviously, Dirk hasn't rounded into form. This is clear in his 40.9 field-goal percentage, and it's often blatant on the defensive side of the ball.
He isn't back. There have been glimpses, but there is still a ways to go.
Perhaps we're led astray by our hopes, by a blatant homerism that refuses to see the end for what it is … but excuse us if we aren't ready to accept the narrative that this – what we're seeing right now – is all we can expect from Dirk moving forward.
Far too many seem to recall without hesitation the first 19 games of last season, where Dirk averaged 16.2 points, 5.9 rebounds while hitting 43 percent of his shots and 17.8 percent of his 3-point tries … then skip forward to his current struggles.
Remove context, and it's ugly, but context is not insignificant here.
Admittedly, Dirk showed up out of shape last season, thanks in large part to prolonged championship celebrations and a sudden, rather unexpected start to the season as the lockout came to an abrupt end.
This season, he endured his first major knee surgery, missed two full months, by far the most of his career, 27 regular season games, his chance at a true training camp, and arguably returned too soon … perhaps not "too soon" medically speaking, meaning, he may not have faced increased risk of injury, but he did risk playing at less than optimal personal levels as he sought to do all he could to save a ship that was, by all accounts, beginning to sink.
In other words, all he individually risked was statistical punishment … in the name of trying to do what was thought to be best for the team.
Lazy thinking pairs this slow start with the struggles through 19 games a season ago, but conveniently skips over the final 43 games of that season sandwiched in between, a span that saw Dirk average 24 points, 7.1 rebounds, 46.7 field-goal percent, and 42 3-point percent … elite.
We're not denying that age is slipping its claws in and beginning to steal from the player Dirk once was, nor can we guarantee that further injuries will not creep up. We're also not saying the era of placing an entire season on Dirk's shoulders alone is still at hand.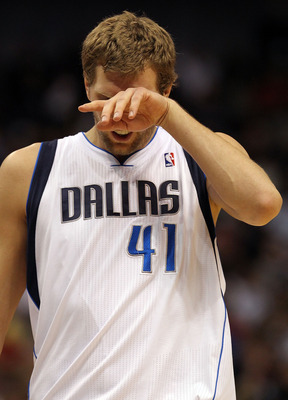 We are saying it's far too premature to start tossing dirt on the grave of his career, of his ability to be an elite contributor, and to accept the certainty that elite-Dirk is a sight banished exclusively to memory.
Write off Dirk if you wish … but excuse us if we're not quite ready to do so.
BUZZER BEATERS ...
*With 19 points, Roddy Beaubois led the Mavs in scoring for the first time this season. He is the ninth player to either lead or share the team lead in scoring.
That complete list for this season: OJ Mayo (20), Darren Collison (8), Vince Carter (5), Shawn Marion (4), Kaman (3), Dirk (3), Jae Crowder (1), and Derek Fisher (1) … and now Roddy (1).
*With Brand getting the start, this marks the 16th starting lineup Dallas has used this season.
The most commonly used starting unit has been used nine times with a 5-4 record: Collison, Mayo, Marion, Dirk, and Kaman.
The starting lineup with the worst record (0-4) is: Collison, Mayo, Dahntay Jones, Marion, and Kaman.
The starting lineup with the best record (2-0) was: Fisher, Mayo, Dahntay, Brandan Wright (remember him?), and Kaman.
There have been other starting units without a win or loss, but these were the most used of those.
*There was an odd officiating stretch in the fourth quarter that saw Jae Crowder step to line and make a free throw before the refs realized it should have been Bernard James at the line. The point from Crowder's free throw was removed. James then stepped to the line and made both of his attempts. …
Moments later, Vince Carter was called for offensive basket interference on James' miss. Carlisle received a technical foul for arguing the call. Replays showed that Carter's hand went through the net but inside of the rim.
The refs gathered and proceeded to change the call, counting the tip in … but the tech stood.
So, Carlisle essentially got called for a technical for making an argument the refs ultimately agreed with.
Strange.
*Bernard James earned 10 minutes are not playing in the previous four games, and was once again a contributor to a unit that revived a lifeless squad and fed a late comeback attempt. Late in the game, after the deficit had been trimmed, when Carlisle looked for a sub to replace Elton Brand, he passed over Kaman and again went with Bernard.
"Felt so good getting some playing time tonight!'' Sarge tweeted. "Sucks that we lost!''
It will be interesting to see if James can come to find minutes more consistently.
QUOTEBOARD ...
"(San Antonio) has our number.'' -- Shawn Marion.
"I disagree. I don't think any NBA team has our number." -- Darren Collison.
MAVSELLANEOUS ...
DeJuan Blair hit 8-of-9 shots for 17 points in the first half. He had only scored over 15 once all season prior, when he totaled 19, his previous season high. He would go on to set a new season high of 22. ... Boris Diaw had eight points in the first quarter. He has scored 7 points or less in 30 of his 46 games this season. ... Dirk needs 11 pts to tie, 12 points to pass, Allen Iverson for the 18th spot on the NBA's all-time scoring list. Next up is Kevin Garnett or, more likely, given that Garnett continues to add points, is Patrick Ewing. ... Exactly one year previous to Friday's game (1/25/12), Dallas received the championship rings. How can something so near feel so distant? ...
NO DELONTE TO BIG D ...
The Mavs are connected to the Legends. The Legends are now connected to Delonte West. But Delonte is not connected to the Mavs.
"Not going to happen," Mavs owner Mark Cuban said when asked if West's Friday signing in Frisco might mean a call-up to the big club. "It doesn't mean we don't like Delonte and care about him as a person and want to help him get back on track. It's not worth talking about. It is what it is."
West was suspended twice by the Mavericks in the fall and then released due to what sources say was repeated locker-room grumbling about his contract and the financially-related direction of the team. In other words, "Plan Powder.''
The Legends put in a claim for West and now he gets to remain in his adopted hometown, where he's spent a lot of time despite his Mavs release. Any NBA team can now to call him up from the D-League.
THE FINAL WORD ...
The Spurs, regardless of who may or may not be missing, are always a hard team to beat. Dallas is now 3-8 in their last 11 meetings with San Antonio, with the losses coming by an average of 16.5 points.
When the Mavs lose to the Spurs in the recent past, they often do so in spectacular fashion.
Depending on the point of view you take, the 18-25 Mavs have either won five of the last seven, or lost two of the last three. Dallas is now tied with the Lakers, who soundly defeated Utah Friday night, for the 11th seed four games behind the 8th-seeded Rockets.
With the Rockets (2-8), 9th-seeded Blazers (4-6), Timberwolves (2-8) and Lakers (3-7) all struggling in their last ten games, Dallas must not let this loss to the Spurs linger. If there is a push to be made, this time seems as good as any.