Elton Brand moved into the
Dallas Mavericks
starting lineup for Friday's Spurs game, making that the 16th different starting unit the Mavs have used this season. That's a new starting lineup every 2.7 games, on average.
Brand finished with eight points and tied a season high with 13 rebounds and hey, maybe there is an answer there. In terms of being a productive and experienced two-way guy, it makes sense. Except maybe to Kaman, who said of his role, "It's frustrating, so I'd rather not talk about it and get myself in trouble if I say some things I shouldn't."
(Kaman, by the way, missed Tuesday shootaround in Portland due to sustaining a head injury the day before. He may be a game-time decision.)
On the floor, the indications have been there for a while: this team looks better with Elton Brand, over Chris Kaman, on the court beside Dirk Nowitzki.
Of course, then came Sunday and the Suns. And rookie James was the starter at center -- and 17th different lineup, changes so frequent now that it makes our calculator hurt. Oh, and Wright was a factor in the game as well. Coach Rick Carlisle praised both of them after the win, but we can likely all agree the sample size is too small to know which one of them is more likely to make
Dirk Nowitzki
a most effective version of himself.
And we think we can all agree that whether it's Tuesday night in Portland or beyond, the center that helps Dirk be Dirk is the center that best helps Dallas win games.
So let's dig into Dirk with Kaman vs. Dirk with Brand:
Dirk has played 199 minutes with Kaman, 244 with Brand.
Per 36 minutes with Brand, Dirk is averaging: 17.1 points, 39.0 field-goal percentage, 30.8 3-point percentage, 6.8 rebounds, 3.0 assists, 1.5 turnovers … and the Mavs, as a team, have a total plus/minus of plus-5.
Per 36 minutes with Kaman, Dirk is averaging: 17.9 points, 46.3 field-goal percentage, 47.1 3-point percentage, 6.3 rebounds, 3.4 assists, 1.6 turnovers … and the Mavs, as a team, have a total plus/minus of minus-49.
Note the vast difference in the team's raw plus/minus numbers. If you want to break that down to plus/minus per 36 minutes, it's plus-0.7 with Brand, minus-8.9 with Kaman.
That is significant.
For further illustration, Dallas has offensive and defensive ratings of 96.3 and 108.5 with Dirk and Kaman on the floor (a net rating of minus-12.2), offensive and defensive ratings of 105.6 and 105.2 with the Dirk/Brand pairing (a net rating of plus-0.4).
With Brand/Dirk, opponents are averaging 97.6 points per 48 minutes. That jumps to 104.2 with Kaman/Dirk.
If you apply those points allowed per 48 minutes (the length of a standard game) to the current "points allowed per game" rankings, it would come to 17th with Brand and 30th with Kaman.
Neither is great … but one is clearly inferior. And so, Kaman has 23 minutes in the last two games combined. Brand has the upper hand. ... and the kids seem to still be in the mix.
Now, Dirk isn't Dirk. He entered the week with a 40.9 field-goal percentage. He is too often not active on defense. The ball doesn't go through him often enough for our tastes, maybe because he's not ready to shoulder that load yet.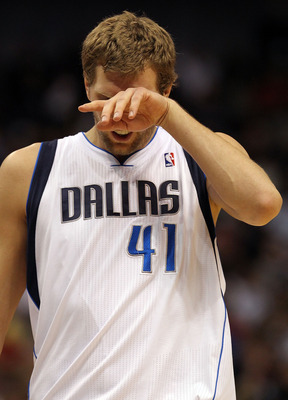 But we're not giving up the notion of "Dirk as Dirk,'' and -- as it relates to his best center partnership -- the Mavs cannot, either. Remember, Dirk wasn't early last season either, when without a true training camp he, in the initial 19 games, averaged 16.2 points, 5.9 rebounds while hitting 43 percent of his shots and 17.8 percent of his 3-point tries.
It's still in there, somewhere ... the ability to repeat what he did in the final 43 games when, once conditioned, he averaged 24 points, 7.1 rebounds, 46.7 field-goal percent, and 42 3-point percent.
Those are superstar numbers. They can be achieved again. A center can help.
Which center will it be? We have our numbers. Rick Carlisle is about to unveil his answers.
"I don't like playing four guys,"
Carlisle said
in Portland. "It worked out for us and I thought it was the right thing to do based on the game and the situations that presented themselves, but I don't think you can play in this league going into each game saying I'm going to play four guys at the center position. I've never seen it work."