DONUT 1: Will the real Collison please stand up ...
Darren Collison kicked off the season on a tear that found him almost universally praised by
Dallas Mavericks
fans, and then he went into a deep slump, was yanked from the starting lineup for Our Grandpa Derek, has been jerked in and out of closing units, and became the target of much angst.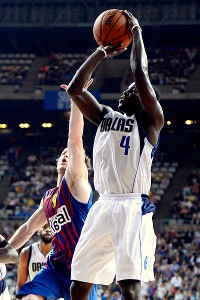 What he'll never be: Jason Kidd. His game simply isn't modeled that way. This doesn't have to be the negative.
Collison's numbers through Dec. 31 per 36 minutes: 14.9 points, 47.6 FG%, 31.1 3PT%, 5.9 assists, 2.9 turnovers and a plus/minus of minus-5.2.
Collison's numbers since Jan. 1 per 36 minutes: 14.7 points, 50.0 FG%, 55.6 3PT%, 6.4 assists, 2.1 turnovers and a plus/minus of plus-1.1.
Much like Mayo, we've seen a drop in turnovers paired with a simultaneous rise in assists along with a greater shot efficiency.
Quietly, since being replaced for one game in the starting lineup on Dec. 23 by Dominique Jones, Collison has played well with a fair level of consistency. There have been the hiccups you should expect from a 25-year-old point guard, but it may be about time to acknowledge the continued improvements we're seeing from him.
"Everybody has been counting us out,'' said Collison. "We're the only ones that believe that we feel that we can still make the playoffs.''
If the Mavs are to fulfill that pledge, it might be in large part due to DC doing his part.
DONUT 2: Calling on Sarge ...
In
Saturday's blowout win over GS (complete coverage here)
Bernard James got the fifth start of his career. The Mavs record in those five games is now 3-2, with the wins coming over Phoenix, Portland and Golden State.
Continuing to play a role similar to what we saw from DeShawn Stevenson in the title year, starting the first and third quarters before sitting the remainder of the respective halves, James finished with what has become a fairly typical personal boxscore in limited minutes: two points, three rebounds and one steal.
Those numbers alone may not be that impressive, but if you dig a little further it's not hard to find those that are.
Entering Saturday night, of guys who have played at least 15 games with the Mavs, B. James led the roster in plus/minus per 48 minutes (+4.3).
With James on the court, the team had their best offensive rating (107.3), third best defensive rating (101.8), and easily their best net rating of plus-5.6.
The team had their second largest positive swing in net rating when Bernard was on the court compared to when he was off, from plus-5.6 when he played, to minus-3.9 when not.
If he hopes to retain a starting spot he'll have to keep improving, but it's hard not to like the hustle and defensive prowess he has shown at times.
DONUT 3: Second thoughts, Donnie? ...
Some
from concessions from Mavs GM Donnie Nelson in this can't-miss visit
.
"You always have second thoughts, on everything you do,' concedes Nelson. "It's the nature of what you do. But hindsight is always 20-20. It's like taking Normandy Beach; You can't sit there halfway through and say, 'Oops, maybe we shoulda taken another beach!''
Please spend a moment reading our rapid-fire Q-and-A with the Mavs GM which that covers trade talk, Plan Powder and the future of
Dirk Nowitzki
.
DONUT 4: A little explanation ...
We understand that not everyone spends time looking at stats beyond the standard boxscore. Because of this, here are a few quick explanations of stats you've likely begun to see more of on DallasBasketball.com:
Offensive Rating: tries to determine the number of points scored per 100 possessions.
Defensive Rating: tries to determine the number of points allowed per 100 possessions.
Net Rating: Offensive rating minus defensive rating. Another way to think of this is as "point differential per 100 possessions."
Rebounding Rate or Rebounding Percentage: the number of rebounds (offensive, defensive or total) grabbed per 100 chances.
Plus/Minus: this can come in a variety of forms, but all essentially break down the scoring differential when a player is on the court. For example: Dallas outscored the Warriors by 32 when Elton Brand was on the court Saturday night, meaning his plus/minus was plus-32.
Rounding any stats to "per 36 minutes" or "per 100 possessions" is simply a method of putting players/teams on a level, and easily comparable, playing field … it helps remove factors such as pace or allows a more direct comparison between a player routinely getting 35 minutes per game to one seeing only 12.
DONUT 5: 'Numbers never lie' is a lie ...
Of players who played at least 15 games, would you be surprised to read that Shawn Marion has had the worst net rating on the Mavs roster this season, and looking at players "off court ratings" (how the team faired when a specific player was not on the court) the team has posted their best net ratings with Marion off the court every season other than his first in Dallas?
Prior to Saturday's game, Marion easily ranked last on the roster with a net rating of minus-7.3 … though his strong performance lifted him to a tie for last with Chris Kaman at minus-6.3.
He also has the worst plus/minus per 36 minutes at minus-6.4.
In a vacuum these numbers speak poorly of Marion.
The game isn't played in a vacuum. Oh, and around here, it's also not played with a razor.
DONUT 6: It's all about context ...
What those numbers don't show is that Marion very often has acted as Dirk's primary backup at power forward, meaning he has gotten a lot of minutes with the team's largest positive single influence on the bench.
For example, during the 2010-11 season the Mavs net rating was plus-10.6 with Marion on the bench.
That year Marion played 1,170 minutes beside Dirk and 1,083 with Dirk on the bench. With Dirk on the bench, Marion suffered through a minus-7.1 net rating, but with Dirk he leapt to plus-8.8.
Beyond this, there is also the fact that Marion has seen his fair share of offensive/defensive situational substitutions … meaning, his stats can wear the negatives of another team's score but then be robbed of the chance to share in the corresponding positives of any Mavs points in response.
This is only a peek, but is why context must be considered.
DONUT 7: Quoteboard ...
"I'm just playing ball," Shawn Marion said. "When (trade) situations arise, I'm going to let it take care of itself. But right now, I'm a Dallas Maverick and that's what it's about."
DONUT 8: Want more Mavs? ...
We've got
the best and deepest coverage of the Mavs available anywhere
... take our free seven-day trial and then get your Mavs gold for pennies! ... Go Mavs and Go Premium!
By the way, we take that same focus that we provide on the Mavs here on DB.com and apply it to
the Mavs and the Cowboys on 105.3 The Fan. Listen live here for some Fish on Football and for breaking Mavs stuff, too
... throughout today and every day ... and we'll take you inside the teams in every possible way!
In fact, Fish will co-host on Monday and Tuesday on the Fan from 2-to-7 p.m. Give us a listen!
DONUT 9: Atlanta in town ...
With Houston's loss last night, Dallas is 4.5 games out of eighth.
The ".500 Beard'' ride continues tonight with Atlanta in town, and here's the preview.
DONUT 10: Thanks to our sponsors! ...
A tip of the cap of appreciation to
Frisco Party Station and
Red Rock Bar & Grill
! They help make DB.com what it is ... thanks, guys!
DONUT 11: "Trade Rumor Traffic'' ... …
It's among DB.com's most popular annual features: Premium coverage from the inside of all the Mavs and NBA trade talk, rumors and moves ... executed as has been the case for 14 years at DallasBasketball.com.
This isn't "fantasy basketball'' or even a website "trade machine.'' This is the straight dope on what is do-able and what is being talked about ... dissected and analyzed by the best collection of Mavs reporters in the business.
Hang on.
Check in often at the constantly updated "Trade Rumor Traffic'' section.
It's going to be a newsworthy ride to Feb. 21!
DONUT 12: The Final Word ...
Our man Chuck Perry points out that this season, the Mavs are paying Brendan Haywood ($6.3 million) twice as much Vince Carter ($3.1 million), to NOT be on the team.