DONUT 1: Dirk is Back ...
Dirk Nowitzki's wasn't an All-Star this year.
He missed the first two months of the season.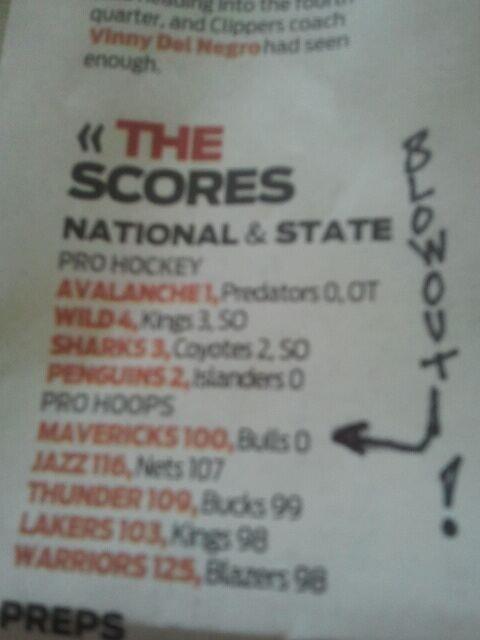 He didn't exactly explode on to the scene upon his return, scoring and rebounding at one of the lowest rates of his career in his first month back.
His
Dallas Mavericks
team is in danger of missing the playoffs for the first time in over a decade.
But if you just watched Saturday's 100-98 win over the Bulls (and no, it wasn't "100-0'' like our old friends at the Greeley (Colo.) Tribune suggest), all you would take away is that Nowitzki is still one of the greatest basketball players on the planet and possibly the most feared shooter alive.
Against the Bulls, Nowitizki had one of his most impressive performances of his career, scoring 35 points and missing only three shots. The game-winning 3-pointer with a few seconds left in the game was the capper.
The capper to quite a game. The capper to quite a month. Dirk's digits in March: 20 points per game while shooting .548 from the floor, .468 on 3's and .941 from the line. Oh, and an 11-5 record.
That's Western Conference Player of the Month stuff.
Right after Anthony Morrow was traded to the Mavericks, we gave you were reports of Nowitzki's jaw dropping as he witnessed Morrow hit 3-pointer after 3-pointer in his first practice with the team.
We've since witnessed much of the same. Morrow vs. Mike James, in a daily basis, in energetic and combative shootouts.
This time it was Morrow who couldn't believe what he was seeing from his new teammate. Morrow didn't enter the game on Saturday, but he might have actually been OK with that because he had courtside tickets to Nowitzki's performance.
Directly after the game Morrow tweeted: "Greatest individual performance I've ever seen in person #DirtyDirk #Coldblooded"
DONUT 2: The video look ...
How did
Dirk Nowitzki
and the Mavs do it? Nice video work here by Max and by our man Followill:
For the most complete coverage of
Mavs 100, Bulls 98 -- complete with Video Visits with a bunch of fellas in the locker room -- bang it here!
DONUT 3: A Frustrated Thibbs ...
While Dirk's performance may have seemed super-human, Bulls' coach Tom Thibodeau talked after the game about Nowitzki's play as if he all but expected those results of from a player of his caliber.
"He's got a unique skill set for a 7-footer. (He has) a great touch, high release, a big shot maker. If you give him space he's going to make it … You can't give him that kind of room."
And yet, if Mavs passers set Dirk up in his pet spots (or, as was the case upon film study of Saturday's game, if Mavs screeners help him to his spots), Nowitzki will simply
take
"that kind of room.''
And if along with that, he takes 20 shots or so, the opponent is increasingly likely to lose.
DONUT 4: Where to watch the games? ...
If you're hanging around north Dallas, may we suggest
Red Rock Bar & Grill
! They help make DB.com what it is ... and they'll have all the games playing on that incredible 200-inch screen, plus live music late, billiards, drink specials, the works! Go by and see Barry and tell him DB.com sent you!
Thanks,
Red Rock Bar & Grill
!!
DONUT 5: How to Help Dirk ...
It's easy for us as fans to say to point at the absence of Jason Kidd and claim that this season's Mavs struggle to get Nowitzki the ball. And there's certainly some truth to that.
But Vince Carter explained after the game that the team aided in Dirk's performance by staying aggressive offensively.
"He was in a nice rhythm and we, as a team, helped him out by continuing to be aggressive and making plays for him," Carter said. "We were getting in the paint and I was trying to make a conscious effort to get in the paint. As everybody moved the ball everybody was contributing … When you play that way Dirk's going to benefit from it because he doesn't have to worry about a double team."
It's true; Dallas running "action'' for Dirk with other people like Vince, James and Mayo also looking for their shots puts pressure on a defense. Still, we get a bit concerned when some of the other fellas think they're "feeling it'' when the numbers say they are not. (That was the case for Vince on Saturday, we say).
As we've preached around here for more than a decade: We'd rather have Dirk finish a possession by taking a "bad shot'' from anywhere on the floor than have almost any one of his teammates, ever, take what they perceive to be a "good shot'' from the perimeter.
The rest of the help, of course, comes from Rick Carlisle's old "nine go-to guys'' approach.
Which brings us to B-Wright.
Lost in Nowitzki's heroics was the terrifically springy performance by Wright. Despite being replaced in the starting lineup by Elton Brand, Wright had his best game of the season scoring 17 points off of 7-of-8 shooting (getting the offensive rebound for his lone miss) and grabbing 13 rebounds.
Vince Carter talked about the importance of Wright's recent contributions.
"(He gave) energy and effort with his length and athleticism,'' Vince said. "That's what we're going to need. We were playing a very physical, tough-minded team. We need him to be active, remain active and stay active."
Ah, the "physical team'' thing. The Mavs have tended to go away from B-Wright when the opponent is "bruising.'' That's why he didn't start against Chicago and yet ... Wright on a good night presents the opponent with challenges of his own.
We don't know which center starts Tuesday at the Lakers. But given the presence (and foul-shooting woes) of Dwight Howard, Wright will almost certainly, eventually, get his shot.
DONUT 6: OJ's good bad game ...
It's burdensome for the Mavericks when O.J. Mayo scores four points, but once again, the Mavericks managed to find a way. The past two games Mayo has scored a combined 11 points. On Saturday he shot 1-of-13.
And yet listen to Rick praise him ...
And listen as we ask his teammates about Mayo, who was able to contribute on Saturday despite his shooting struggles (and his shoulder ailment.)
"For Juice's (bad shooting), I think he had a phenomenal game," Carter said. "He was aggressive at both ends and very active. He prides himself on bringing the offense for us first and foremost, but he brought it at the defensive end."
"I'm proud of O.J." Nowitzki said. "He had a rough one I thought offensively, but he kept playing hard and kept pursuing the ball."
This is a bonding thing that can be even stronger than the ".500 Beards'' (which, by the way, are a win away from coming off). An injured player fights his way through the pain ... doesn't make an issue of it ... inspires his teammates to do the same ...
This is one of the ways "mediocre teams'' can blossom into being "pretty good teams.''
DONUT 7: "The Story of our season" ...
After the Saturday game, Nowitzki said the fourth quarter comeback against the Bulls was a microcosm of the Mavericks season thus far.
"It's kind of the story of our season, honestly," Nowitzki said. "Every time people write us off and say we're done for some reason we find a way to stick around. I think everybody was thinking this game was over and we found a way to turn it around. Same goes for our season. Three weeks ago no one thought we could even make it a close race and here we are with some great wins over the last three weeks and we're still in the mix."
DONUT 8: Want more Mavs? ...
We've got
the best and deepest coverage of the Mavs available anywhere
... take our free seven-day trial and then get your Mavs gold for pennies! ... Go Mavs and Go Premium!
By the way, we take that same focus that we provide on the Mavs here on DB.com and apply it to
the Mavs and the Cowboys on 105.3 The Fan. Listen live here for some Fish on Football and for breaking Mavs stuff, too
... throughout today and every day ... and we'll take you inside the teams in every possible way!
DONUT 9: Little Point Guard Drama ...
It would be an understatement to say that it was an eventful fourth quarter between the Bulls and Mavs. The Bulls hot start was fueled by an incredible fourth from 5-7 backup point guard Nate Robinson who scored 25 points. After the game, Nowitzki compared Robinson to a "video game player."
As the fourth winded down Mike James made it a mission to contain Robinson and things began to get heated. There was some physicality and even some exchange of words between the two. In fact, late in the game there was a double technical assessed to the two guards.
After the game, Robinson downplayed the incident.
"Not necessarily jawing,'' he said. "It was just two competitive guys going at it, and getting after it."
One more competitive guy, Rick Carlisle, termed some of Robinson's launches as "lucky.'' We have no more jawing to report on that.
DONUT 10: It's always party time ...
At
Frisco Party Station, that is. Robert and his family want to be your neighborhood party store, and with graduations coming up, Frisco Party Station has all your needs -- even goodies representing local colleges and high schools. Check 'em out!

DONUT 11: This next one's big …

The last time the Mavericks played the Lakers at the start of March, we suggested in this space that it might be the most important game of the season for Dallas. Despite both teams being on the outside looking in, we predicted that one (but not both) of these teams would make the playoffs making their head to head game crucial.

The Mavericks lost in
a game that had a playoff feel to it. Dirk scored 27 points, but Kobe Bryant outdueled him with 35 and told Mark Cuban to "Amnesty that."
This time around, stressing the significance of this Tuesday's game against the Lakers seems an even more obvious thing to do. The Mavericks are 1.5 games behind the Lakers who are tied with Utah for the eighth seed and this is the last time the two teams will face off this season.
After his stellar showing on Saturday, Nowitzki was already thinking about Tuesday's game.
"We know what (the Lakers) bring,'' The UberMan said. "They obviously have a lot of challenges they propose for us. Kobe was going off here last time. Dwight on the inside was tough. Him and Steve can run the pick and roll. They obviously present a lot of matchup problems. We have to play hard. There are going to be some mistakes and they are going to score some. We can't get discouraged on the road. We have to keep plugging, keep fighting, play our game, get some stops and see if we can sneak out of there with a win."
Coming up, DB.com will have more on Mavs-at-Lakers, including injury updates involving Kobe, Artest, Nash, O.J. and the rest.
DONUT 12: The Final Word ...
"He's a cold boy.'' -- O.J. on Dirk.