DONUT 1: Three games of Dirk ...
Over the last three games, Dirk Nowitzki has hit 74.2 percent of his field goals. Unfortunately, he has not led the
Dallas Mavericks
team in attempts for any of these games as he has taken only 31 total shots, (10, 11, and 10) and the Mavs are 1-2.
Why is this so? How is this possible?
It can be reasonably argued that the Mavs needed to go Dirk during the second and third quarters, when Dallas was outscored by 18. During that time, despite being on the court for 17:32, he attempted only two shots, including zero in the third period.
DONUT 2: Rick's answer ...
Following Wednesday's home loss to the Nets, coach Rick Carlisle offered a rather exasperated answer.
"If you really watch the game, (Dirk's) touching it," Carlisle said. "It's just teams work to take his shots away.''
And
Dirk Nowitzki
himself alluded to the opposing defenses as well.
"(Defenses) don't leave me much anymore,'' he said.
DONUT 3: Dirk on film ...
You can sense The UberMan's own exasperation here, in the postgame Video Visit:
We've got
more of the same in All-Access
... take our free seven-day trial and then get your Mavs gold for pennies! ... Go Mavs and Go Premium to get the scoop from inside the front office, inside the practice court and inside the locker room!
DONUT 4: The Wrestling Match ...
There is a physical-demand aspect to all of this, too. Rick noted, "That's why balance is so important to us. It's why we don't want to be in a situation where we're pounding it to him every single time. It takes a big toll on him … when we have to go to him, we go to him."
And Dirk echoed that.
"I can't wrestle every time getting the ball,'' he said. "You can't do that for 48 minutes. I've got to pick my spots. I'm going to keep picking my spots and be aggressive when I need to."
DONUT 5: Are there answers? ...
We believe so. And we invite you to come inside
the best and deepest coverage of the Mavs available anywhere
... take our free seven-day trial and then get your Mavs goods for pennies! In this piece alone, our game coverage of Mavs-Nets includes a full analysis of the issues discussed above, with one-of-a-kind breakdowns using advanced stats and unique access ... Plus we've got Video Visits not only with Dirk, but also with Deron, P.J. Carlesimo, O.J. Mayo and more.
The place to go to get Mavs issues addressed, as has been the case at DallasBasketball.com now for 14 years, is Mavs Premium ... Go Mavs and Go Premium!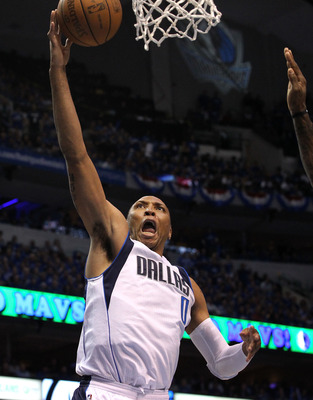 DONUT 6: Trix is ready ...
Shawn Marion (left calf strain) went through the Thursday practice and says he will return Friday vs. the Celtics. Trix has missed eight games, during which time rookie Jae Crowder has served in his spot. It's been good experience for the kid, but ...
"We definitely could have used some of his defense the last couple of games," Nowitzki said of Trix. "Our defense has been terrible and he's our best defender on the perimeter. .... So it's definitely going to be good to see him back."
DONUT 7: Previewing Celtics-at-Mavs ...
While Dallas is 3.5 games back of the eighth-place Lakers in the West, Boston is 3.5 games back, too -- but the Celtics are bidding for a top-four seed as they are 3.5 games behind fourth-place Brooklyn.
A Boston flaw? The Celtics are just 2-10 on the road against the West.
Also notable: Nowitzki's 26.9 scoring average in 26 career games versus Boston is his highest against any team.
DONUT 8: Sooner than DB.com has ever had to do it ...
I've begun collecting some Mavs draft intel. It's going on 14 years of DB.com, and I've never spent mid-March prepping for the NBA Draft.
But that's where we are, so ...
Getting names ... learning how they'll rank on Mavs board ... gathering info from the scouts and coaches who know the kids ...
I'd rather be prepping stories for the Round 1 playoff series, but ... this is where we are.
Inside Stuff on the Mavs and the NBA Draft ... coming soon to DallasBasketball.com.
DONUT 9: Roddy B's likely done ...
Rodrigue Beaubois has undergone surgery to repair his left second metacarpal fracture. No timetable for his return. However, DB.com medical consultant Jeff Stotts tells us that in his extensive database of NBA injuries, only once has a player (it happens to be Jason Terry) returned from this sort of surgery without missing at least 15 games.
So all things considered, Roddy B is done this year. And with his free agency on the horizon, his future as a Mav is in doubt as well.
DONUT 10: Thanks to our sponsors! ...
A tip of the cap of appreciation to
Frisco Party Station and
Red Rock Bar & Grill
! They help make DB.com what it is ... thanks, guys!
DONUT 11: Mr. 24,000/9,000...
On Wednesday, Dirk became the 46th player in NBA history with at least 9,000 boards. Pretty impressive, especially as he is the rare NBA rebounder who came to the skill well after being a kid playing the game. Nowitzki also became one of only 10 players in NBA history with the combo platter of 24,000 points and 9,000 rebounds.
His peers? Wilt, Kareem, Karl Malone, Shaq, Moses Malone, Elvin Hayes, Olajuwon, Garnett and Ewing.
Cherish this stuff, guys. It comes and then it goes way faster than you think. That's part of Mark Cuban's message, too.
"He's a fixture here now, he has a home here,'' the Mavs owner said. "He's a role model, he's a great guy, so that's all positive.''
DONUT 12: The Final Word ...
Jason Terry will debut in Dallas in a Boston Celtics uniform. Carlisle calls him "royalty.'' Tony Cubes hopes y'all treat him as such.
"I hope (fans) give him a standing ovation," Cuban said. "He's earned it. He'll be a Maverick for life. He's part of the family.
"Basketball is a short part of your life, and then there's the rest of your life. Hopefully we'll be part of Jet's after he retires."
This is a reiteration of something we reported almost as soon as the Mavs opted to not bring Jet back as a player -- that someday he'd again be part of this organization in a suit-and-tie capacity. There's something comforting about the thought ... an anticipation of a better future by way of remembering a better past.