DONUT 1: The last 26 games ...
While the
Dallas Mavericks
have been unable to string together any prolonged periods of excellence, they have managed to close the gap to three games from the eighth seed … and over the last 26 games their record is 16-10.
During that stretch, Dallas has outscored opponents by an average of 3.9 points, putting up 105 points per game as they've converted on 47 percent of their field goals and 39.3 percent of their 3-pointers … while holding opponents to a field-goal percentage of 43.8 and a 3-point percentage of 34.3.
DONUT 2: It starts with Vince...
Given what
we noted in Monday's Donut 4
, perhaps we shouldn't be surprised that Vince Carter leads the team in plus/minus over this 26-game stretch at plus-7.6 per game … followed by Roddy Beaubois (who did play a rare four minutes against Minnesota after the game was well in hand) at plus-3.1 and Dirk at plus-2.6.
"It's not necessarily just scoring, but, in general, I understand what's going on and I just made it my business to be locked in and want to do whatever is needed," Vince says.
We've been harsh critics of Vince as a go-to guy for much of the season. For the last 26 games, at least, we've been wrong.
DONUT 3: "Nine go-to guys'' ...
Remember when coach Rick Carlisle uttered that immortal phrase to start this campaign? "Nine go-to guys''?
For the last 26 games, at least, he's been right.
What have other Mavs done over these 26 games? Here are a few per-game averages for a few other players of this 16-10 Mavs stretch:
DONUT 4: Dirk's night off ...
Sunday's win was such a blowout that
Dirk Nowitzki
wasn't much needed. But in the last 26, we've seen a rounding-into-form from him: 17.1 points, 45.0 FG%, 40.6 3PT%, 7.3 rebounds, 2.8 assists, 1.3 TOs
DONUT 5: More 'best games' ...
It was just a few games ago when O.J. Mayo played what the coach called "his best game of the season.'' In fact, Mayo's assembled a decent string of pretty-goods: 15.8 points, 47.0 FG%, 41.1 3PT%, 5.4 assists, 4.1 rebounds, 1.0 steals, 2.2 TOs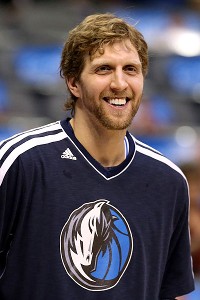 Note the oft-troubling assist-to-turnover ratio being repaired.
DONUT 6: DC off the bench ...
That seems his future now. (Or at least until tonight, when Rick could flip the script in Milwaukee. Who knows?)
The 26-game numbers on Darren Collison: 11.4 points, 44.7 FG%, 40.7 3PT%, 6.0 assists, 3.0 rebounds, 1.4 steals, 2.2 TOs
When Carlisle says, "Off the bench, I think he's a special player'' ... Yes, an 11-point/six-assist guy as your backup point guard is special enough.
(By the way: Make room for another point guard. We just spoke to Donnie Nelson this morning to talk about the
call-up of Chris Wright, maybe the first pro athlete in the U.S. to play while battling Multiple Sclerosis. Check it out here.
DONUT 7: Get healthy, Trix ...
Shawn Marion has missed the last two games with a calf problem sustained last week when he shut down Houston's James Harden. Hopefully he plays tonight and hopefully he brings it like his 26-game output: 14.0 points, 54.4 FG%, 30.6 3PT%, 7.5 rebounds, 2.0 assists, 1.1 steals, 1.6 TOs
Marion, by the way, engaged in some light work on Monday in preparation for trying to give it a go tonight. We'll update his situation throughout the day here and
on Twitter at FishSports.
DONUT 8: Want more Mavs? ...
We've got
the best and deepest coverage of the Mavs available anywhere
... take our free seven-day trial and then get your Mavs gold for pennies! ... Go Mavs and Go Premium!
By the way, we take that same focus that we provide on the Mavs here on DB.com and apply it to
the Mavs and the Cowboys on 105.3 The Fan. Listen live here for some Fish on Football and for breaking Mavs stuff, too
... throughout today and every day ... and we'll take you inside the teams in every possible way!
And tonight, we've got the Mavs-at-Bucks telecast starting at 6:30 with Fish, Ortegel, Followill and more on Fox Sports Southwest!
DONUT 9: Those are your double-figure guys ...
But obviously, 16-10 has required contributions from others.
"You know, it's late in the season, but I think guys are getting accustomed to their roles," Elton Brand says. "You know, B-Wright is playing great, Chris Kaman and his minutes. Mike James has been a big boost in our starting lineup, and Collison coming off the bench, with Vince and I, has been playing great lately. I think it's a collective effort out there."
Monday was EB's birthday. On Sunday, Brand was able to take the gift of a win, while giving the gift of another double-double: 10 points, 12 rebounds, three assists, one block, one steal, and two turnovers.
As Brand notes, it is late in the season to think about players only beginning to gel, to "understand their roles."
In a season that has seen Dirk Nowitzki play in only 33 of the Mavs 62 games (or 53.2 percent of them), Shawn Marion miss nine, and a continued fluctuation at the point-guard position, perhaps it's reasonable that some level of "understanding" or teammate familiarity -- or even role acceptance -- would be this slow in the coming.
Maybe it's an excuse, or perhaps it's simply one factor among many that has led to a 29-33 record.
DONUT 10: Thanks to our sponsors! ...
A tip of the cap of appreciation to
Frisco Party Station and
Red Rock Bar & Grill
! They help make DB.com what it is ... thanks, guys!
DONUT 11: Mavs at Bucks ...
So there's the Mavs' who's-who leading up to tonight. It's a 6:30 start to the telecast and it's the Mavs trying to match their longest winning streak of the season at four games. The Mavericks (29-33) sit in a 10th-place tie with Portland in the West, three games out of the eighth and final spot.
This is also a chance to win a third straight road game, something the Mavs haven't done in more than a year. They'll attempt to do it against a Bucks squad that has defeated Dallas in three of the last four meetings. Led by the electric backcourt of Monta Ellis and Brandon Jennings, Milwaukee (32-29) has six wins in its last seven games.
DONUT 12: The Final Word ...
"If we really want to make this push and make it interesting, we got to be firing on all cylinders,'' says Dirk Nowitzki, and that means the stars, the double-digit guys, the bench -- everybody who's been a part of the previous 26 games. "We need everybody playing well and let it all hang out."