OVERVIEW AND OUR ANNUAL QUALIFIER
Each year as free agency plays out, we keep re-evaluating the
Dallas Mavericks
' possibilities as things play out. We do so with an awareness that "wanting'' isn't "doing,'' and that our knowledge of what Dallas is trying to do ... and their efforts ... don't necessarily equal successful acquisitions, 50-win seasons or championships.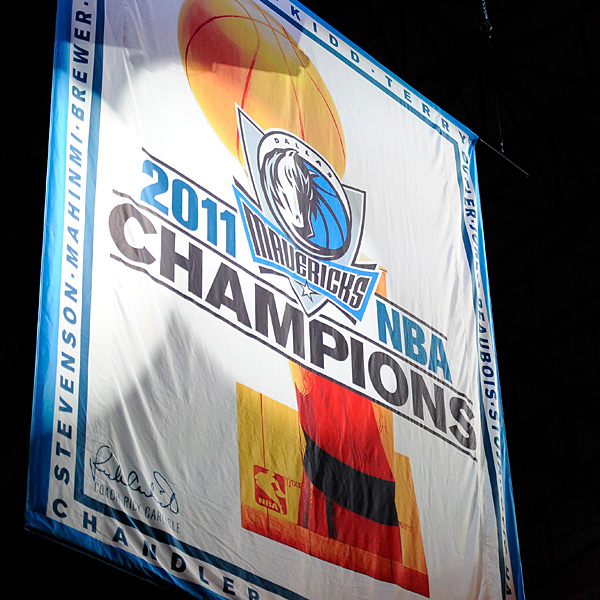 There are no guarantees that come with our efforts, or theirs ... though in the last 13 years there have been a lot of successful acquisitions, 50-win seasons and championship contention.
As always, as the Mavs attempt to do "X, Y, and Z,'' we plug what we know about those attempts into a cap/asset framework. At this moment, they have concluded their three-hour Dwight Howard meeting in LA and walked away from that meeting with an Eric Bledsoe proposal (and many other ideas) on the table. So far, where are they, and what else could they do if these two avenues are successful?
WHERE MIGHT THEY BE IN FREE AGENCY, IDEALLY
Woj is first to report that Eric Bledsoe is now off the table. He and Caron Butler will go to the Suns, Jared Dudley and JJ Redick to the Clippers and two 2nd-round picks to the Bucks in a three-way trade.
That's unfortunate for Dallas, for if they were to succeed with what they were attempting for the last 24 hours, the moves and roster would've looked like this:
1. Trade, Howard for Marion
2. Trade, Mayo for Bledsoe, Billups, Barnes
(see full story here)
3. Sign Mekel
(see full story here)
At that point, their roster and assets would look like this
C - Howard, B James (NG)
PF - Dirk
SF- Crowder, Carter
SG - Barnes, Billups, (Ledo)
PG - Bledsoe, Mekel, (Larkin), Akognon (NG)
In this scenario, he Mavs would've also had Early Bird rights on Wright. Depending on how much Billups and Barnes were paid, there could potentially be spending room left, but in our estimate here, we think it would've been all gone.
They would also have owned a Room-MLE of $2.652 million.
This is all gone now in terms of Bledsoe as the centerpiece. We'll get back to it ...
THE HOWARD MEETING
We don't mean at all to be presumptuous about Dwight-to-Dallas. The aforementioned steps were always optimal ones, and we know all the pre-meeting "oddsmaking'' on where Dwight will land to be either charlatanism or comedy. There are five seats at the Dwight Poker Table. The Mavs have one of the five seats.
The singular thing we know for certain about the meeting?
"It was fun,'' Cuban said.
We also know that if their pitch to Howard fails, they move on to a series of "imperfect Plan B's,'' including the consideration of a clever "Exhibit 3'' path to Andrew Bynum. (
That exclusive, and dozens of other Mavs stories, are stacked up neatly for you here in DB.com Archives.)
But Dwight-to-Dallas has a chance to work. What DB.com's been told is the Mavs planned to pitch to him the benefits of the team's stellar ownership foundation, the creativity of their front office, the versatility and stability of a top-three NBA coach, the unselfishness of Dirk and
the power available to Howard as an "assistant GM'' who can help be a "decider'' in Dallas.
And if Houston really touted its ability to give him a Comcast TV show and if the Lakers really touted their ability to give him a Time-Warner TV show? Sports industry leaders consider to be the Mavs to be among the best-marketed teams in any league. And Cuban can always mention that he
owns an entire TV network
and is a two-time semi-Oscar winner.
There was a dog-and-pony show. We don't need to have had a seat inside a room in Beverly Hills to know that. If "connections with China'' was broached (as may have been the case in the Houston pitch), the Mavs can remind Dwight that the entire NBA's connection with China was paved by the Mavs.
But it would be nice if the basketball pitch is what wins over a basketball player. At the same time, a tough obstacle to overcome is money: By rules, suitors will offer Howard four years totaling $87.6M; the Lakers can keep him with a five-year deal worth a guaranteed $118M.
WHERE MIGHT THE MAVS GO NEXT?
Now, here's the important note. The aforementioned isn't all going to work (again, there are no guarantees, just siffting through what DallasBasketball.com knows about the "X, Y, and Z Attempts'') ... But the same sort of thing CAN work. Dallas can --
will
go back to the drawing board with ways to gain a point guard, in particular.
The Bledsoe idea has gone away (maybe because Dallas wouldn't take on the Caron ballast). The creativity that got Dallas there in the first place remains.
If the Mavs' (adjusted) plan succeeds and there is a Dwight and a new point guard, there would be two significant needs: (1) Depth at C-PF, and (2) Long-range shooting.
To address the former, they could bring back Brand (using the minimum or the MLE) and/or Wright (using his Early Bird rights). We think those would be more likely solutions than the idea that they might bring in a player from elsewhere using the MLE or Wright in a sign-and-trade.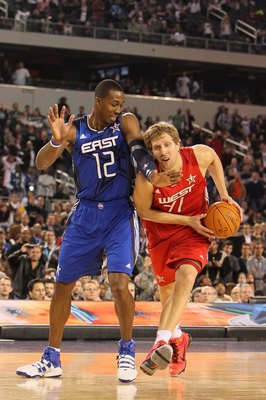 As for the latter, if they are able to sign Brand using the minimum (amid a report the Knicks might wish to sign him), they would have either or both of Wright (via outgoing S&T) and the MLE as assets to address those needs. They could also try to bring back Anthony Morrow, using either a minimum salary or the MLE, but his production last season was far below his reputation as a marksman after his arrival from Atlanta at the trade deadline. (Dallas' thinking here might be revealed by its base-touching with a list of shooters that includes Kevin Martin, a Carlisle fave.)
Jose Calderon has been linked to Dallas in some reports, but might prove more expensive to obtain than what the Mavs can offer with their limited resources. Rajon Rondo, Monta Ellis, Brandon Jennings, Mo Williams and Jarrett Jack and a host of other point guards are also worthy of mention on some level (using a variety of different tools). It's a wide net being cast right now, so everybody from defensive ace Tony Allen to shooter Chase Budinger (now heading to Minnesota) to old friend JJ Barea also gets mentioned, at least in-house.
Lots of "X, Y, and Z Attempts.'' Maybe later comes
the use of a "tough-love blueprint to rebuild,'' covering issues Dallas is surely reluctant to face.
But first, of course, comes the result from today's "A Attempt.''
And the hope it was as successful as it was "fun.''