DONUT 1: The Shield Of Invisibility ...
Missing out on postseason play for just the first time since 2001 in a city where mediocrity makes you virtually non-existent to the casual fan, the
Dallas Mavericks
find themselves in unfamiliar territory. Most of the
Dirk Nowitzki
-era Mavericks teams entered the offseason looking for ways to tweak their roster in order to compete for a championship the next season.
Now, the fact that the Mavs finished 41-41 and the Cowboys finished 8-8 and the Stars finished 22-22-4 does not necessarily doom DFW as ".500Town.''
This next time around, Mark Cuban, Donnie Nelson, Rick Carlisle and Company can be poised to make the right moves ... to crawl back into relevance. ... and maybe to vault back into contention.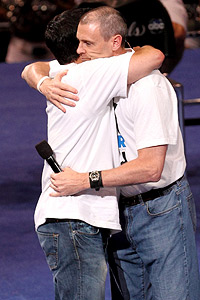 DONUT 2: It starts with "Plan Powder'' ...
Even Mark Cuban himself has informed DB.com that he hates the term "Plan Powder.'' But we invented the term and have covered the intricacies of the plan like no other ... so we're not budging.
Nor are we budging from our optimistic views on its potential effectiveness.
Even as we acknowledge the failures on the court in 2013 (and the year before, too, as long as we're counting up all our bruises), there is opportunity on the horizon.
If you're a sucker for things like drafts, free agency and trade deadlines -- the junk we live for -- then you see the opportunity for change.
(For an exclusive look at the Mavs' contractual commitments as calculated by the invaluable David Lord, join Premium Mavs Fans here.)
We know that waiting for "Plan Powder'' to fully kick in in the summer of 2014 isn't exactly the way to sell Mavs season tickets (or, for that matter, DB.com Premium subscriptions). But it's worth nothing as a step forward -- long-term as it is -- away from invisibility.
DONUT 3: Paul and/or Howard ...
It sounds daunting, but the aforementioned is the flexibility this team wanted after failing to lure top free agents to Dallas the last few offseasons. Which, by the way, is again Dallas' Plan A for THIS offseason.
One thing that is assured for the Mavericks as they rocket toward July 1: they will aggressively chase superstar free agents Chris Paul and/or Dwight Howard.
And to answer your next question with a very educated guess ... Yes. In that order.
By the way, when we say "and,'' we're not pipedreamy enough to suggest they WILL
sign
them as "ands.'' Just that Dallas must find a way to put bids in on both, to make both know how much they are desired, to be on both doorsteps at midnight somehow letting the two guys -- who will not be ignorant of what is occuring on the other's doorstep -- feel that they are The One.
For darn sure,
both will be made to understand the value, specific to each of them, of what we'll call "The Cuban Umbrella.''
It'll be a cute trick. We're at present investigating Dallas' plan for such a dual flirtation.
How do you ask two sisters to the prom? How will Dwight react when he's The Prom King's second choice?
DONUT 4: Dwight Education and Band-Aids ...
So maybe
you start here with your education regarding what Dallas can spend in the example of Howard.
And then you fortify that with a willingness to quit eyerolling disgustedly at "Plan Powder,'' because even as it is "the same ol' story'' it is THE STORY. And will continue to be ... until it, or a variation of it, works.
Now, maybe -- after swinging and missing at high-quality free agents the last two summers -- there will be a slightly different "Plan Powder" approach this time around.
If you're unfamiliar, the strategy required the Mavs signing players to just one-year or club-favorable deals in order to stay flexible for the NEXT offseason in order to take another shot at a big prize in free agency.
Band-aids, kinda.
Despite the many viable financial reasons, the gained salary-cap flexibility, the "guys-will-play-harder-on-final-contract-years'' consideration and other merits to this scheme, the plan led to the dismissal of most of the pieces from the 2011 championship team and made it basically impossible to build any long-term team chemistry.
Fair or not, fans don't want to hear about cap flexibility or "dry powder"; they want results. And now the Mavericks front office has made it clear that they will consider longer-term commitments to players, even if they whiff for a third time in landing a star to place next to Nowitzki as he enters the twilight of his career.
DONUT 5: The Harden Idea...
Our Jonathan Auping has investigated an idea with great merit: Pinpoint a young budding standout with a contract about to expire ... Is his team prepared to pay him? Can you trade for him and sign him long-term right before his hoped-for emergence?
Auping's
piece is here - and it names names.
DONUT 6: The third leg ...
So we have the primo option of hitting the jackpot. And then we have clever acquisitions of next-level guys who are given long-term contracts ... and we hope it works.
Then there is the draft.
It needs to be handled with the utmost seriousness. We would not dare suggest that the hard-working Mavs personnel department hasn't applied itself here ... just that the Mavs' roster is traditionally so deep that the use of picks haven't been "prioritized,'' shall we say.
Remember way back to 2008 when we were all debating the trade that brought in the aging Jason Kidd and shipped the young, promising speedster Devin Harris off to New Jersey? That argument has cobwebs now as it has been long proven the Mavericks made the right move, but one of the main reasons they were able to pull the trigger is because they'd prioritized point guard (by drafting Devin) and then they'd prioritized upgrading to someone with the elite, underrated skill to get the ball to the Mavs' best player (Nowitzki), in the best position to succeed.
Letting Kidd move on before this past season was the right decision, but not replacing that skill of the entry pass in the point guard position was a massive hole in the offense, especially in the last five minutes of close games.
If you are interested in knowing
what the Mavs think of the top two point guards in this upcoming Draft, DB.com has those answers, too.
DONUT 7: But wait ... back to CP3 ...
It would be a mistake to skip over the idea of the Mavs' pursuit of Chris Paul. Put some low percentage on it happening, if you wish. But at Mavs HQ, what they are putting on Paul is a lot of eggs in a basket.
Assuming he's truly willing to depart the Clippers (possibly folly given his existing employer's ability to guarantee him a fifth contractual year) ... What would Dallas have to do to make room for him?
We've calculated the maximum four-year deal for Paul to total $79,714,196 and to start at $18,668,430. (Note: Paul's five-year LAC number will be $107,343,500.)
From there, you will find it's a surprisingly easy fit to near the $18 million range. Here are two among the almost countless methods:
Option 1:
Keep the five players Dallas presently has under commitment (Nowitzki, Marion, Carter, Cunningham, Crowder); keep the 13th pick; and waive the two non-guaranteed players James and Akognon.
a) If the NBA cap is at $58.044 million, Dallas has room to spend $16,232,171 on one player. (Meaning another move -- like the giveaway of Carter -- is necessary. Or Paul agrees to take less than the max.)
b) If the NBA cap is at 60 million, Dallas has room to spend $18,188,171 on one player (and you are very close to Paul's max.)
Option 2:
Keep the five players under commitment (Nowitzki, Marion, Carter, Cunningham, Crowder), get rid of 13th pick, and waive the two non-guaranteed players.
a) With a $58.044 million cap, there is room to spend $17,397,291 on one player (again, the need for a "minor'' move.)
b) With a $60 million cap, there is room to spend $19,353,291 on one player.
There are some misunderstandings about Dallas' "commitments'' and "aging roster'' and such. Maybe this clears that up. There are also misunderstandings of how much Dallas can give Paul. We're sure this clears that up.
The full story on Chris Paul and the Mavs' Big Calculator is here.
DONUT 8: Want more Mavs? ...
We've got
the best and deepest coverage of the Mavs available anywhere
... take our free seven-day trial and then get your Mavs gold for pennies! ... Go Mavs and Go Premium!
DONUT 9: In case you missed it ...
Not long ago, Kaleb Canales was a University of Texas-Arlington Mav.
Now he's a Dallas Mav.
The Mavs have announced that veteran assistant Jim O'Brien is retiring from the NBA and is being replaced by Canales, 34, and a native of Laredo, Texas.
"On April 16, Jim O'Brien informed me that he would be retiring from coaching when our season was over," Mavs coach Rick Carlisle said in a statement. "Jim said he loved working in the Mavs organization, but being away from family made his decision easy. I consider Jim O'Brien a great basketball man of high integrity and thank him for everything he taught me, my staff and our players this past season.
"We are fortunate that Kaleb Canales became available and had interest in joining the
Dallas Mavericks
organization. Kaleb has worked for the Portland Trailblazers organization in multiple capacities for the last nine years, and brings great knowledge, enthusiasm and work ethic to the Mavs. He will join Monte Mathis and Tony Brown on the bench and take over in Coach O'Brien's capacity of coordinating our offense."
O'Brien, an NBA head coach in Boston, Philadelphia and Indiana, came to Dallas last summer after Terry Stotts departed for the top job in Portland. Stotts has been the supervisor of Canales, who'd served as the Blazers interim coach for a time in 2011-12. to come aboard after serving as the defensive coordinator for former
The Mavs attempted to bring Canales to Dallas last season but he remained in Portland to work for Stotts.
"Kaleb is well respected around the league and he's a talented coach with an unique skillset,'' Stotts told the Oregonian. "So it's no surprise that Rick wanted to hire him. It makes a lot of sense.''
Canales started with the Blazers in 2004 as an intern. video department. He's worked as the team's video coordinator, assistant, and last year was in charge of the team's defense. His interim appointment made him the NBA's youngest active head coach and first Mexican-American to hold such a job.
"At this time, I am excited to have the opportunity to join the Dallas Mavericks,'' Canales said in a statement.
Canales is said to have strong relationships with young standouts like LaMarcus Aldridge, Wesley Matthews and Nicolas Batum. Those three reportedly endorsed him for the head-coaching job eventually won by Stotts.
DONUT 10: Thanks to our sponsors! ...
A tip of the cap of appreciation to
Frisco Party Station and
Red Rock Bar & Grill
! They help make DB.com what it is ... thanks, guys!
DONUT 11: Follow the Mavs on Twitter! ...
Follow the Mavs on Twitter:
Mike Fisher
,
Kevin Brolan
,
Michael Dugat
and
David Lord
keep you up-to-the-minute informed on all things Mavs!
DONUT 12: The Final Word ...
There are countless things the Mavericks need to fix this offseason ... well, not
countless
, because we just counted some of them. ...
But we can boil the priority list to two items:
*Push the right button(s) when it comes to making Dirk the second-best or co-best Mav. (Chris Paul fits.)
*Prioritize the employment of a PG who can get the ball to Nowitzki. (Chris Paul fits.) ... And if you fall short in Chasing CP3, move to the next target at the position and be prepared to live with some of the possible imperfections that result.
There are your highest priorities.
Going forward in the coming days weeks, we'll expand on some of the concepts presented here and examine even more of the options the Mavericks have in filling those holes. Among those: YES. The Mavs believe that while it's a ridiculous long shot, there is a mathematical way to acquire Paul AND Dwight.
When Cuban says, "We're not trying to win the summer,'' he makes a clever point. The Mavs are not chasing a championship in July. But they will be chasing the pieces of one, pieces that can pull Dallas from behind that shield of invisibility.