To properly understand the frustration many have with O.J. Mayo, one first needs to properly frame the issue with expectations.
Mayo, a former lottery pick, was brought to Dallas with the hope that he could resurrect his star potential that was lost amid his four seasons in Memphis. He was viewed by many
Dallas Mavericks
observers as the JET replacement -- younger, more athletic and with a more diverse offensive game than the departed Terry. With these tools, he would become the Mavericks' second scorer and ease the offensive burden on Dirk Nowitzki.
On the whole, that did not happen. Mayo's finishing numbers seem solid enough: 15.3 points (almost right at his career average) with 3.5 rebounds, 4.4 assists and 2.6 turnovers per game.
Oh, and one Game 81 roasting from his boss, coach Rick Carlisle. Mayo addressed that and more in his Thursday Exit Interview. But the focus of questions was on his decision to pass on the $4.2 million that's on the Mavs table for 2013-14 to test free agency.
"Getting something long term, locking something in is what I think is best for me," Mayo said.
While Nowitzki missed the first few months of the season with injury, Mayo performed at nearly an All-Star level, averaging almost 20 points per game and making a blistering 51% of his three-point attempts.
So far, Mayo was playing the part of Robin to the absent Dirk's Batman brilliantly and keeping Dallas afloat during Nowitzki's absence.
However, that production was buoyed by a nearly career-high usage rate of 24.4% from October through December and came with the almost unacceptable cost of a 16.9% turnover rate during that stretch.
Still he was playing at nearly an All-Star level and hopes (and expectations) had been raised by his recent strong play.
The O.J. offensive highlights from this season do not lie:
However, as Nowitzki worked his way back into the starting lineup, the hopes for a Nowitzki/Mayo two-man game never became reality as Mayo's play began to slip. In the 26 games after Nowtizki regained his place in the starting lineup, Mayo's scoring average dipped to 15.8 points per game and his accuracy from the arc, a staple of his early season success, abandoned him as he would shoot only .340 from the arc over that stretch. Febuary would mark Mayo's three-point nadir, where he hit only .293.
Still, growth was evident in Mayo's playmaking abilities. In the first 33, largely Nowitzki-less games of the season, Mayo's assist to turnover ratio was almost 1:1. However, in the following 26 games after Nowitzki's return, Mayo flipped that ratio to almost 2 assists: 1 turnover, and dropped his turnover percentage to a more reasonable 13.7%. His usage rate also fell to 20.8% as be began deferring more shots to Nowitzki and others.
At the time, we consoled ourselves with the knowledge that, if Mayo was not an elite scorer, than at least he could be a productive, and at times even efficient, teammate.
In the 23 games that Mike James has started this season, Dallas has gone 15-8. However, what was good for the Mavericks was bad for Mayo, as over the same stretch he averaged 10.0 points per game (a would-be career-low if it were a full season), shooting a season-worst .408 from the field, including .380 from the arc. His usage rate again fell to 16.5%, partially explaining the drop-off in scoring production.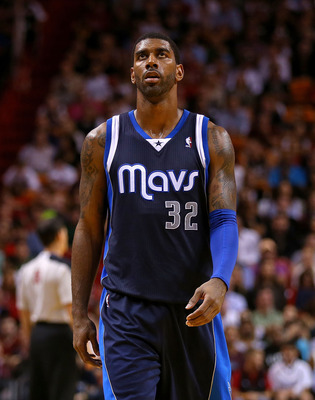 However, over the same stretch, Mayo averaged a season-low 1.9 turnovers per game and nudged his assist: turnover ratio towards a season-high 2.5:1 while his turnover percentage again fell to 15.4%.
You can almost neatly divide O.J. Mayo's season into thirds: the first 33 games while Nowitzki was out and working his way back to being a starter, the 26 games where both Nowitzki and Mayo were starters before Mike James took over the point, and the final 23 games of the season. In each, we see a downward trajectory in Mayo's scoring and usage, but an overall upward trajectory in his assist: turnover ratio and other playmaking metrics.
The division of Mayo's season into thirds also highlights the at least three vastly different roles Mayo has been asked to fulfill this season. In the beginning, he was asked to play far above his ability as a primary offensive breadwinner for a team without a superstar. Then, he was forced to refit his game as a sometimes sidekick to a uniquely-gifted power forward who was working his way back into dominant shape. Finally, Mayo was tasked with the role of part-time playmaker to a limited, shoot-first point guard. All the while there has been little-to-no grumbling from the only player to start every game for the Mavericks this season.
Mayo's 2012-13 campaign, however, has been characterized throughout by shrinkage in big moments. O.J. shoots his lowest percentage of any quarter, .430 from the field and .310 from the arc, in the fourth quarter and overtime. Further, his numbers against elite teams are also known to be abysmal: 10.6 points per game, .382 from the field and .190 percent from the arc against the conference's top five seeds, including identical 9.8 points per game averages against Oklahoma City and San Antonio.
There are two ways to take these numbers, and both likely play a role. (1) They may show evidence of a player being defended above his ability level and (2) they may represent a player shrinking from the crucial moments because either (a) deficiencies in basketball IQ or (b) a player being asked to do too much.
None of that, though, explains his last 11 games, during which he averaged 8.0 points, 33.7 FG%, 33.3 3PT%, 4.4 assists and 2.5 turnovers and
seemed to not respond in Game 82 to the "fatherly urgings'' of Carlisle.
"I love O.J. as a kid, as a person," said Carlisle, who joined GM Donnie Nelson in a morning meeting with Mayo to affirm their desire of his return. "I spent more than more time with him this year than probably any other player I've ever had. With him, I'm a little like a Little League dad. I want him to do well so badly that sometimes it gets the better of me. But that's OK, because if you care that much, it's never a bad thing."
Whatever the cause of the late decline -- which could even include "fatigue,'' Mayo said -- his shortcomings and growth present a unique problem for the Mavericks' this summer. As it stands, while he expresses a desire to stay here, Mayo can opt out of the final year of a contract that would pay him $4.2 million next season. He has undoubtedly earned himself some money this season with his play and growth in his game. However, he may have sabotaged some of his value with his late season swoon.
The key, of course, will be valuation. Over the course of the season we have seen Mayo settle into the role of above-average playmaker for his position and capable scorer in the proper context. We have also seen him be over-exposed in the role of second-best player on a team. Is he worthy of a long-term deal? Absolutely, given the relative scarcity of Mayo's skills at his position, the hope of continued growth like what was seen this season and his age (he will be 25 when next season starts), all argue for a multi-year contract.
The argument can be made that what Mayo has failed at this season is being a first-tier player deserving to compensated at that level -- or deserving of expectations to perform at that level.