Donut 1: Surgery
On October 19th, Dirk Nowitzki underwent arthroscopic surgery on the right knee that had been bothering him since the prior season's training camp. After having the knee drained twice in the past month, and having the swelling return both times within days, Nowitzki and Mavericks officials decided to definitively deal with the cause of the inflammation and opt for surgery. At the time, Nowitzki was optimistically expected to miss 13 regular-season games during his six-week recovery.
He would miss more than double that number and his absence would put the retooled
Dallas Mavericks
in a hole from which they could not, ultimately, recover.
Donut 2: The Numbers
In 53 games this season, Nowitzki averaged 17.3 points per game, the second-lowest of his career, shot .471 from the floor, grabbed 6.2 rebounds and 2.5 assists.
However, those numbers don't tell the whole story, as much of the season Nowitzki was working his way back into shape. As a starter, Nowitzki averaged 18.2 ppg and shot .476 from the floor.
During last week's exit interviews, Nowitzki noted that it took him longer than usual to get back to the level normally expected of him.
"Once I came back, I wasn't in the shape I needed to be to really help the team," he said. "It really almost took me until the All-Star Game to get halfway where I wanted to be."
If we look at Nowitzki's numbers after the All-Star break, his scoring average rose to almost 19 points per game and his shooting over the final stretch of the season was over .500, including .433 from the arc, and he grabbed nearly a rebound and a half more than his season average.
Donut 3: The Doubters
However, despite the clear progression in Nowitzki's numbers as the season stretched on, there were some, who
doubted whether Dirk still belonged among the ranks of the game's elite.
Such dubious utterances were echoed many times across national sports-talk radio shows, and they're a cousin to the former, oft-repeated refrain that Nowitzki could never win a championship. He is and has always been a singularly unique player that defies normal NBA conventions. This makes him hard to quantify and this season was no different.
Yes he was slowed by injury and took longer than expected to return to both game action and then return to form. However, at the end of the season he got to that place again, averaging nearly 20 points a game and leading Dallas to a 15-8 finish.
Donut 4: The Big What-If
During the exit interviews, nearly every player mentioned how big of an impact Nowitzki's prolonged absence had on the team's chances this season. Nowitzki himself wondered where the team would be had he been healthy.
"I missed basically almost 30 games for the first time in my career with knee surgery. I thought that kind of messed the season up a bit. I figured if I was healthy all year, looking at it before, we had a shot at making the playoffs," he said.
There is some merit to this idea, as Dallas' 15-8 finish translates to a .650 winning percentage, that had it occurred over a full season, would equate to 53 wins. However, cherry-picking the best numbers isn't quite fair either, as Dallas endured a host of issues beyond Nowitzki's injury. A healthy Dirk would not have put out the dumpster fire that was the point guard position and a full season of Nowitzki wouldn't have fixed Dallas deficiencies at the 5.
Looking at all of the games Nowitzki started is probably a fairer guage of Dallas potential with a healthy Dirk.
Nowitzki returned as a starter on Jan. 5 and led Dallas to a winning record in each of the final 3 months of the season. In the 47 games Nowitzki started, Dallas' record was 27-20, a .577 winning percentage, or about 47 wins over an 82 game season.
With 47 wins, Dallas would have contended with Golden State for the sixth seed.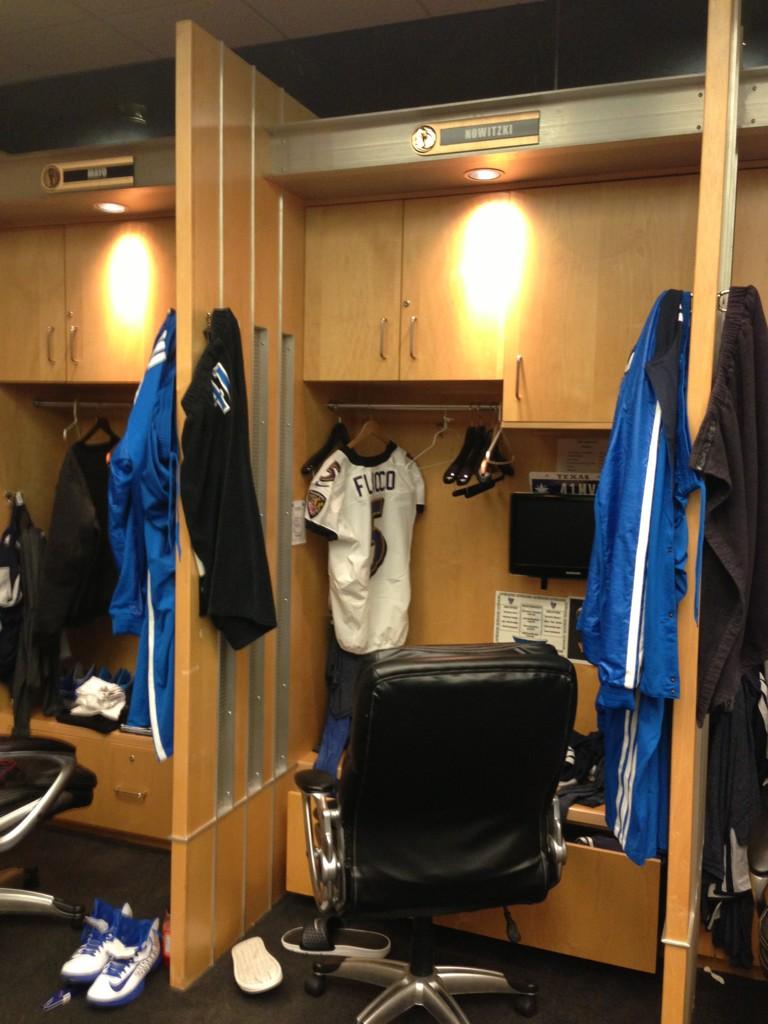 Donut 5: What's Hanging in Dirk's Locker?
Last winter, a funny thing popped up in Dirk Nowitzki's locker: a signed Joe Flacco jersey. It turns out the two are fans of one another and exchanged jerseys after PR personnel from both teams organized the jersey swap last fall.
Donut 6: A Surprising Parallel
More interesting is the similar trajectory of both Nowitzki's and Flacco's path to championships. Both players were routinely heralded as "not good enough to win it all," after following multi-year regular season success with highly public playoff failures: Nowitzki in the springs of 2006 and 2007, Flacco in the winters of 2008 and 2009.
Then, seemingly out of nowhere, both Flacco and Nowitzki would go on transcendent runs through the post season, leading their veteran-laden teams to championship showdowns with highly-favored, and much younger, opponents. Just as Nowitzki's Mavs vanquished the Heat on the back of his critic-silencing play, so too did Flacco out-maneuver the 49ers en route to his first championship. The comparison carries one step further when considering that shortly after Flacco and Nowitzki captured their championships, many of their veteran teammates were lost as their franchises were left to search for replacements.
However, the comparison breaks down when one considers that Nowitzki is easily one of 10 best to ever play his position
(note his Mr. 25K/9K achievement this year)
while Flacco may not even be one of the 10 best quarterbacks in the game today.
Donut 7: How many more years will Dirk play?
"I still think I can play decent basketball until I'm about 38 or 39 but we'll just have to wait and see,'' The UberMan said. "I'll finish out this contract strong and then I'm 36. Like I've said the last couple of weeks, I'll sign one more deal, two or three-year deal, and then probably call it a day after that. I'm just going to see how the body holds up.''
"I'll see if it is still fun. I've always said basketball, to me, is a sport. It's supposed to be fun… So by the time the fun is all gone, I'd rather stay at home and raise some kids.''
We've argued multiple times in this space that Nowitzki should be expected to have a gentle decline, barring injury. Nowitzki has never relied on the speed and athleticism that defines many professional athletes. Therefore the normal age-related loss of those abilities should not affect Dirk's game to a great extent.
Donut 8: About those 'kids'
Rumors had been swirling for weeks but Nowitzki confirmed that yes, he and Jessica are expecting. The Tall Baller from the G said the due date is later in the summer and should be here before next season begins.
Nowitzki also let it slip that he and his wife are aware of the sex of the baby but he's not telling yet.
Donut 9: Would Dirk Ever Leave?
Despite all evidence to the contrary, some continue to prod for any indication that Nowitzki may leave. Nowitzki seemed to definitively put that notion to bed last week.
"Honestly, I can't really see myself going anywhere else but here,'' he said. "Really, the pressure is on Mark and Donnie to get this franchise back to where it belongs, and they know that. Then we're all good, everything's fine."
Nowitzki then offered his availability to serve as a recruiter if need be, but then turned self-deprecating about his ability as a salesman: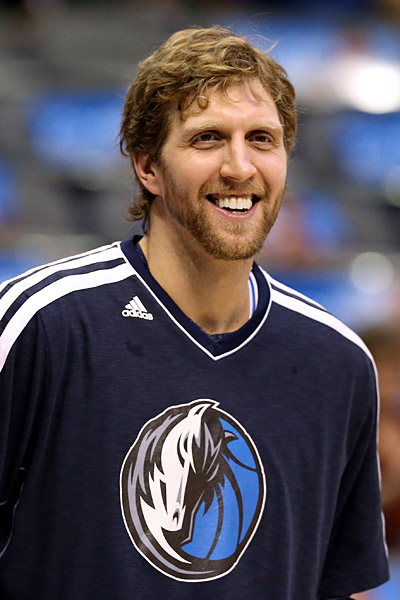 "I can try, but I'm really not the most positive person. I guess that's a German thing. If I can talk about my experiences here and the city, which have been great, I think this is one of the most attractive cities on the NBA circuit, to be honest.''
Dirk is a supporter of the program and of those in charge of it. "Selling papers,'' we suppose, it the reason some explore the relationship for cracks, a phenomenon around here for more 13 years. He's got a ring. He wants another. And how can you tell he wants it for Dallas, too?
Donut 10: "I belong to this city"
Ultimately, Dirk's most memorable quote from exit interview day seems destined to become a T-shirt slogan in one of the most blunt professions of loyalty in recent memory.
"I mean,
I belong to this city.
That's just the bottom line. I could never see myself playing for another franchise, putting another jersey on. That would be probably the hardest thing I'd have to do in my life."