Ten years ago
Vince Carter
could jump higher and move faster than he might be able to these days. In fact, it was hard to find a person on the planet that could jump higher than Carter could at the height of "Vin-sanity."
But while Carter became a household name based on his athleticism and explosiveness, he was unfortunately not known for something else: professionalism and effort.
Carter was largely responsible for making professional basketball relevant in Toronto in the late nineties and early 2000's. But together Carter and the Raptors were unable to accomplish any sustained success together. The organization failed to surround Carter with enough talent to be a legitimate contender. He became frustrated with the team.
But this is where the story gets hazy depending on who you are listening to. One of the most common knocks on Carter is that his commitment night-in and night-out to winning games near the end of his time in Toronto was questionable to say the least.
Injuries came up and many people seemed to think that Carter wasn't exactly in a rush to get back from those injuries. People became skeptical when he missed time after being diagnosed with "jumper's knee." To be fair, it doesn't seem much of a stretch that a man considered one of the most prolific dunkers of all time would develop something called "jumper's knee."
But even when Carter was on the floor, people questioned his effort. There are many people who followed Carter and the Raptors that are thoroughly convinced that he was regularly giving half-hearted effort and mailing in games. He didn't help his case in that regard when, after being traded, he admitted that he didn't always play as hard as he could every game.
That revelation has largely defined Carter's career to many casual fans, but his quote was more a comment that he sometimes relied more on his athletic ability than his drive and motivation. And that's the problem with either side of the effort argument: Carter was so athletically gifted that fans expected so much from him. He made everything look so easy. This ultimately made it extremely difficult to judge how hard Carter played in his earlier years in the league.
But the frustrations between Carter and the Raptors front office eventually led to Carter being traded. And history has merely labeled Carter as a player who was blessed with amazing athleticism, but quit on his team. He has been heavily booed every time that he has returned to Toronto in the nearly ten years since he was traded.
And with minimal success in New Jersey, Orlando and Phoenix, Carter's career has rarely received the respect it deserves. He never had the drive, maturity and professionalism to accomplish what all the greats could, it seemed.
The Mavs saw him differently.
"They believed in my game and my ability to make plays and pass the ball to the right guy,'' Vince says. "For me, to get that opportunity was gratifying and refreshing."
And as this season wore down, when Carter checked into a game at American Airlines Center he received an ovation that was formerly reserved for people just shy of Dirk, like Jason Terry.
Carter didn't simply inherit that ovation by taking over Terry's role as the
Dallas Mavericks
's sixth man after Jet departed for Boston. He earned that reputation by bring a scoring punch off the bench, a swagger, and most importantly a pride in his work on the court.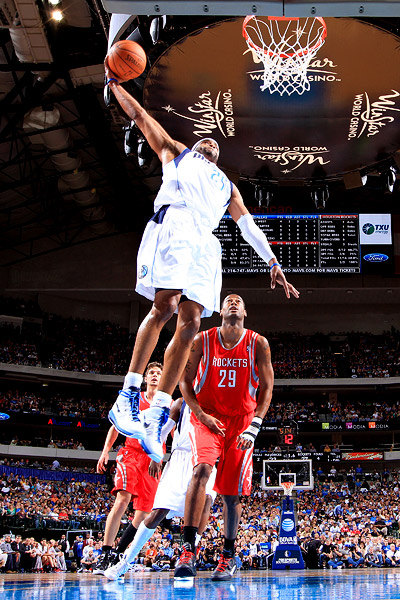 "Vince is a warrior,'' Mavs owner Mark Cuban says. "All these things I've heard in the past about him being soft and not playing hard, that's bull. That dude comes out to deliver every night.''
The reputation that Carter had been labeled with around much of the league couldn't be further from the reputation he has earned in Dallas. And he has done so among fans with very high standards.
"More than anything, I tried to remain consistent and do whatever was needed for the team each night,'' Carter says. "That's what I wanted to do and what I wanted to take from each and every game. Of course it's great when you score a lot of points, but being productive each and every night for the team is what my goal was."
Sports fans can be fickle. They can be harsh. They can even be entitled. But the good ones are usually pretty smart, too. And if you were to ask me, there's a reason that Mavs fans respond so well to Carter (besides the occasional highlight reel dunk): it's because they are smart enough to know that at this point of his career he is just dedicated to "the system."
He's not just a contributing player. He's a leader. He's a mentor to the younger players. He is exactly what you need to help create and sustain a winning environment. He's a professional in the locker room and holds himself accountable. He's patient with the media and will answer every question directed his way after good games and bad games.
"Vince has been the one constant this year," says fellow Carolina alum and Maverick bench player Brandon Wright. "We've all had our ups and downs. But Vince has been there every night, playing hard, providing that veteran leadership."
Carter averaged 13.4 points and 4.1 rebounds this year. He actually had a better season than Jason Terry had with the Celtics.
On Monday night Carter reached an impressive milestone, passing Clyde Drexler for the 27th place on the NBA's all-time scoring list.
After expressing the humbling feeling of being mentioned with NBA legends he looked up to, Carter can explain why he feels he has been able to reach such great milestones.
"I've put a lot of work in during my career," Carter says. "I've been fortunate enough to play this long and still be able to contribute to a team. Great things like that can just come to you from longevity."
Like Carter, Clyde Drexler could throw down highlight-reel dunks with the simplest of ease. He is respected as one of the best players to ever suit up in the NBA. Sadly, Carter's legacy might not be remembered quite as fondly as Drexler's. The thought of Drexler on the court brings back a joyful nostalgia to many, and the idea that Carter might have been better would bring out an eye roll from those people.
But Carter is doing his best to change that.
Carter's time in Dallas thus far can be summed up by watching him in the closing seconds of games. While the Mavs have had a number of thrilling games, most NBA contests are already decided by the last 20 seconds or so. But all year you could see Carter fighting until the very last buzzer, running down rebounds, petitioning to referees and encouraging teammates.
And then there is his 2012-13 highlight reel:
Followers of Carter in his earlier NBA years may have a certain opinion of him. Possibly a negative one. And perhaps they have a fair argument. People change and mature as they grow older. But the label that many stick on him is not the Vince Carter we know in Dallas.
"You can only judge a player off of what you've experienced first hand," says Wright. "We've seen a class player. A great player. (We've seen) a great professional who plays hard and works hard."
And then there's the opinion of the person who carries the most weight.
"Vince has had two great seasons for us,'' says Cuban, who clearly envisions Vince playing beyond the one year left on his contract. "And he's just a first-class guy who busts his ass every game. You never look at Vince and say he's taking a play off. I'm proud that he's on the Mavericks. The guy lays it out every time. I can't put it any other way. He's one of those guys I want to retire here."
How long out might that be?
"I accomplished my goal as a young rookie,'' Vince says. "I said I wanted to play 15 years … Now that 15 years is over, I woke up this morning and said, 'I can still go. I can still play.' I feel great … We'll see. Some people think I could play five more years. I don't see five years. I'll say that, for sure. If I feel like this, three or four will feel good."