On the final day of the
Dallas Mavericks
' 2012-13 regular season, owner Mark Cuban climbed his stair-stepper and reflected with the media on his club's 41-41 campaign. Tucked into the presentation were two clever themes.
One - "Mark Cuban's 'Dear John' Letter to the Season' - was crafty enough that the owner chuckled to himself multiple times as he ran it back through his mind.
The other: Cuban's mention of "The 7 Stages of Recovery,'' otherwise known as "The 7 Stages of Grief.'' This is a psychological concept, a process designed to identify, define and help those who are stuggling to cope with the loss of a loved one.
Mark ... Make yourself comfortable on the couch. We are here to help.
1. SHOCK & DENIAL
The psychological definition:
You will probably react to learning of the loss with numbed disbelief. You may deny the reality of the loss at some level, in order to avoid the pain. Shock provides emotional protection from being overwhelmed all at once.
The Cuban application: "There were so many disappointments I can't even begin to count,'' Mark said. "If you went back through and looked at all the games we gave away, we'd be a 50-plus-win team if we won half of them. We always talked in the past how the Mavs always won close games. This was the ultimate 'reversion to the mean.' It was ridiculous, but that was yesterday. We gave away more games than probably in all 12 or 13 years I've been here combined."
In reality, of course, it's not "ridiculous'' that Dallas lost close games (13 of them by five points or fewer) or that Dallas lost eight OT games (in a franchise-record 11 tries). The Mavs lost those games because they weren't good enough to win them. Their go-to player, Dirk Nowitzki, missed 29 games and even upon his return, didn't always get the ball to close those seemingly winnable games. The point guard charged in the second half of the season with the responsibility of making key decisions, Mike James, climbed to that perch after playing on a series of 10-day contracts.
It's not "reversion to the mean'' when go-to-guy Dirk is replaced by go-to-guy Mayo and when triggerman Kidd is replaced by triggerman James. The outcome of games in the previous 12 seasons has nothing to do with the outcome of games this season because this was -- especially in Dirk's absence -- a completely different club.
The Mavs were and are in denial if they believed that a club that once got crunch-time play from Dirk/Kidd/Jet/Tyson was this year going to get the same from O.J./James/Vince/B-Wright.
2. PAIN & GUILT
The psychological definition:
As the shock wears off, it is replaced with the suffering of unbelievable pain. Although excruciating and almost unbearable, it is important that you experience the pain fully, and not hide it, avoid it or escape from it. Life feels chaotic and scary during this phase.
The Cuban application: It actually came a few days earlier, when the owner put the blame for two straight subpar seasons on his shoulders.
"If someone's got a shot to take, take it at me,''
he said.
'My job is to make sure we put everybody in position to succeed and we obviously didn't. It's on me.''
He did add one thing to all of that on the final night of the season, when he was asked about communicating to Mavs fans in order to let them know that he's committed about this offseason.
"If they don't know by now that I'm doing everything I can,'' he said, knowing full well that his resume includes more than a dozen years of relentless commitment black-marked by one "Shark Tank'' taping, "they're never going to know."
3. ANGER
The psychological definition:
Frustration gives way to anger, and you may lash out and lay unwarranted blame on someone else.
The Cuban application: This is where Cuban's "Dear John'' letter theme comes into play, and it's a clever one.
"I've already broken up with this season,'' he said. It's time to start looking forward to dating a new season. ... It was definitely 'The Date From Hell.'"
Cuban's point: Every season is like a new girlfriend. And at the end of every season -- a championship season or a mediocre one -- Cuban the boyfriend must break up with that season. So he mentally writes it a "Dear John/Jane'' letter.
And what would he scribble in the note to the 2012-13 season?
He offered one sentence. Featuring three expletives.
This was an angry breakup. But of course, Cuban
handpicked
this girlfriend.
4. DEPRESSION & REFLECTION
The psychological definition:
Just when your friends may think you should be getting on with your life, a long period of sad reflection will likely overtake you. This is a normal stage of grief, so do not be "talked out of it" by well-meaning outsiders. During this time, you finally realize the true magnitude of your loss, and it depresses you.
The Cuban application: Let's focus on the argument for and against "one-year deals'' -- and whether the approach is a failure.
At one point in his stair-stepper talk, he said, "I don't see us signing just one-year deals anymore. I think we want to grab on to some people to be part of a longer-term solution and see what happens."
This obviously marks a shift in philosophy. Right?
Cuban was asked if that means it was a mistake to go with one-year deals this year.
"No, not at all,'' Mark said. "The Jazz are playing with a ton. We won a championship with a ton of last-year guys. There are a lot of teams that do it. It wasn't the contracts, guys played hard. ...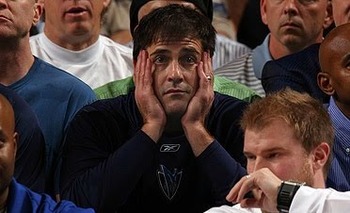 The Jazz? They aren't on the cusp of a title. So when they are eliminated, whatever it is there are doing will be judged as having not worked.
The Mavs' title team as an example of "last-year guys'' working? That's clever spin. But we're not talking about "last-year guys'' performing for a known contender with the belief they'd likely return (which was the case with Tyson and Barea in 2011). "Last-year guys'' aren't the same as "one-year guys.''
What Dallas has learned in the last two years: Chemistry, consistency and continuity are difficult commodities to come by when a team is thrown together in one August while being comprised of employees who assume they'll be thrown apart in the next August.
Defenders of the decision to let TY walk can be bolstered by the belief that keeping Chandler would've made Dallas way better than it is at 41-41 but still not good enough to top OKC. (That was the Cuban/Donnie position at the time.)
But even those of us who understood that motivation cannot meanwhile argue that the solution to Life Post-TY is a grabbag of players who are given no real commitment and, in various cases over the course of the last two seasons, give no real commitment back.
A few days ago, Mark noted, "I guess feels like a business going out of business. Not a good feeling."
The Mavs aren't going out of business. They are firing coaches or GMs or altering the infrastructure essential to 12XPlayoffs. No, the business isn't dead.
But the belief that this organization is so magically special that it can drag into the fold the diverse humans that are, say, Lamar Odom, Chris Kaman and Delonte West, offer them short-term contracts, and know that the presence of Dirk/Carlisle/Cuban is enough to lead them to greatness?
The business isn't dead. But that business model might be.
5. THE UPWARD TURN
The psychological definition:
As you start to adjust to life, your life becomes a little calmer and more organized.
The Cuban application: He's already there.
We love the distaste with which Cuban treats a 41-41 season.
"It's important just because it's nice to say (you didn't have a losing record), but we're still going home (with no playoff berth), so it really doesn't matter,'' Cuban said in the mnutes before the Game 82 tipoff that would result in the win lifting Dallas to .500. "I want to win for the fans. I want to win for the guys. I want to win because I always want to win. (But) I don't want to make this into something to make it sound important. It is what it is."
Truth is, 41-41 isn't a "steaming pile of crap,''
as somebody on DB.com Boards
so eloquently put it.
It is, rather, a "relative steaming pile of crap.'' Elsewhere, .500 records are being celebrated as "stepping stones'' and "lights at the end of tunnels'' or, as they call it in the Eastern Conference, "Playoffs, baby!''
But you are not satisfied. We are not satisfied. Cuban is not satisfied.
Said Cuban: "There's just no satisfaction about this season whatsoever.''
6. RECONSTRUCTION & WORKING THROUGH
The psychological definition:
As you become more functional, your mind starts working again, and you will find yourself seeking realistic solutions to problems posed by life. You will start to work on practical and financial problems and reconstructing yourself and your life.
The Cuban application: The owner's mind is churning.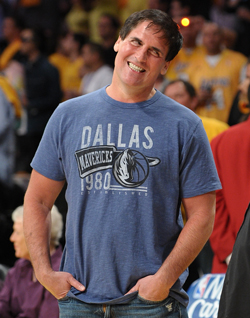 "We're going to re-evaluate everything,'' Cuban said. We're going to go through and re-evaluate everything. ... We're going to do everything possible to get back to where we need to be. We'll do a lot of communicating with fans once the free agency period gets started. We'll try to be as transparent as possible, within competitive reason.''
Cuban said he "literally'' wakes up and falls asleep alongside his computer doing NBA research.
"Trust me,'' he said, "I can tell you pretty much the plus/minus, the advanced plus/minus, the win shares, the wins produced, the on-and-off court stuff for just about anybody in the league who has played more than 20 minutes a game."
One more note here: We've seen multiple reports detailing the supposed "limits'' of what Dallas can do to improve. Our David Lord is joining me in breaking down how the linear thinkers are wrong in that approach, wrong in misunderstanding "Asset Management.'' (One example: "The Mavs have $18 million of room and can therefore acquire only $18 million worth of free agents.'' That's wrong. Another example: D-Lord's
one-of-a-kind exploration of the Lakers' roster and finances and how Dallas can "vulture'' that roster, from Kobe on down.
)
And Cuban agrees with us.
"There are a thousand ways (to improve),'' he said. "Other than the couple of contracts we have, any of the new contracts you can stretch. There's trades, there's working with players to opt out and give them long-term deals. There's a lot of different ways to do it."
The owner is reconstructing this thing. The owner is "working through.''
7. ACCEPTANCE & HOPE
The psychological definition:
During this, the last of the seven stages in this grief model, you learn to accept and deal with the reality of your situation. Acceptance does not necessarily mean instant happiness, given the pain and turmoil you have experienced. But you will find a way forward.
The Cuban application: Hope? True success is impossible without it. Even true effort is impossible without it.
"I'll keep on busting my ass,'' Mark Cuban said. "And hopefully it will change."