Darren Collison
's season wasn't spectacular by any means. It wasn't all that disappointing either. It actually seemed like Collison was just a fill-in. ... at least in the terms of the way coach Rick Carlisle handled him.
He was a young point guard trying to improve and find his niche in the league. He had the misfortune of trying to replace Hall-of-Fame point guard, Jason Kidd. And again, like much of this year's Mavs roster, he at times looked like a short-term stand-in until something better came along at the position.
And judging by his comments to Fish, what we saw mirrors how he felt.
Whether or not Collison turns out to be a nothing but a one-year experiment will be up to Collison and the
Dallas Mavericks
. To his credit, the 25-year old point guard was far from a distraction to this Mavericks' team amidst a contract year. A lot has been made of O.J. Mayo "turning his game over to Rick Carlisle," but the same can be said about Collison, who even swallowed his pride and agreed midseason to come off of the bench in favor of 37-year old Mike James.
There is
a contractual trick here that you only know about if you are a Premium Mavs Fan. It's detailed here ...
Oh, and he did that for Derek Fisher, too. And for DoJo. And for Roddy B. Are we leaving out anybody else who was given a chance ahead of DC?
In a year when Collison was hoping to make a bigger name for himself, his averages of 12 points and five assists per game were right on par with his career averages.
So is this a case of "he is who he is''?
Strengths: Speed towards the rim
Collison's speed and ability to get to the rim are undoubtedly his strengths. If he has even half a step of separation in transition, his speed will allow him to score before any potential defenders can stop him.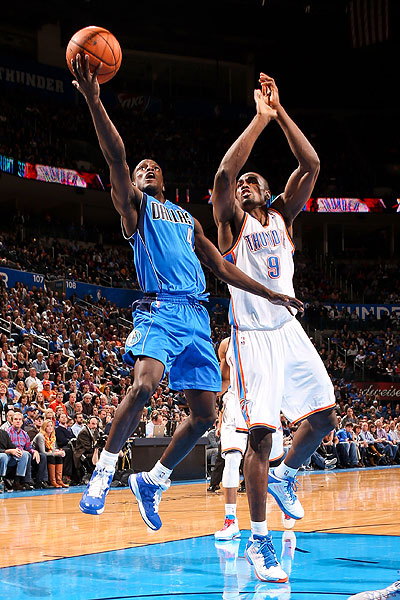 He's even more effective in what you could call "semi-transition" situations, in a two-on-two or three-on-two situation and the defense assumes that the ball will likely be pull back out in order to set up a half court offense. Instead, Collison hesitates for a split second and bolts to the rim with speed and elusiveness for the score. This is Collison at his best and every time you see it, it makes you wonder if he will emerge into a semi-elite point guard.
His half-court game is less impressive. He lacks some of the tools to become a good half-court player -- starting with his size (6-1 and slight) that seems to hurt him in finding passing angles.
He sometimes looked like he was trying to find his role and how he can fit best into the system ... searching for it and not even being able to execute the simple entry pass during that search. (This, by the way, was a problem for him in Indiana as well).
He is a very good shooter (every single game you could find him working on his shot 45 minutes before tipoff), but his bigger problem is knowing when to shoot. Meanwhile, Collison's pick-and-roll game with Dirk Nowitzki never evolved into any sort of impressive game plan.
Weakness: Defense
Because Collison was often under a microscope as a point guard, a lot was made of every mistake or turnover that he made, but he actually averaged a hair fewer turnovers this year than Kidd did the year the Mavs won the championship.
The reason Collison had trouble staying on the floor was his defense. He was too much of a defensive liability against stronger point guards. Standing next to Collison makes you realize how small he really is. The listed 175 pounds is a generous assessment of his weight. Strong, physical point guards managed to be in the paint after three dribbles with Collison guarding them.
Coaches hint to DB.com that Darren struggled with pick-and-roll defense from a physical standpoint and from a decision-making standpoint, too.
There's been evidence that point guards can succeed in this league while masking their below average defensive abilities (see: Steve Nash, Steph Curry), but right now Collison's offensive abilities were not great enough to make up for the risk he poses on defense at times.
Season Low: March 3rd, Houston Rockets, 5 points, 1 assist, 18 minutes
This was during five-game stretch when Collison was really struggling to make an impact and scored no more than 12 points in any game. The stretch led to Collison losing his starting job for the rest of the season.
But this blowout by the hands of the Rockets was the low point. Not only was he ineffective on offense, but Rockets points guard Jeremy Lin feasted on him every chance he could and finished with 21 points. It was alarming how easily Lin was able to push Collison around and get to where he wanted on the court.
Season High: December 27th, Oklahoma City Thunder, 32 points, 5 rebounds, 4 assists, 4 steals, 40 minutes.
One thing you might notice about Collison is that he always raises his level against players he has played with in the past. Collison started his career backing up Chris Paul and typically plays him well when they match up.
Collison played with Russell Westbrook at UCLA and he came into this duel with the Thunder ready to push him to the limit. Although the Mavs eventually lost in overtime it was Collison who hit the game-tying three pointer in regulation.
The Mavericks certainly would have like to see more of this feeling of "belonging with the best" from Collison throughout the season.
The Future: A dubious one
The Mavs' openness about their desire to get better at point guard in one way (vets from Paul to Jennings to Calderon) or another (hoping Michael Carter-Williams is available around 13) is a factor here. It makes it seem unlikely that Collison will be in a Maverick uniform next season. He did not exactly do much to warrant a beefy long-term contract.
Meanwhile, despite what Collison told Fish privately, he also implied in his exit interview that he would not be in a hurry to replicate the same role with the Mavericks, stating that he could "start for any team in the league."
The Mavs don't feel the same way.
Even though he's an off-the-bench guy, I view him as one of our starters," coach Rick Carlisle said. "Much like Jason Terry was for four years here. Jet was one of our better players, but he came off the bench and gave us a lot in that role. We (had) Darren to do the same thing."
The Mavs believe DC is among the very best backup PGs in the NBA, right alongside Andre Miller -- but nothing more than that.
Therefore, Dallas may be willing to let Collison walk away as some team makes him a $4-million-a-year-plus offer to be a "starter-like'' backup PG. But they'd like to keep him dangling on a string ... and short of acquiring CP3, they better have a plan to replace a 25-year old point guard eager to improve. ... and desirous of remaining with the Mavs for another chance at the top job.