DONUT 1: The End of the Dwight Era?
Dwight Howard's Los Angeles Lakers were supposed to contend for a title. Lots of titles. , it was ugly. But his first season in LA has ended by being swept out of the playoffs, beaten four consecutive games by the San Antonio Spurs.
Dwight got out early, being ejected after drawing his second technical foul of the game with 9:51 remaining in the third quarter and his team trailing by 21 points.
"A nightmare," Dwight said when describing the game. "A bad dream. I couldn't wake up out of it. It seemed like nothing could go right from the start."
Judging by his down-the-tunnel action, Dwight is displeased ... with his team, with himself, with his GM, with everybody:
The Dwight-Lakers season is over. But will the nightmare continue? Is the Dwight-Lakers era also over?
DONUT 2: Mavs opportunism
Admit it. As much as you might like Mark Cuban, you are about up to here with the word "opportunism.''
But it's not just a cliche he slathers over situations in order to avoid addressing them. "Opportunism'' is, to Tony Cubes, a living and breathing thing.
It is, after all, how he became a billionaire.
"The longer things go, the more opportunities present themselves,"
Dallas Mavericks
Cuban said recently. "That's pretty much the way it works. The higher the payroll, the longer the losing streak, the better the chance that something happens."
High payroll? Streaking downward?
Mavs Opportunism, meet the Lakers.
DONUT 3: Fact from fiction
Before the trade deadline in February, ESPN spend a chunk of time allowing a forum for this:
Dwight Howard
needs to be traded,'' yelled Stephen A. Smith. "If it goes the way it's going there's no incentive (for Howard to re-sign in LA.)''
Smith, not surprisingly, was wrong about LA's pre-deadline intentions. The concept of dealing Dwight -- to Dallas or elsewhere -- was never seriously broached.
DB.com has said all along that Dwight Howard becomes a free agent this summer, he will explore his preference list of LA, Dallas and Atlanta. Include Houston and Cleveland, too. (Mediots will continue to include Brooklyn. We have only 12 Donuts here, too little time to suffer fools.)
If Dwight is unhappy enough to depart Southern California -- and it's not a matter of "whether'' he's unhappy but rather "how unhappy he is'' -- we've always believed the Mavs are a primo preference.
These "announcements/scoops'' that Dwight will shop himself aren't news. It's been long-understood by those in the know.
And of course, the Mavs themselves have created Plan Powder in the belief/hope/need of such an acquisition.
DONUT 4: The cost of doing Lakers business
We've broken this down exclusively (with even more detail inside) ... Ways LA might cut costs, if it so chooses. Here's just one piece of that analysis:
Because of the nature of the tax brackets, it is impossible to put an exact savings number on each of the following potential moves, as other moves might move the marginal tax from one bracket to another. But if we use the assumption that the cap stays the same, that no MLE is used, and that the Lakers will have about $106M in total payroll barring any proactive action, here is the relative value of their choices:
| ACTION | salary + tax = player payroll | dollars saved* |
| --- | --- | --- |
| Do nothing | 106 + 115 = 221 | 0 |
| Trade Kobe** | 76 + 9 = 85 | 136 |
| Amnesty Kobe | 106 + 9 = 115 | 106 |
| Trade Gasol** | 87 + 34 = 121 | 100 |
| Amnesty Gasol | 106 + 34 = 140 | 81 |
| Trade Nash** | 97 + 68 = 165 | 56 |
| Trade World Peace** | 98 + 72 = 170 | 51 |
| Amnesty World Peace | 106 + 72 = 178 | 43 |
| Amnesty Blake | 102 + 94 = 196 | 25 |
* dollars saved from a baseline $106M taxable payroll

- note: all dollars are in millions and all totals are broadly rounded

**Each of these trades is a "no salary in return" analysis.
As a sidebar to the Dwight fascination: For the Mavs, all of the Lakers' potential choices offer something of possible interest.
Need to know more? This story
- "Can The Mavs 'Vulture' Kobe And Other Lakers?'
- is an example of the best in the business. DB.com Premium is THE best way to be informed on all such matters, including Dallas' thoughts on the draft, free agency, trades ... the works. We invite you to take the 7-day free trial and check out Mavs Premium. ... and join the thousands of best-informed "next-level'' Mavs fans in the world.
Under the late Dr. Buss, the Lakers seemingly never cut costs. Why? The revenue stream was so ample.
Those are ways to save money if Dwight remains with the Lakers. But ... the tax cost for LA to re-sign Howard on a max deal this summer is daunting, even by their standards.
If the current surrounding cast doesn't change, re-signing Howard on a max deal will have LA paying about $100 million in luxury tax in 2013-14 alone, with a total outlay salary plus tax outlay of about $215 million (about triple that of most other NBA teams).
So could the Lakers WANT Dwight to leave?
Sorry. That's not happening. If LA cuts costs, we've outlined smarter ways to do it.
DONUT 5: "Plan Powder'' in action
In Dallas, it's all about idea of Dirk as the Mavs' second-best player. CP3 does that. Dwight does that. Those two are about it. CP3 has been targeted at and swung at by the Mavs for years. A Dwight/CP3 combo has been talked about by all three involved parties.
But let's stay on-task with Dwight for these Donuts. And let's make sure we aren't "blowing sunshine,'' as coach Rick Carlisle would say.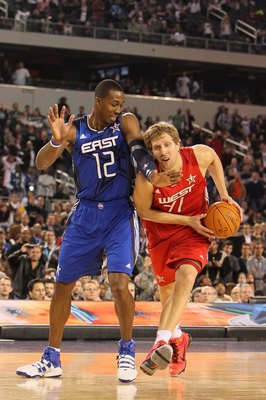 DONUT 6: Because Dallas is undesirable?
Dirk Nowitzki his ownself is prepared to shut down that stupid assessment.
"We have a great owner and a great GM in place,''
said assistant recruiting coordinator Dirk.
We have a great coach in place that coached us to win the championship ... We've got some cap space and we can get some players in here that can help. ... Come on in, we'll see how far we can ride it out."
It's never been that "free agents don't want to come to DFW.'' What it's been is that in the last 13 years, the Mavs have only had the cap room to court free agents in the last two summers. They have in fact been bridesmaids for Deron, Paul and Dwight.
DONUT 7: What's wrong with LA?
Relatively speaking, nothing. Howard got almost all the things he signed on for (except for wins): LA, Hollywood, Showtime, the glitz and glamour.
Just as our big calculator says LA paying Dwight (and the lux tax) is a non-issue, it also says the Lakers can remind Dwight that a potentially astronomical payroll (salary plus tax of about $215 million) is the way we roll in LA ... because the massive revenue of about $400 million is also the way we roll in LA.
That's part of our pitch to Dwight to stay in LA if we're the Buss family (or whomever will be in charge of the courtship): "We don't care about payroll, Dwight,'' they can say. "We sign stars! We win titles! We ALL get rich!''
And we remind you: If and when they re-sign Howard, the Lakers' bottom-line outlay doesn't have to be nearly that big if they want to make it smaller. The Lakers can move Gasol and/or Artest to gain some salary and tax relief in the process.
Mavs fans are Lakers haters and it's part of the fun. But there is no denying: That organization makes wise money/talent moves with impressive regularity.
DONUT 8: A short-term problem
It's also important to note that any possible tax issue created by the Lakers re-signing Howard would only last for one year. Right now they have just one contract for 2014-15 and thereafter, the $9 million per year contract of Steve Nash. Adding a max deal for Howard puts the 2014-15 payroll (and later years) at about $31 million, far below the tax line of $70 million-plus, leaving more than enough room to avoid any further tax if they so desire.
DONUT 9: Dwight to Dallas?
None of this precludes the Mavs from allowing themselves to weigh the ideas and excite themselves about the prospects. (Even as you guard your heart.) Dallas will prepare its four-year, $87.6 million offer (that number isn't in cement yet pending NBA calculations). Dallas will attempt to do so cleverly. And energetically.
"We're not kidding ourselves into thinking that we're right there,''
says the Mavs head coach.
"We know we have a lot of work to do. ... I'm looking forward to this summer because once again it's another pivotal summer. It's a really important time for us ... "My battery is always kind of going. I'm going to come in every morning early and find things to do. ...''
Pitching Dwight is atop that list.
But it's four years vs. LA's guaranteed five years. All "Shark Tank'' criticism aside, hat's REALLY why Dallas lost on Deron, you know.
DONUT 10: The Bank of Cuban
A Dallas acquisition of Dwight won't be so much about "Bank of Cuban.'' It'll be about Asset Management, the moving out of other contracts so the Mavs have the room to add Dwight. If you are seeing reports that limit what Dallas can offer Dwight to $14 million, you are seeing reports that fail to understand the Mavs' financial flexibility.
Ignore those reports.
The Mavs have ways to do this.
The Lakers simply have MORE ways to do this.
DONUT 11: Midnight, July 1, 2013
At midnight on July 1, the Mavs and the Lakers and others will be elbowing for space on Dwight's front stoop (figuratively, if not literally).
There will be buzz about whether Dwight has made so much money that he can afford to leave the extra $30 mil on the table ... and there will be counter-buzz about how Dwight has a bad back and had better take all the guaranteed dough he can get, just in case.
There will be questions of his maturity. Did he mishandle his relationship with Kobe, with Lakers fans, with his coach(es), with his GM? ... Or, is he 27 years old with room to grow up?
"I think I handled some situations good, some situations bad, it's a growing process," said Howard by way of self-evaluation.
There will be issues of "image.'' It it gone forever because the "baby'' left Orlando? Will it be damaged more if his dumps LA? If he becomes a Mav and wins big, will he be forgiven (by shoe buyers and TV watchers and the ADD media)?
There will be the unknown, fueled by Dwight's end-of-season tweet:
"I hope I get the chance to make it up to you!" Thank u la.''
Dissect away. He didn't say,
"See u next year, la.''
Or,
"I PROMISE to make it up to u, la.''
From now until July 1, dissect away.
DONUT 12: The Final Word
Howard is going to flirt with other suitors this summer. The Mavs will be one of them. Prepare yourself for this, for our wall-to-wall and inside coverage of it (did into DB.com Archives for how we cover such things), and brace yourself for the disappointment if you are weak-of-heart.
There will be a Dallas dog-and-pony show, Dwight getting the performance the Mavs foolishly thought unnecessary for Deron last summer.
The Mavs will pitch Plan Powder. Dwight will weigh whether 30 million extra dollars can serve as a big ol' can of deodorant for his LA unhappiness.