DallasBasketball.com has researched the
Dallas Mavericks
' situation on
Darren Collison
and our findings conflict with so much of what you've read.
Oh, and our findings from inside Mavs HQ are also correct.
First, to DC's status (with help from the incomparable David Lord).
On July 1, he can become a restricted free agent. Dallas can make him a QO by June 30. That is a written standing offer for one year, is required to make the player a "restricted" free agent, allowing the Mavs the opportunity to match any contract he's offered. It remains in place until the player a) signs a deal, b) signs the QO, c) gets to Oct 1, or d) the QO is renounced.
The QO cannot be renounced unilaterally after 7/23; the player can sign the qualifying offer, play for a year in Dallas, and the next summer will be unrestricted. (The QO can become a starting point; It is unusual for a player to accept the qualifying offer)
It's already been written many times that Collison's QO will be for $3.3 million -- 125 percent of his last-year's salary.
But DB.com has learned that's incorrect.
The new CBA has a new formula that factors in draft position of the player and his previous year's playing time. Using that complicated formula, DC's qualifying offer number must be $4,531,459.
(Premium Mavs fans can see our exclusive calculations and how we arrived at them for all Mavs contracts here.)
Now, is Collison worth $3.3 million? Undoubtedly. At 25, he was mature enough to swallow his pride when the starting job was denied him, agreeing to come off the bench for his averages of 12 points and five assists per game -- right on par with his career averages.
And DC tells me in a one-on-one interview that he wishes to return to Dallas.
"I didn't feel like I was always given a chance to be the starter,'' he said. "But I want to come back. I want to work with Coach, with me and O.J. in the backcourt together, and especially with Dirk for a full season.''
The Mavs are impressed by that, even as DC struggles with pick-and-roll defense and with so many facets of passing in the halfcourt offense.
So yes, he's worth $3.3 mil. But that's not the number.
Is he worth our newly-discovered calculation of $4,531,459? Yes. But worthiness of the number isn't the point.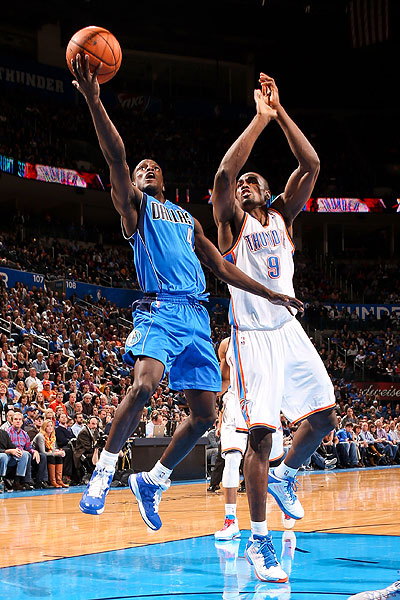 The Mavs' "Plan Powder'' doesn't allow for a June 30 commitment to a backup point guard (or much of anything else). That's the eve of July 1, when the Dwight Howard/Chris Paul-led shopping season begins. Give DC a $4,531,459 qualifying offer and you've just eaten into the $18-million max salary you are plan on offering a big-fish free agent.
The Mavs WILL NOT make a qualifying offer to Darren Collison. They want him back, but the timing of the QO means that won't be the method.
The Mavs will keep in touch with Collison and his representatives. They will make sure he feels wanted. (All the while knowing they risk losing him to some team willing to give him, say, a four-year deal in excess of $16 mil.) But they will also let him know what you now know: That not signing him to a QO -- at any price -- gives them the maximum flexibility necessary to bring Collison back to a roster that, if the plan works, will be much improved.