Brainstorming The Priorities
"With a lot of free agents, there's a lot of cap space and there are going to be a lot of decisions,''
Dallas Mavericks
coach
Rick Carlisle says here in his Top 10 Talking Points.
He's right about the free agents and he's right about the decisions. The "cap-space'' part? Well that depends ... and depends on what and how Dallas prioritizes.
If I'm the Mavs, I think I'd start with two general ideas as priorities. And I haven't decided which is the higher priority in my mind ...
PRIORITY A:
One of my biggies would be to find a 2-way starting guard at either SG or PG. One who plays credible defense, along with have a useful ability to score and contribute on offense. And I'd want to make this happen by using either Rondo or Ellis as a S&T asset, because staying over the cap will allow much more salary for roster building.
Which guard would I want? My wish list of ideas looks like this:
*At the top is Jimmy Butler. I'd certainly offer the max, but Chicago has the inside track, and I see this is mostly a longshot. But I want to explore this. And if Monta does leave, Ellis might be a good Sign-and-Trade fit with the Bulls' offensive needs, so I'm offering Ellis and a barely-protected pick. And GMs do dream of getting a pick with little protection, because ya never know.
To me, this is the "LeBron" for the Mavs this summer, such a great fit that I have to hope and ask and see and try.
*After that, in no particular order, I've come up with a couple of names that I like. Let's try (a) George Hill (via a 1-for-1 using Ellis in a Sign-and-Trade), the idea being that Indy has really needed offense so perhaps they would love this, or (b) Danny Green (maybe in the $7-8M range?) perhaps using Rondo-to-LA as the outgoing salary match, plus something for SA, the key here being SA going a different direction with their money or not wanting to invest that much in Green, and netting something for nothing.
Ideally, the Mavs could even do both of those (Hill and Green). Can't land Butler, but can flip Rondo/Ellis for that pair? I'm in.
*Under other circumstances, Wes Matthews is on this list as well. But an Achilles tear is a horrendous injury, often career-ending, and a return to prior form is incredibly tenuous for such a player. We just can't plan on him being what he was, so gotta look elsewhere, sad to say.
*If the Mavs can land Green using a Rondo S&T as outlined above, then maybe an Ellis S&T to Denver for
Ty Lawson is an alternative to consider
, with Denver needing to look for SG help this summer.
PRIORITY B:
Try again to find another superstar. Not a new pursuit, of course, but still a need.
We all already know LaMarcus Aldridge is on the Mavs' wish list, and rightly so even as we break down the details
, but I'm not sure who else qualifies.
Maybe Love? Neither is an ideal fit as to position, but Mavs do need a younger player to build around.
The outgoing here would be the same sort of concept as for Butler, using Ellis or Rondo Sign-and-Trade and adding a barely-protected pick. Mavs would also need a bit of filler, so the expiring contract of Felton would work, and thankfully he has rehabbed some value late in the season.
The Rest of the Roster
BIG-FISH WAYS:
Beyond those priorities, maybe you trade TY for DeAndre Jordan (LA does it to get a cheaper player, who can make FTs and has played with CP3 before), but maybe not. I'm hesitant because I think TY is great with a suitable backup who keeps him from being overused ... TY has huge off-court value here, but I wonder if while Jordan's biggest appeal is his younger age (and his Texas roots), TY may be much more affordable (with a big enough difference to truly matter).
(See Fish's impression on Tyson and his money here; Fish doesn't think Chandler sounds like he's in much of a home-town-discount mood.)
Oh, and the FT thing with Jordan does impact the ability to close games.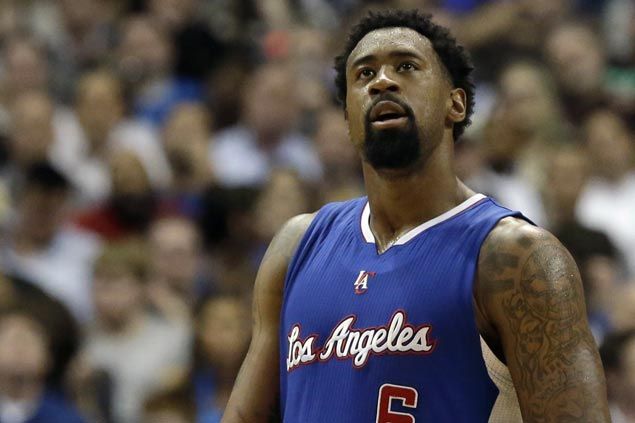 My bottom line here might rest on how much TY will demand. It does need to be noted that if you can land LaMarcus or Love with a max offer, you cannot also afford Jordan at $19M. (Presumably TY won't cost more than his current $14M or so.).
SOME SMALLER FISH:
Then comes the spending of the MLE and BAE. I'd try to split the MLE between Aminu ($3.46M) and Barea ($2M), but is that enough? If so, I then can use the BAE to land a backup center. (And I'd settle for Brandan Wright at that number, to backup TY at center, if I couldn't find a better option and if he's interested.
B-Wright really looked like a Dallas "system player'' in Boston and Phoenix, so maybe the competition for him will be sparse. I just know his presence greatly reduced the minutes load on Tyson and kept him fresh while he was here. Still, money here is tight, and it will be tricky to try to satisfy all three of Aminu, JJB, and a backup center.
One solution might be to focus on the years. The MLE allows up to four years, and should be used to lock in a player for longer term, while the BAE can only go up to two. Maybe you split the MLE between Barea and that backup center, and then offer Aminu the BAE as a "one-year-plus-a-player-option" deal that lands him in free agency next summer with Early Bird rights and give it all to him - which would allow a starting salary around $5.6M.
(Here's our Premium Mavs story on the thinking on Aminu, and on paying him, from inside Mavs HQ.)
AND THE FILLER:
Filling out the rest of the roster? I like Villanueva and Jefferson, but can only see money to offer minimums. I wonder if Jermaine O'Neal and/or Rashard Lewis are in the mix as possible veteran backup adds this summer. But if those players aren't options, others like them should be.
(Amare, for one, doesn't sound like he's going money-chasing this summer.)
And I'd fill the final slots with some youth. Two draft picks, plus sign Peteri Koponen (the 6-4 Finnish combo guard who has been playing in Europe and wants to come to the NBA). Accomplish some reasonable combination of the above and you are building a club to join
Dirk Nowitzki
and the rehabbing Chandler Parsons and the "basketball-soul''-owning Devin.
THE MONEY
The above ideas are predicated on the ability to stretch the spending room by operating over the cap. That means that any of TY, Rondo, or Ellis who are leaving would need to be worked with to be a Sign-and-Trade asset. Tricky to do, but certainly doable. And in so doing, the Mavs could import about $40M in total salaries in return from those Sign-and-Trades, while still having the ability to offer a full MLE, BAE, sign picks, and fill out the roster with veterans at the minimum.
Ideal ideas? Sure. Pie in the sky? Perhaps here and there, to some degree. But yummy pie, nothing on that list seems impossible, and ya gotta start somewhere. And if
you join us at DallasBasketball.com, here on DB.com Boards
or,
best of all, as a Mavs Premium Member
for just pennies a day, you will be off to the best-informed start of all.