1.) Cleveland Cavaliers: Nerlens Noel, PF, Kentucky
The Cavs have been a terrible defensive team for the past three years. Noel is by far the best defensive player in this draft. He's an extremely active shot blocker that covers a lot of ground and his athleticism is enough to make him a serviceable offensive player as a rookie. The only worry is that Noel is still recovering from an ACL tear suffered during his only season at Kentucky. Pretty much every sentence written in this paragraph was said about Greg Oden in 2007. Even so, he's too instinctively good and athletic to pass up.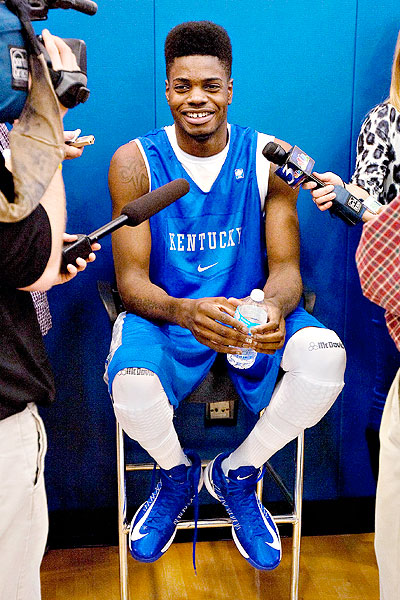 2.) Orlando Magic: Ben McLemore, SG, Kansas
I expected the Magic to take McLemore with the No. 1 overall pick so getting No. 2 here shouldn't hurt them. McLemore has everything that you would expect from a swingman that will eventually score 18-22 points per game. He has a great outside shot and is developing the skills to be able to take the ball to the basket and finish.
3.) Washington Wizards: Otto Porter, SF, Georgetown
A stay-at-home pick and a good one.
4.) Charlotte Bobcats: Victor Oladipo, SG, Indiana

5.) Phoenix Suns: Anthony Bennett, SF, UNLV

6.) New Orleans Pelicans: CJ McCollum, PG, Lehigh

7.) Sacramento Kings: Michael-Carter Williams, PG, Syracuse

Carter-Williams probably isn't the most athletically talented prospect at No. 7, but he's exactly what Sacramento needs ... if they're done with the idea of Evans as a PG. The Kings are full of scorers. Shooting the ball is all they know. They don't work well together. The right point guard can rack up assists on this team and improve the Kings record by at least five games.
Carter-Williams and his 6-6 vision -- things that greatly appeal to Dallas
-- can be that point guard.
8.) Detroit Pistons: Trey Burke, PG, Michigan


DB.com has reported that the Mavs had a scouting combine meeting with Burke. But as with MCW, I have him going well ahead of 13.
9.) Minnesota T-Wolves: Cody Zeller, PF, Indiana

10.) Portland Trail Blazers: Kelly Olynyk, C, Gonzaga

11.) Philadelphia 76ers: Shabazz Muhammad, SF, UCLA

12.) Oklahoma City Thunder: Alex Len, C, Maryland


The Thunder will finally have a viable alternative to playing Kendrick Perkins. Len needs to become much more aggressive on both ends of the floor, but his size is very impressive. He stands 7'1 and 255 pounds. He would be perfect in Oklahoma City in a system where they offer controlled roles for supporting players of the sort that he can grow into.
13.) Dallas Mavericks: Dario Saric, SF, Croatia


Saric is 6'10 with a smooth jump shot. The obvious and immediate comparison will be Dirk Nowitzki, but when I watch footage of him I see a player more similar to Kevin Durant. (Yes, I recognize the ridiculous nature of such comparisons, but still ...) The guy can really handle the ball and shoot off the dribble. He claims that point guard is still his favorite position to play even though he knows that he's too tall to run point at a professional level. He's got a natural instinct to move the ball and pass to the open man.
The biggest concern is that he won't be able to adjust to the speed of the NBA game. His versatility is what makes him great, but it's to be determined if can make the same moves on elite defenders.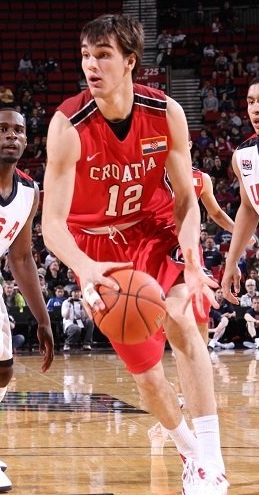 Worth noting from Fish's breakdown of what the
Dallas Mavericks
can do at 13 regarding making cap room
. Also worth noting: DB.com is reporting that GM Donnie Nelson and a foursome of Mavs execs were recently in Croatia to eyeball Saric.
14.) Utah Jazz: Dennis Schroeder, PG, Germany


That's right, the Mavs will pass up on the chance to draft a German point guard to accompany Dirk. ... though he obviously fits with Fish's "Euro Cap Dump'' concept, too.
15.) Milwaukee Bucks: Shane Larkin, PG, Miami

16.) Boston Celtics: Kentavious Caldwell-Pope, SG, Georgia

17.) Atlanta Hawks: Tony Snell, SG, New Mexico

18.) Atlanta Hawks: Lucas Nogueira, PF, Brazil

19.) Cleveland Cavaliers: Lorenzo Brown, PG, NC State

20.) Chicago Bulls: Tim Hardaway Jr. SG, Michigan

21.) Utah Jazz: Allen Crabbe, SG, California

22.) Brooklyn Nets: Tony Mitchell, SF/PF, North Texas

23.) Indiana Pacers: Erick Green, PG, Virginia Tech

24.) New York Knicks: DeShaun Thomas, SF, Ohio State


Imagine a player like Carmelo Anthony that's not as efficient of a scorer and an even worse defender. That's pretty much DeShaun Thomas in a nutshell. Somehow, I still see the Knicks drafting Thomas.
25.) LA Clippers: Mason Plumlee, PF, Duke

26.) Minnesota T-Wolves: Steven Adams, C, Pittsburgh


A favorite of DB.com's David Lord.
27.) Denver Nuggets: CJ Leslie, SG, NC State

28.) San Antonio Spurs: Jamaal Franklin, SG, San Diego State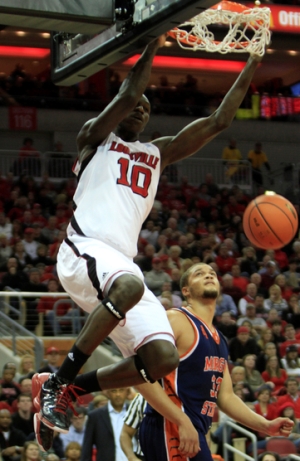 It's fair to say that the San Antonio Spurs are one of the "smart" teams in the NBA. They've made some clever moves over the years, but they have also shown a keen ability to avoid overthinking. I see them exercising that ability with this pick. Franklin is a great athlete who is fearless around the basket and thrived in the system he was in at San Diego State.
P.S.: DB.com has reported that Franklin is scheduled to come to Dallas for a pre-draft visit on June 3.
29.) Oklahoma City Thunder: Gorgui Dieng, C, Louisville


Should Dallas be in the market for a big who can help right away?
30.) Phoenix Suns: Jeff Withey, C, Kansas


There's DB.com Mock Draft Version 1.0. More to come!