The
Dallas Mavericks
aren't allowed to venture into recruiting
Chris Paul
or any other 2013 NBA free agents until midnight, July 1.
But that doesn't mean the rich and famous can't hobnob together for a good cause.
Tiger Woods and skier girlfriend Lindsey Vonn are the hosts this weekend at his annual "Tiger Jam.'' The photo is from "Poker Night'' at Moorea Beach Club Beachside Casino at Mandalay Bay in Las Vegas. It's a $10,000 buy-in poker tournament that benefits The Tiger Woods Foundation ... and of course, that 10 grand fee keeps the riff-raff out.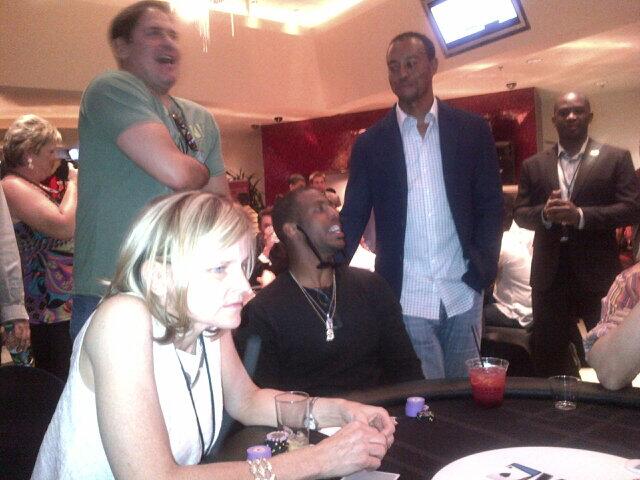 And invites the likes of Cuban and Paul in. (Update in
Monday Morning Mavs Donuts: Dirk was there, too. ...)
photo courtesy of Daniel Shak via Twitter
DallasBasketball.com reported last week that Paul is the Mavs' No. 1 target (with
Dwight Howard
No. 2) in free agency this summer.
Paul can re-sign with the Clippers for five years and $107,343,500 or can join a new team like Dallas for four years and $79,714,196.
The Mavs have gained and retained cap room for the last two years for the pursuit of a player of Paul's level to team with
Dirk Nowitzki
.
Nowitzki himself is fully invested in the recruiting process. Meanwhile,
as improbable as it seems, DB.com has revealed some of the Mavs' thinking
when it comes to ways to acquire Paul AND Howard
. But again, acquiring one superstar is challenge enough, especially when it means he is guaranteed $27 mil less to leave his existing team.
It's a gamble of sorts ... and one that cannot officially begin until July 1. But nothing precludes the parties from doing good deeds for charity.
Talk about the story with Mavs fans here on DB.com Boards!