The short version: The
Dallas Mavericks
view the 6-10, 223-pounder Dario Saric as a top-20 player in the upcoming NBA Draft. Their board will reflect that.
The missing piece: I do not know for certain that Dallas views Saric as a top-13 prospect, which of course would be necessary to take Chad's smart guess and glue it closer to reality.
The long version: In one very important way, Saric does not fit the Dallas profile. He's too young, too slender, too unproven … the Mavs are a team that, if all (or even some) of its plans come together for 2013-14, will have little room for projects. Meanwhile, frankly, given the fact that most of Dallas' picks over the years have never been much more than that, the organization feels some pressure to get one right.
Having said all that, make note of the distinct possibility that the Mavs use the likely No. 13 pick as ammunition to make the Big Fish acquisition that is the Summer of 2013 target.
Saric the player does fit the Dallas profile, however.
The Mavs remain the best franchise in basketball when it comes to knowledge of and connections with overseas players. The rest of the NBA is catching up to GM Donnie Nelson in that department, but he gave himself a decade-long head start on most; he still remains an "international basketball ambassador'' in many countries.
Because of Donnie, connecting Dallas to a foreign player always has some merit.
Saric is an elite basketball thinker, too. A point forward in the mold of Nellie's old designs. Mark Cuban and Rick Carlisle have been clear about desiring to upgrade Dallas' BBIQ. Saric – as a passer and a ballhandler – may do that as well as most any point guard in this draft.
In fact, he sometimes actually plays PG:
His stats with Cibona (7.7 points, 6.2 rebounds, 2.1 assists) might scare off some people. So too might some limits in athleticism – and note that Carlisle privately bemoaned the Mavs' failings in that department last year.
There are people inside Mavs HQ who believe this about foreign kids: If they made the jump to America and played a year at age 19 at, say, Kansas or Kentucky, where would they be a year from now in terms of the NBA Draft? And where would they be two years from now in terms of being an NBA player?
In the case of Saric, it's completely logical to suggest that he would've been an All-American had he played this past year in the U.S. He would've often been the tallest and smartest player on the floor – and the best passer and ballhandler, too.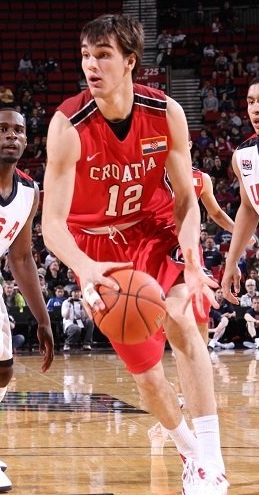 It is assumed that Saric can add weight and thickness. He's already got a good pull-up jumper but maybe needs to improve shooting off the dribble. He's a student of the "rip-and-run'' game, something we saw so much of from Dirk in his early years: Grab the defensive rebound and lead the break without an outlet pass.
I believe the Mavs project him as a 3 in the NBA, but I know they are careful to avoid comparisons. Forget the "Next Dirk'' stuff. And even the "Next Kukoc'' stuff. (OK, you might get somebody to bend if you wanted them to compare him to Hedo Turkoglu). You see how limiting this game is when the comparisons all share a skin color.
The truth is, Dario Saric's comparisons are all about where he fits on Dallas' draft board. Does he in any way compare favorably to Michael Carter-Williams, the point guard who I believe the Mavs would love to steal at 13? Is a top-20 guy on the Mavs' board one who possesses so much upside that he can climb to 13?
There is a connection here. But in terms of Dario Saric's ability to immediately help a club that needs it now … there are also missing pieces.