DONUT 1: Intro ...
Only a few NBA players ever get to play 10 seasons. Even fewer play 19. Only a few players make an NBA All Star team. Even fewer make 10. Plenty of NBA players can make a three-pointer. Only four have made over 1900 and only one got there after arriving in the league without a reliable jump shot.
Very few NBA players can dominate a game. Almost none could do so without scoring a basket.
Plenty of NBA players are smart, a few even make their teammates better. Almost none have elevated three separate franchises to championship-level contenders, virtually by himself.
In a league of special athletes, Jason Kidd was one-of-a-kind and made his mark on the NBA over 19 seasons in a way that only he could. These donuts are a far-too-humble retrospective on the greatness of Jason Kidd.
DONUT 2: The Numbers ...
His career numbers speak for themselves, both as a testament to his greatness and to his uniqueness. His is within the top three all-time in minutes played, 3FGM, 3FGA, assists, and steals. Further, his nine selections to either the All-Defensive first or second team ties him for 6th all time.
Kidd is the only player in NBA history with at least 15,000 points, 10,000 assists and 7,000 rebounds. Further, his 107 triple-doubles rank third all-time.
Check out the Category, the Number and the All-Time Rank
Games 1,391 6th
Minutes 50,111 3rd
Field Goals 6,219 91st
3pt FG 1,988 3rd
3pt FGA 5,701 3rd
Def Rebs 6,957 23rd
Total Rebs 8,725 50th
Assists 12,091 2nd
Steals 2,684 2nd
Assists/game 8.7 8th
Steals/game 1.9 14th
But again, it's not just about the stats.
DONUT 3: The Game ...
Jason Kidd was, in many ways, a traditional point guard: pass-first, making teammates better, taking care of the ball, defending and rebounding. Never known as a shooter, he arrived in the NBA known as "ason Kidd," due to his lack of a J. He didn't shoot over 40% from the floor until his third NBA season. However, Kidd turned this weakness of his game into a strength, becoming one of the greatest long-range snipers of all time after microfracture surgery in 2004 robbed much of his prior athleticism.
In the early years, Kidd, at 6-4 and around 215 pounds, was a matchup nightmare: he routinely would capture a rebound on the defensive end and immediately push the tempo, often resulting in an easy basket for a teammate or a layup/postup for himself. He paved much of the way for other athletic guards with size to play to creator-scorer role.
However Kidd was a creator of offense, not mere shots for his teammates, and looked for his own shot last.
DONUT 4: Early Years and The Three J's (1994-1996) ...
Picked No. 2 overall by the Dallas Mavericks in the 1994 Draft, Kidd immediately joined a Mavericks' lineup that already boasted exciting wing scorers Jim Jackson and Jamal Mashburn. Together, they formed the "Three J's" and finished with a 36-46 record in Kidd's rookie season, nearly tripling the wins from Dallas' prior season. Both Mashburn and Jackson would average over 24 points per game that season, and Kidd would lead the league in triple-doubles, earning co-ROY award honors with Grant Hill.
Their magic, was short-lived however as injuries, mounting losses, and an alleged Kidd-Jackson romantic-triangle feud over R&B singer Toni Braxton marred the relationship. Kidd's agent later conflicted with management. Total result: all three J's being traded to separate teams during the 1996-97 seasons.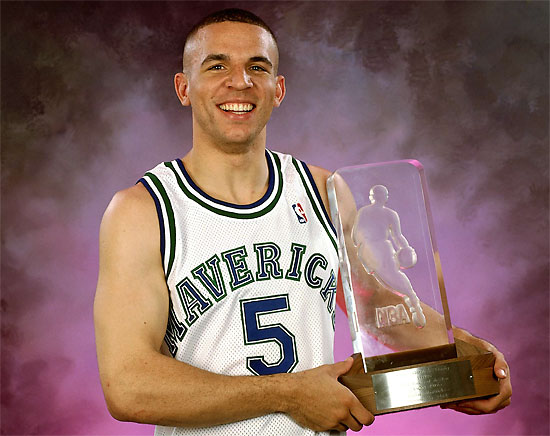 Kidd was traded to Phoenix on the day after Christmas for a package that netted the Mavericks Michael Finley.
DONUT 5: Phoenix Suns (1996-2001) ...
As a Sun, Kidd led a good, but not-quite-great, squad for four-and-a-half seasons. His Suns teams would win 50 games three times, making the playoffs in each of Kidd's 4.5 seasons but would never advance past the second round of the playoffs. However, Kidd led the league in assists in three of his seasons in the desert and made the All-NBA first team three times as well.
However, an aging Suns' core, off-court problems and sagging attendance led to Kidd being inauspiciously traded, yet again, to another team. This time he would be going to New Jersey in a trade for Stephon Marbury in the summer of 2001.
DONUT 6: New Jersey Nets (2001-2008) ...
As accomplished as Kidd was as a member of the Mavericks and Suns, he would achieve his greatest individual success as a member of the Nets. He would lead a team that had won 26 games the prior season, doubled their win total to 52 and reached two consecutive NBA Finals.
Kidd was at the center of the team, imploring his teammates to run and rewarding their efforts by turning them into stars.
Though the Nets would never again reach the Finals, they would make the playoffs in each of the seasons Kidd finished with the team. However, the erosion of talent and changing ownership led Kidd to demand a trade in 2008. Ultimately -- even as Mavs owner Mark Cuban was telling those who heard whispers of a trade to "step away from your crack dealer'' -- Kidd would return to the Mavericks.
DONUT 7: Mavericks' Second Tour (2008-2012) ...
At the time, the Mavericks' decision to re-acquire an aging but still productive Kidd was highly-controversial given that Dallas surrendered up-and-coming point guard Devin Harris in the deal. The unique trade, which featured Devean George blowing up an earlier version, was consummated just before the 2008 All-Star Game, which featured Kidd as an Eastern Conference starter, even though he was already a member of the Mavericks.
Dallas would lose in the first round in two of Kidd's first three seasons with the Mavericks. However, his arrival brought new life to Dirk Nowitzki, who had struggled as the team's sole leader since the departure of Steve Nash.
In 2011, Kidd would prove to be a key cog in the brilliant Mavs' title run, providing his signature decision-making, deadly weak side three-point shooting and elite-level defense on Kobe Bryant, Kevin Durant, Dwayne Wade and LeBron James.
Though there were plenty of invaluable contributors on that special Mavericks squad, it is hard to envision a successful title chase without Kidd's contributions. Dallas failed in 2006 due to a dearth of mental fortitude. In 2011, Dallas prevailed against a superior Miami Heat team partially because of chemistry, leadership and higher basketball intelligence, all Kidd trademarks.
After an inglorious lockout-shortened, failed title defense, Kidd spurned the Mavericks for an identical contract from the Knicks, infuriating owner Mark Cuban and completing his fourth-straight controversial exit from a team.
DONUT 8: Knicks (2012-13) ...
During his one season in New York, Father Time finally caught up to the 40 year-old Kidd. For 76 games, he provided steady veteran leadership and some much-needed basketball IQ to an ill-fitting but talented Knicks squad. However, in 12 playoff games, he would score only 11 total points and zero in his final 10 contests. The three-point shooting that lengthened his career countless years abandoned him, as he would make only three of his 17 attempts for a measly 17.6%.
DONUT 9: Off-Court Controversy ...
As great as Kidd was, his time was marked, repeatedly, by off court controversy, much of which was dominated by his tumultuous relationship with his ex-wife, Joumana. There were allegations of domestic violence; Joumana once famously went through Kidd's phone from her courtside seats, yelling at her husband while he raced up and down the court. Ultimately, the couple would divorce and Kidd would remarry in 2011.
While his relationship with his wife, the Toni Braxton scandal, his DUI in 2012, and his controversial exit from nearly every team he played for and others tarnish his image and legacy to a small degree, Kidd's on court brilliance and affable personality outshine these indiscretions.
DONUT 10: Fitting End ...
On June 2, 2013, Kidd announced his retirement, mere days after fellow 1994 Rookie of the Year, Grant Hill announced his own. Kidd stands as a titan of his era and will surely enter the Hall of Fame the first time he is eligible. His accolades are towering and plenty. He played with an intelligence and skill rarely seen in the modern era, and he taught a generation of young point guards how to play just by watching his skill and precision.
DONUT 11: BBIQ ...
We would prefer Kidd to be remembered as a member of the
Dallas Mavericks
. But the way
he departed Dallas (chronicled here) may make that difficult.
Maybe he's not in the rafters or in the Mavs front office anytime soon.
But there is no argument about the BBIQ he brought to Dallas:
DONUT 12: The Final Word ...
He accomplished nearly everything he set out to do in the NBA, winning a championship and capturing two Olympic gold medals. He never won an MVP trophy, but many feel he should have in New Jersey.
Perhaps the greatest compliment that can be said of any man is true of Kidd: he made those around him better and left nearly every team he played for better than he found it.
Players of his sort don't come along very often, and it will likely be a long while before we encounter one as uniquely great as Jason Kidd.