DONUT 1: Don't shoot the messenger
It's not necessarily that ESPN's Chad Ford has it all wrong when he reports that the Dallas Mavericks are "likely to trade their No. 13 pick.'' Chad is a respected voice here; he got this information from somewhere.
So the problems might not be with the messenger, but rather with the originator of the message (Ford's source). … and maybe even with the thinking of the Mavs themselves.
DONUT 2: Dwight's not No. 1
At its most basic, the report errs in saying that Dallas' goal in making cap-clearing moves is the Summer-of-2013 free-agency acquisition of
Dwight Howard
.
DallasBasketball.com was the first to report that it is
Chris Paul
who tops the Mavs' wish list and we stand by our report.
Conceivably, the information pinpointing Dwight could have been meant as an "example.'' Howard's first-year salary will be $20,513,178. Paul's will be $18,668,430. So maybe NBA folks whispering about Dallas' need for room here happened to focus on the larger salary and the larger room requirement.
But again: The Mavs' No. 1 target is Chris Paul. Their No. 2 target is Dwight Howard.
DONUT 3: Not owning first-rounders in consecutive years
There is no rule that makes Chad's report wrong. It wouldn't be logical to hurry into this, but Dallas can opt to do so if wishes. But in one important sense, the rules include a feature worth awareness.
NBA Draft rules do not permit a team at any time to be without a first-rounder for two consecutive future years. Currently the Mavs are on the books as not owning a 2014 first-round pick. Therefore, at no time before this Draft can Dallas be without the 2013 pick -- unless it is swapped for a 2014 first-rounder.
DONUT 4: Which ain't a bad idea ...
On one level, there is sense to owning a 2014 first-rounder in an area similar to where a team owns a 2013 first-rounder. Why? The 2014 Draft class is far superior.
But this is a wrinkle worthy of mention. It's not a blockbuster piece of information that should cause an organization to unstrap itself from 2013 and buckle up for 2014 ... unless said team wishes to tank the 2013-14 season in order to own the odds on drafting Andrew Wiggins.
The
Dallas Mavericks
tanking 2013-14? Obviously, at this point, that is the complete opposite of Plan A.
But trading this year's pick for a next-year No. 1? It's the only desirable way a pre-draft deal-away of the 13th pick would be legal.
(An addendum deserving of mention in all this: Dallas could certainly negotiate a deal for 13 in advance of the draft and then trade the draft rights as soon as the pick is made -- a commonplace NBA draft-night action.)
DONUT 5: The more logical way
The following isn't an indictment of Chad's angle. But if Chad's angle is accurate and if his info comes from Dallas, it is absolutely an indictment of the way the Mavs are approaching this draft -- and for that matter, approaching free agency.
The Mavs are not likely to be trading the pick. More accurately, this discussion would be about trading a player picked at 13. And locking into giving up the No. 13 pick well in advance of knowing who it is, knowing what the market is, and knowing what your chances at Paul/Howard are ...
Is putting the cart before the horse.
If the Mavs are intent on gaining the $1,655,300 worth of room that comes with the dumping of No. 13, they can do so as easily after the draft -- when they have selected the draftee AND gotten a commitment from a free agent.
DONUT 6: But what if they can't!?
In theory, Dallas could select a player at No. 13 that is so universally recognized as being awful that no other team would take that crumb-bum off their hands at any price.
Now, listen. The Mavs stink when it comes to drafting first-round talent. The Mavs stink so bad at it that I dare say they might wish to take this process more seriously -- to view No. 13 as an "asset'' worth owning rather than as a "burden'' in need of hauling off to the dump.
If they select
a player I know them to love -- say, Syracuse point guard Michael Carter-Williams -- at 13
... somebody at Mavs HQ believes he'll be less trade-able after the draft than the pick used to acquire him would've been worth before the draft?
Preposterous. It is hoped the Mavs don't really think this. In the unlikely event that they do, taking the draft more seriously is in order.
(An important note:
Dallas did indeed run its 2012 Draft in somewhat of a cap-minded manner, trading down in order to get second-round bodies and save $934,905 of space in case the Deron Williams courtship worked out.
But the Mavs ended up with players in that scenario. In this scenario, they could end up with unused room.)
DONUT 7: "The only way''
Way back
on May 7, we wrote about the idea of using the $1,655,300 worth of first-round player as a way to open up cap room.
Somehow, that one-of-many option is morphing itself into "the only way.''
I'm quite sure Chad Ford knows it's not the only way. I'm quite sure the Mavs know it's not the only way. I'm quite sure you know it's not the only way ...
DONUT 8: "A thousand ways''
Mark owner Mark Cuban himself is on-record as saying, "There are a thousand different ways to gain cap space.''
That was in April. This is May. Where'd the "thousand ways'' go?
Nowhere. They remain in place, as options. They make the "need'' to trade No. 13 not a "need'' at all.
There are ways to gain room via stretch provisions (with Carter and his $3,180,000), ETO moves (with Marion and his $9,316,796) and trades (with any number of players and combinations). The giveaway of Jared Cunningham alone would free up $1,208,400 -- and suddenly you've inched within a few hundred thousand dollars of the same place you'd be by prematurely dumping this year's ASSET at No. 13.
I KNOW the Mavs know all of this. I believe the Mavs have their bases so covered that they even make sure
Cuban and Dirk end up playing Poker in Las Vegas with CP3.
Maybe "a thousand ways'' is hyperbolic. But I just named "four ways'' that erase the "need'' to do any one thing.
DONUT 9: Another trick
The way the CBA treats an overseas player also provides a possible way for the Mavs to retain their pick without having to worry about an impact on their cap.
A first-round draft pick who is playing overseas can be selected and NOT count against The Mavs' cap as long as he has a contract to play elsewhere. In addition, even without a contract he can he removed from the Mavs' cap if he and the team agree that he won't be signed by the Mavs this season.
The Mavs' interest in forward Dario Saric is so real that GM Donnie Nelson recently led a four-man Mavs crew to Croatia to see him.
(I've got the Mavs HQ scouting report on Saric here.)
That No. 13 player could be any of a handful of foreign guys, but for the sake of the example, let's stick with Saric: Dallas could draft Saric -- heck, the Mavs could move up to ensure their selection of him OR move down before picking him as a way of gaining another future pick -- and then leave the 19-year-old in Europe.
He would be Dallas property. Nothing would be sacrificed. The Mavs would have gained $1,655,300 of room simply by stashing a kid who might not be ready to contribute at this level quite yet anyway.
THAT is "Asset Management.''
THAT is infinitely smarter than considering the No. 13 pick to be a piece of garbage that is blocking the Mavs' path. No. 13 isn't garbage to be discarded; it's a tool to be used wisely.
DONUT 10: The Final Word
What's happened here, I think, is that a "concept'' has become a "plan'' and an "option'' has become "the only way.''
Here's the truth about the way the talented Chad Ford (and most of the rest of us) do our business: If we are told of a possible move, we report that possible move. No problem.
But it's important to frame it as "possible.'' In the days before the draft, Mark Cuban and Donnie Nelson will whisper to some of us that they are thinking of moving up. Then they will whisper that they are thinking of moving down.
It's all true; they are "thinking'' of all those things. But they are not thinking of just one of those things. Not now. And whispering about it is designed to be chum in the water.
One simple way to corral the cart-before-horse nature of this: You don't quit the job you have until you have another one lined up. You don't buy a new home until you sell the one you presently own. And you don't prematurely create room until room is needed.
Chad Ford isn't "wrong.'' He's one of the best in the business and his information was gathered from somewhere.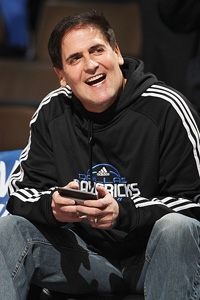 Meanwhile, the math isn't wrong (even though we don't yet know what the salary cap will be). the Mavs presently have five guaranteed contracts totaling $37,215,449 (Nowitzki at $22,721,381, Marion at $9,316,796, Carter at $3,180,000, Cunningham at $1,208,400, Crowder at $788,872). The draft pick counts as $1,655,300. The six empty roster slots (at $490,180 each) total $2,941,080.
Grand total of commitments equals $41,811,829. If the cap goes up a tad to $60 million, and the Mavs work to squeeze an $18-to-$20 mil free agent in there?
It's tight.
So moves will have to be made. But they needn't be made prematurely, they needn't be made in a manner that disregards the value of the draft, and most of all, they needn't be made in ways that violate every tenet of "Asset Management'' upon which the Mavs organization has long prided itself.