DONUT 1: 'So an owner, a point guard and a Cablinasian walk into a bar' ...
The
Dallas Mavericks
aren't allowed to venture into recruiting
Chris Paul
or any other 2013 NBA free agents until midnight, July 1.
But that doesn't mean the rich and famous can't hobnob together for a good cause.
As we reported Saturday morning: Tiger Woods and skier girlfriend Lindsey Vonn were the hosts this weekend at his annual "Tiger Jam.'' The photo is from "Poker Night'' at Moorea Beach Club Beachside Casino at Mandalay Bay in Las Vegas. It's a $10,000 buy-in poker tournament that benefits The Tiger Woods Foundation ... and of course, that 10 grand fee keeps the riff-raff out.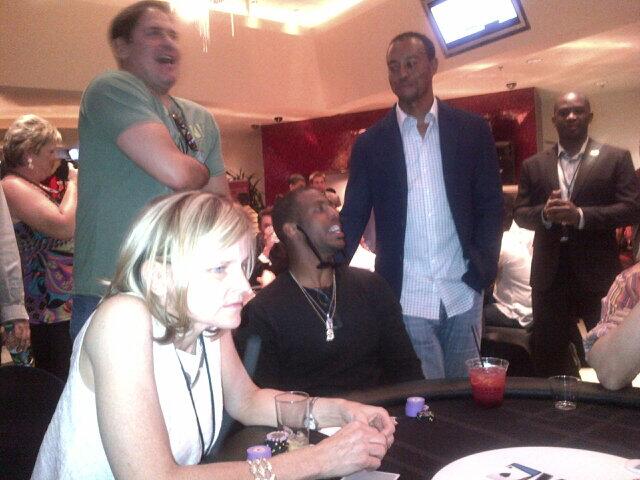 And invites the likes of Cuban and Paul in.
photo courtesy of Daniel Shak via Twitter
DallasBasketball.com reported earlier this month that Paul is the Mavs' No. 1 target (with
Dwight Howard
No. 2) in free agency this summer.
Paul can re-sign with the Clippers for five years and $107,343,500 or can join a new team like Dallas for four years and $79,714,196.
The Mavs have gained and retained cap room for the last two years for the pursuit of a player of Paul's level to team with
Dirk Nowitzki
.
Nowitzki himself is fully invested in the recruiting process.
Meanwhile, as improbable as it seems, DB.com has revealed some of the Mavs' thinking
when it comes to ways to acquire Paul AND Howard
. But again, acquiring one superstar is challenge enough, especially when it means he is guaranteed $27 mil less to leave his existing team.
DONUT 2: Enjoy the journey. ...
It's a gamble of sorts ... and one that cannot officially begin until July 1. But nothing precludes the parties from doing good deeds for charity.
It's also, quite frankly, something important, fun and interesting to talk about
(as Mavs fans do here on DB.com Boards)
... especially if we are wise enough to enjoy the ride.
Yes, you as a Mavs fan are tired of being a FA bridesmaid. For that matter, it seems like
forever
since you won that title. But for the moment, take some satisfaction in the fact you are being dealt in ... pun intended.
DONUT 3: Oh, and one more thing. ...
As you can see from this photo, Dirk Nowitzki spent the weekend in Vegas, too.
Hmmm.
DONUT 4: A Mavs philosophical change? ...
Are the Mavs heading toward a philosophical change in offense?
More than just filling out the roster with the best possible players is at stake for the Dallas Mavericks this summer. We believe a full-on installation of a new offense is potentially at hand.
Since the departure of Steve Nash in 2004, there has been zero question as to whom the top offensive option, scoring alpha dog and franchise centerpiece was in Dallas:
Dirk Nowitzki
. Over the years, the Mavs' front office has been creative in surrounding Nowitzki with different pieces in order to maximize his effectiveness. Since 2010, the players surrounding the German were so specialized in how they fit and played next to him, the team became "As Dirk goes, the Mavs go."
That credo was never more evident than in recent years, with Nowitzki missing more games than he ever had in his career. Without him, the offense became borderline inept. In terms of simply being able to run consistent plays without their best player, no team seemed more reliant on a superstar than the Mavericks.
Knowing that Dirk is in his mid-30's and a free agent this time next year, the criteria in which Dallas' front office strategizes its way around offseason may be quite different than it has in the past. It's just not smart for the Mavericks to continue to have such heavy reliance on Dirk while he's getting older and beginning to miss more time than ever. At some point something needs to change on offense and while this offseason is crucial for that, there were even signs of a philosophical shift last season.
The proof is in the personnel and the stats.
One measurement to see whether a team is an isolation-based offense or not is by looking at how many of their field goals are assisted. The lower the percentage of assisted field goals (% AST), the more isolation plays a team likely runs. Conversely, the higher the percentage, the more likely it is that a team is focused on ball movement, quick shooting two man games, etc., rather than individual scoring prowess.
Here are a few of the % AST numbers from notable Mavericks seasons in recent history:
| Season | Result | % of Baskets Assisted |
| --- | --- | --- |
| 2002-03 | Lost in Conference Finals | 58.1% |
| 2003-04 | Lost in First Round | 59.1% |
| 2005-06 | Lost in NBA Finals | 50.0% |
| 2006-07 | Lost in First Round | 54.2% |
| 2009-10 | Lost in First Round | 61.1% |
| 2010-11 | Won NBA Championship | 63.7% |
| 2012-13 | Missed Postseason | 59.9% |
These seasons show various degrees of success with different types of offenses. Want more on the advanced stats and what it means to Dirk, the Dallas offense, and just maybe, Chris Paul?
It's potentially a very important angle. You can only read Kevin Brolan's exclusive DB.com piece on a change in offensive philosophy here ... coming Tuesday.
DONUT 5: Follow the Mavs on Twitter ...
Follow the Mavs on Twitter:
Mike Fisher
,
David Lord
and
Kevin Brolan
keep you up-to-the-minute informed on all things Mavs!
DONUT 6: Graduation time! ...
A tip of the cap of appreciation to
Frisco Party Station
, your neighborhood headquarters for all your graduation party needs! All the neighborhood schools represented -- college and even high school! -- and the party is on!
DONUT 7: Again I say it: Enjoy the journey! ...
The Knicks were going to push the Heat. The Thunder was going to be a West dynasty. Nothing could stop the Bulls' development. The Warriors, Nuggets, TWolves, Rockets ... all growing toward title contention.
And now ... nothing. Nothing except, maybe, a deeper understanding of what the 2010-11 Mavs accomplished ... and how difficult that mountain is to climb.
DONUT 8: Maybe they miss you, too ...
Did you watch the Knicks, featuring TY and a steeply-declining Kidd, and hope they would win? Because they are Mavs Champions? Or did you watch the Knicks fail in the playoffs and quietly celebrate, because it means Dallas doesn't have to suffer ex-Mavs' new titles being shoved in our faces?
There are some fans who, understandably, will never be convinced that letting Chandler (in particular) go was a responsible basketball move. But for the record: From that Mavs' 2011 title team, Chandler and Kidd haven't won in NY. Jet's Celtics were bounced early, as were Caron's Clippers and Brewer's Nuggets. Barea's T'Wolves? Not a factor. DeShawn and Haywood? Not factors.
Are we missing anybody who is a more successful player now that he's left Dallas?
DONUT 9: A cap-related book-keeping note ...
Would adding both be dependent on a huge jump in the NBA's salary cap? If so, how much of a jump are we talking about?
This has been misunderstood widely since we first detailed it, so one more time: There are ways to acquire two big-money FAs (as unlikely as that might be). But the higher the cap, the more possibilities there are for the Mavs.
So, if we want to hope for a cap increase big enough for the Mavs to simply clear out their roster and then sign Howard and Paul to max deals, the minimum cap number it would take for that would be $67,097,168. (Dirk - 22,721,381; DH12 - 20,513,178; CP3 – 18,960,809; 10 cap holds for empty roster slots - 4,901,800).
We think a cap of $67,097,168 or more is very unlikely. But again, for book-keeping's sake ... there's your most comfortable "magic'' number.
DONUT 10: Thanks to Red Rock! ...
Our North Dallas hangout for sports and live music? It's
Red Rock Bar & Grill
! They help make DB.com what it is ... thanks, guys!
DONUT 11: Hoop Dreams ...
Premium Mavs has
the goods on B-Wright's future.
In turn, Wright has a sense of humor about his past, as demonstrated by the photos he tweeted about a once-upon-a-time competition with Marc Gasol. What did Gasol look like in school? Like that.
DONUT 12: The Final Word ...
A CBS report
notes that the Mavs will be on Dwight's shortlist
. But a) Of course they will. And you already knew that. And b) "being on a shortlist'' isn't very satisfying, is it?